Online shopping has become more fuss-free than ever, allowing us to purchase products from all over the world in just a few clicks. That said, there are still a number of overseas brands and businesses that require us to commit to a larger order before they offer international shipping to Singapore. In fact, some may not even offer international shipping at all! We may even be missing out on special perks from brands that only offer their full range of products and exclusive deals to their local customers.
To resolve these shopping woes, I decided to give vPost's international address and shipping service a go. How does it work? Is vPost's service any good? Read on for my review and stay till the end of this article for a discount promo code from vPost!
How vPost works
Gone are the days where you would need to ask your relatives or friends who are based overseas for help — or more specifically, having them collect your overseas online shopping orders on your behalf before mailing them to Singapore. Instead, it's time that you viewed vPost as your new favourite "cousin". With the help of vPost, your packages are delivered to a local, personalised address before they're being processed at an overseas warehouse to be sent safely to your doorstep.
vPost ships to Singapore from nine different countries, including the United States, United Kingdom, Japan and Australia. You can expect to enjoy potential savings too as the service's competitive shipping rates are on par with other major freight forwarders' in Singapore. Furthermore, vPost also offers bundling discounts, vCare, an optional warranty for valuable items, and complimentary 30-day storage for customers to enjoy savings, safety and convenience while they shop to their heart's delight.
My experience shopping from the United States with vPost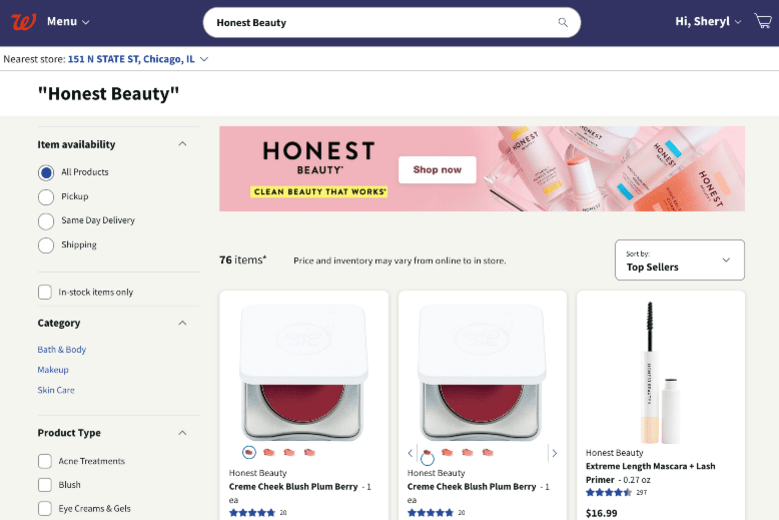 Honest Beauty is currently only available in the United States and Canada. For my shopping experience with vPost, I knew I wanted to take the opportunity to get my hands on affordable, buzzworthy beauty products from the United States (US) that aren't currently available in Singapore. At the top of my must-buy list? Products from actress Jessica Alba's natural beauty brand Honest Beauty, easy-to-use gadgets that'll help to upgrade my beauty routine, and a few goodies from e.l.f. cosmetics. With this in mind, I decided to shop at Walgreens as the American pharmacy store chain has a wide variety of products for me to choose from.
To kick-start my mini overseas shopping spree, I signed up for my free vPost account. Upon signing in, the site showed me an overview of its key features, such as details of my personalised overseas addresses and the latest updates regarding my packages. On a separate browser tab, I added my desired items from Walgreens to cart and also made sure to check that my selections were safe to be imported to Singapore. (Don't miss out on this important step!)
Upon checkout, I copied the personalised United States address that was assigned to me on the vPost portal and pasted it onto my Walgreens order form before I proceeded to pay for my purchases. After my order was confirmed by Walgreens, I checked back on the status of my package on Walgreens' site and soon received vPost's email and SMS alerts after it'd arrived at the vPost warehouse.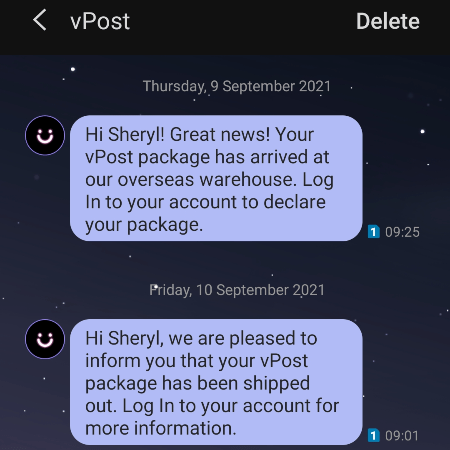 Then, I logged back into vPost to confirm my package and select my shipping mode. vPost offers three shipping modes for packages sent from the United States to Singapore — Economy, Standard and Sea — and it's worth considering the Economy shipping option as your shipping fee will be calculated based on your package's actual weight instead of its volumetric weight.* This may translate to even more savings and spare you from unnecessary shipping costs.
For the final step, I paid for the shipping fee and waited for a few more days. Not long after, I received another round of alerts from vPost and the products were delivered to my doorstep. Fresh new beauty goodies from the States, shipped safely to me.
Overseas online shopping with vPost is fast, secure, safe and easy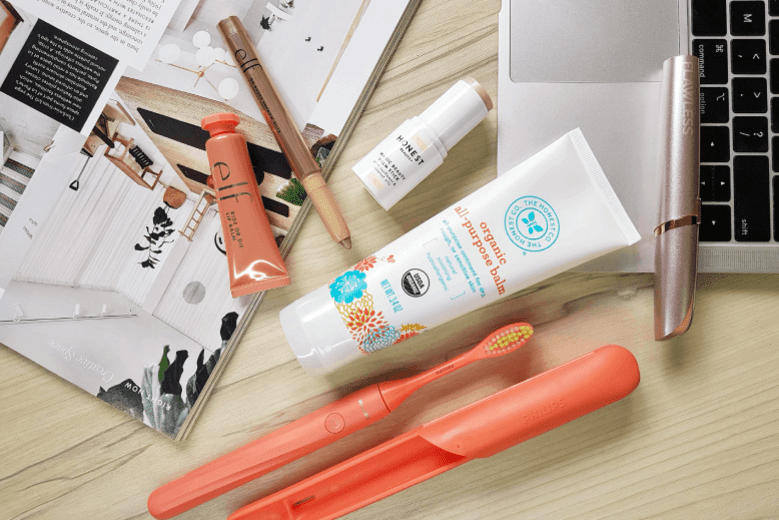 The entire process — from ordering your items from your preferred US-based retailer or business; having them shipped to vPost's warehouse, to receiving the items at your doorstep — should take you a little more than a week or so. However, my order from Walgreens took around two weeks to arrive at vPost's warehouse. Fortunately, vPost was swift in processing my order at its warehouse, hence my items were able to reach me around a week later.
This slight delay was understandable, though, given the limited international freight capacities and seaport congestion that companies are facing due to the pandemic. I appreciated how vPost regularly publishes announcements on the latest overseas shipping updates so that customers such as myself are able to plan our purchases accordingly.
As this was a fun leisure shopping experience, I valued the safety and quality of my items more than anything. With the help of vPost, my new beauty favourites were able to reach Singapore in great condition and the payment process was really easy and effortless too. It's also my very first time using an international address and shipping service, so I must say this has given me the confidence to shop more frequently from overseas sites as well.
User reviews on vPost's fast shipping service
@jessie: "...Timely delivery, easy and good shopping experience."
@ksajiman72: "vPost made [my US shopping experience] possible with [its] low shipping cost and impeccable delivery service."
@penguinadq5s: "As always vPost's shipping is fast and reliable — never had a disappointing experience with them."
Use exclusive promo code "CLOZETTE20" — only for Clozette readers
Ready to embark on your own overseas online shopping experience with vPost? Don't forget to use our special vPost promo code "CLOZETTE20" to receive a 20% discount on your first standard air shipment. This perk is limited to the first 500 redemptions and/or valid till March 2022 and is available as a one-time use for new users only. Terms and conditions apply.* Happy shopping!
*Not exchangeable for cash and not to be combined with other promotions. Minimum spend of $50 shipping fee applies. Promotion is applicable only when payment during check out is made. Discount is applicable for base and weight charges and not applicable for fuel and other surcharges. Promotion is valid for all standard air and economy air shipments (excluding sea freight).
Shop to your heart's content today with international address and shipping service vPost.
This story was created in partnership with vPost.
Comments, questions or feedback? Email us at [email protected].