A new style of hotel is born in Kyoto named MOGANA. "Monogana" is an ancient word that has the meaning and expectation of "I wish there was." A stay at Mogana would be a chance to enjoy everyday life. Meet a new Kyoto, a new journey, and a new self through a visit at Mogana.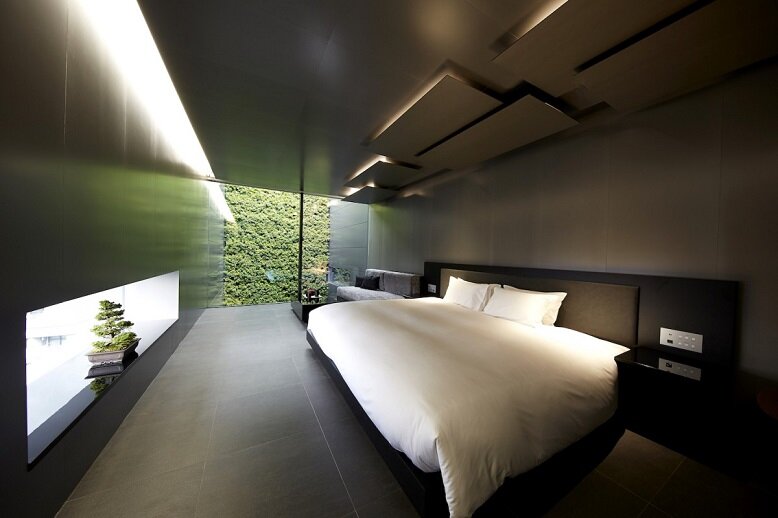 Marvel at the architecture and interior design
The reception looks out into the front yard facing the street. From the moment you step into the hotel, the space becomes increasingly luxurious.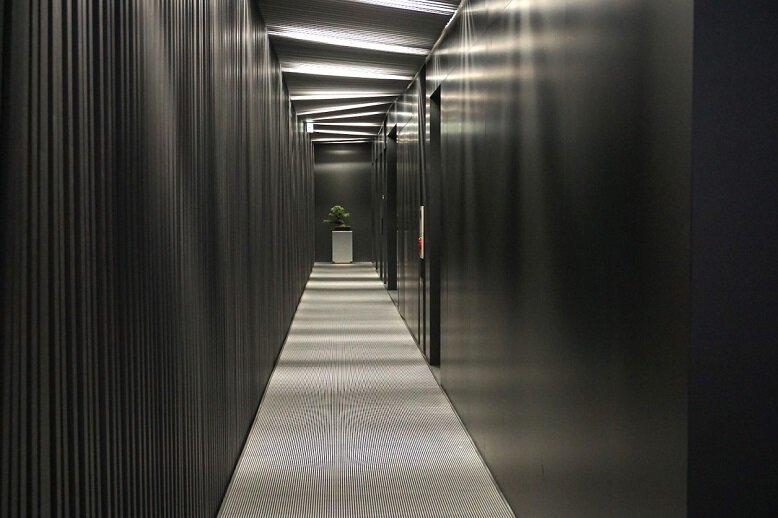 The latticework on the walls and ceiling of the 38-meter-long corridor makes use of the unique Kyoto site that extends East and West, designed with consideration for horizontal and vertical space and straight-line beauty.
As you proceed inside, you will reach a lobby library with a large ceiling with a huge monitor that displays images of the four seasons in Japan. Books in the library can be viewed, including some great architectural books.
One of the charms of MOGANA is that you can look into the space design that has been carefully selected and forget about time. Then we will guide you to your room.
A total of 23 rooms and 4 types of rooms have different combinations of materials for walls, floors and furniture. Because it is a variety-rich structure, you can enjoy a fresh space no matter how many times you visit.
One of the features of the rooms is that there are no TV or audio-related items. You're taken from everyday life, where you simply turn on the remote control and spend time in a space with sound, to extraordinary life that enjoys silence.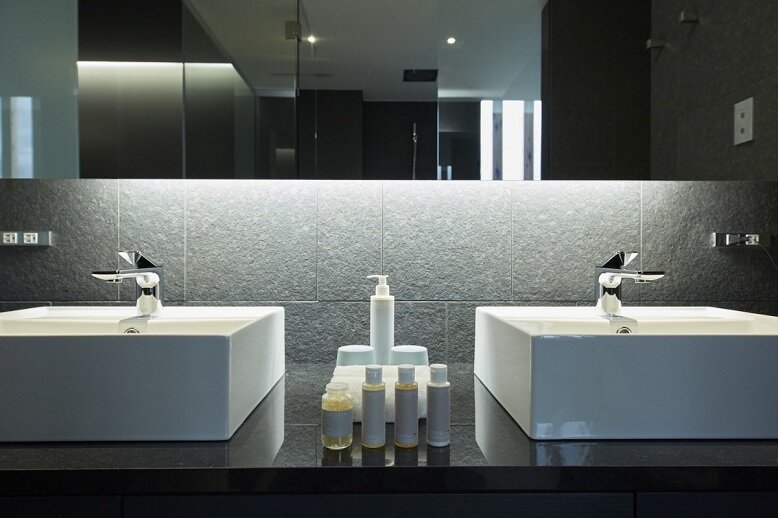 The amenities in the bathroom are from the organic skincare brand Shigeta from Paris. In the press tour, a Beauty Seminar was held by Chico, the representative, who was able to share the story from the brand's birth to providing amenities to Mogana. Mogana's owner strongly wished that Shigeta is absolutely necessary for Mogana! Go to Mogana to use Shigeta. I felt that there might be a way to choose such a hotel.
There are 6 standard rooms measuring 30 square metres. Rooms with double beds can accommodate up to 2 people. Room rates start from 50,000 yen (including tax and service charge) with breakfast for 2 guests per room. There are 7 deluxe rooms measuring 50 square metres. This also can accommodate up to 2 people in a double bed. Room rates start from 60,000 yen (including tax and service charge) with breakfast for 2 guests per room. Deluxe rooms with balconies where the bed type is wider can accommodate up to 3 people in all 7 rooms. Beds are King Double & Hollywood Twin size. Room rates start at 65,000 yen per room and include breakfast and include tax and service. In addition, the MOGANA room of 50 square metres, which is only 3 rooms, can accommodate up to 2 people each. The bed type is King Double. Room rates start from 70,000 yen (including tax and service charge) with breakfast for 2 guests per room.
I want to stay in all 23 rooms with different concepts. Once you stay, you may feel like that too.
Enjoy breakfast in your room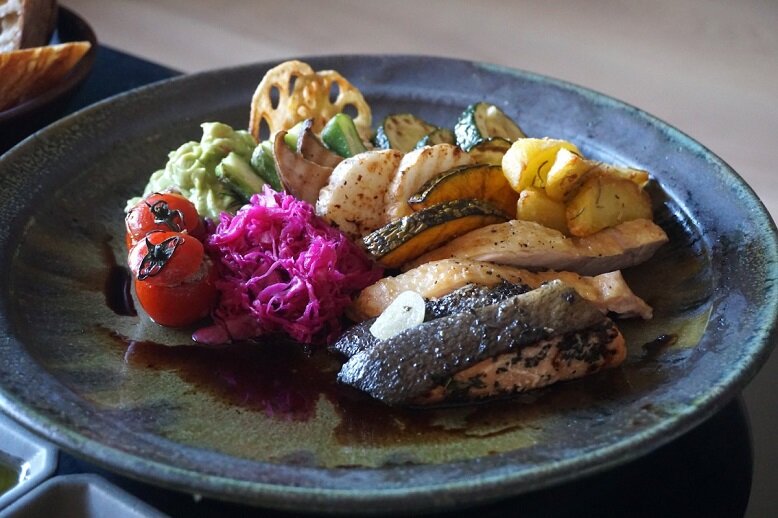 Mogana is packed with food. They have a nice breakfast service which allows you to have your breakfast in the comfort of your room. Ryosuke Harashima, based in Kanazawa, worked on the original recipes. enjoy the delicious breakfast while wearing a design that uses domestic Japanese linen.
They use fresh ingredients from Awajishima. The tableware is also an original collaboration between the pottery brand Awabi Ware and the artist Rakuto Kiln who is very particular about the material of Awaji. It's a breakfast that showcases the delicious tastes Awaji Island in Kyoto.
In addition, there was also an assortment of seasonal fruits on Shakshka, an egg dish originating from Israel where eggs are cut on tomato sauce and baked. They also had vegetable smoothies. The staple food served that day was bread. With a platter ordered from the popular Yoshida Bread Studio, you can enjoy your favourite fillings such as olive oil, jam and honey. You can choose between Amano Coffee Roaster coffee or Uffu for Darjeeling tea as your morning beverage.
You can see the taste of Mogana in the food, but at the opening reception held the day before, we also enjoyed the Yakuzen Party dishes by Kokusai Yakuzen Gakuin. At the Yakuzen Seminar by Mr. Masumi Akahori, the director of the International Yakuzen Gakuin Gakuin, after listening to the talk about "How to achieve beautiful autumn skin with a Japanese Yakuzen," we carefully tasted each dish.
There is an image that Yakuzen is difficult, and if you have such a beautiful menu, you may think that you cannot actually make it. According to Mr. Akahori, the point of making medicinal meals is that they are familiar and can be continued easily. It may be a good idea to find a medicinal meal that suits you, without stuffing.
The ingredients recommended for beautiful skin include barley, white jellyfish, nuts, pork, taro, white sesame, and apple. How about incorporating it into a beautiful skin menu?
Special tour of the Japanese sweetshop Toyamaya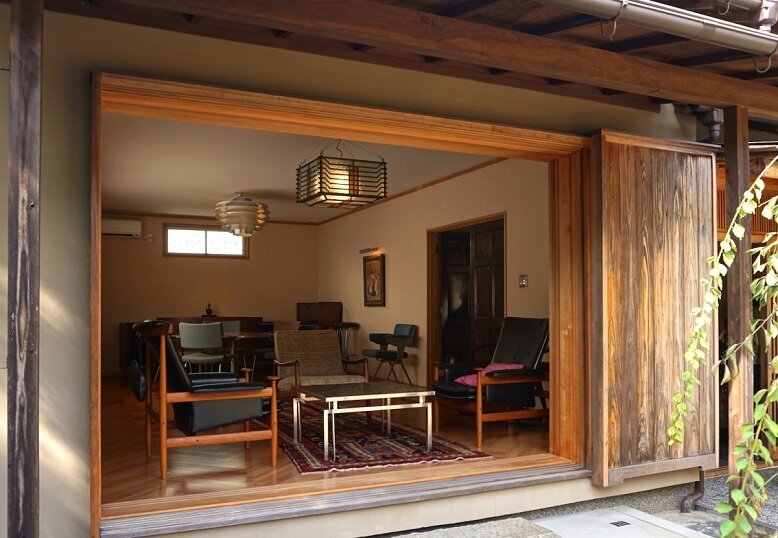 Mogana's commitment continues. Mogana's director Yuko is wearing a long coat of matohu, which she also dressed nicely, and an optional tour to explore Kyoto was prepared one after another. One of them is a tour to Toyamaya, a nearby Japanese confectionery. It is a wonderful hideaway Japanese sweetshop where you can fully enjoy the nature of Kyoto and the maple of Eikando.
"If you come here, it's been 3 or 4 hours if you notice it," says Yuko. It's a space that is too nice to forget with the passage of time. The owner of Toyamaya, Yayohi, is the widow of a woodcut painter named Tanuki Harahara. She is very adorable. "If the bean paste is delicious, I'll eat it myself and the sweets of the day will be sold out."
The room on the second floor provided on this day is exclusive to Mogana guests. You can see the maple of Eikando in silence. There is such a luxury — I can't help thinking that I don't want to return to my daily routine. Warabimochi and Kurikinton were served with matcha. Lovely scenery, adorable Yayohi-san, carefully crafted Japanese sweets. It was a happy time. The optional tour unique to Mogana is noteworthy.
Next, read about Glam Japan's luxurious trip to Las Vegas.
Comments, questions or feedback? Email us at [email protected].