The half-a-year-long quarantine in Metro Manila has left my jewellery box tightly shut and covered with dust. My paranoia with the virus meant I had to stick to utter basics and necessities when going out — that means no extra accessories that could possibly catch whatever it is out there that could spell doom to us all. But, I'll admit — I miss glamming up my look with these little trinkets. After all, they're tiny additions to our wardrobe that not only take our outfits up a notch but enlivens our mood as well.
In this essay from Art Jewelry Forum, studio art jewellery, in particular, is interpreted in psychoanalytic terms as a transitional object — something a wearer uses as "a tool to navigate the complexities of the world and strengthen their psyche." We draw meanings from the pieces we wear to amplify how we perceive ourselves. In short, the jewellery we choose becomes a form of a statement that expresses our unique sense of self. It is exactly perhaps why other psychologists have associated certain styles with specific personality traits.
This connection between our sense of self and jewellery doesn't end there. In a 2017 study, it was revealed that wearing jewellery can increase one's self-esteem. In the experiment, the irritability of dementia patients in a nursing home decreased as the rings they wore elicited compliments from the staff, which brightened up their mood.
Reading all these gave the impression that incorporating these accessories into my day would do wonders to my mood, the same way wearing makeup or wearing work clothes at home would. To personally test these theories, I went right ahead and tried out wearing jewellery for a week to see how it would affect my outlook.
Memory lane Monday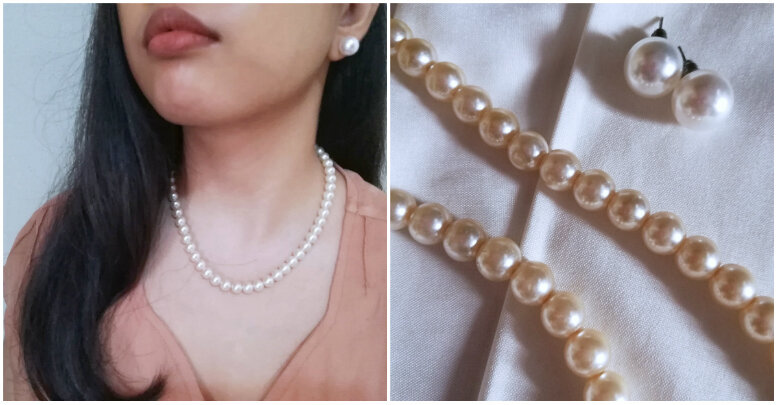 It felt awkward pairing jewels with the usual cotton t-shirts I wear at home, so I ended up choosing a simple yet equally comfortable outfit to match them with. I love rummaging through my mum's closet for classic vintage finds, and for this day, I ended up borrowing her pearls and a hand-me-down linen dress from my grandma to match. The outfit made me feel quite elegant and feminine, but I was honestly self-conscious as I stood in stark contrast among my family who enjoyed a day of loungewear at home.
Tasteful Tuesday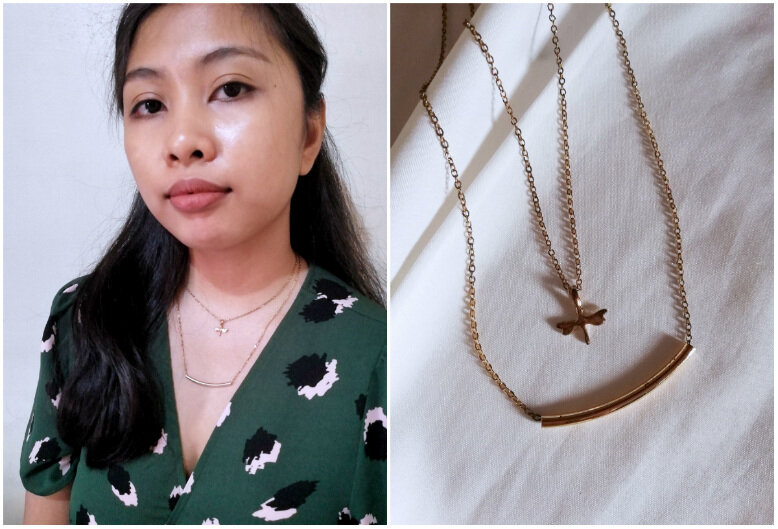 I was still in a dressy mood, but with my lesson learnt the day before, I chose to pair a more minimal jewellery with my printed wrap dress. This way, it felt more casual and it didn't make it seem like I'm off to a Sunday luncheon with society ladies. The layered necklace was perfect. With dainty details, my accessorising didn't feel too over-the-top even though I was just at home. I especially loved how the gold shone even brighter against the darkness of the top, which served to highlight my accessory even more.
Whimsical Wednesday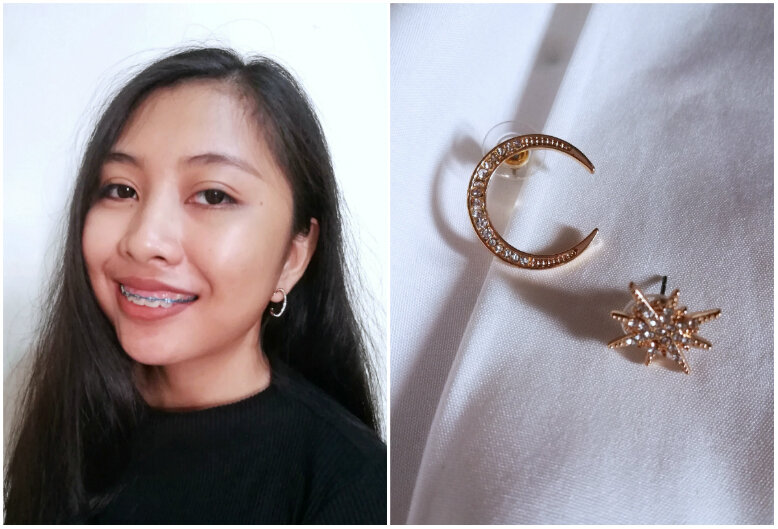 Wearing necklaces were fun and all, but to change things up, I opted for a pair of earrings on the third day of my trial. It was a busy day and so I ended up with my go-to mock neck shirt. Wanting something more fun, I picked out these mismatched earrings. The star and the crescent moon pair definitely added sparkle to my all-black wardrobe for the day.
Trendy Thursday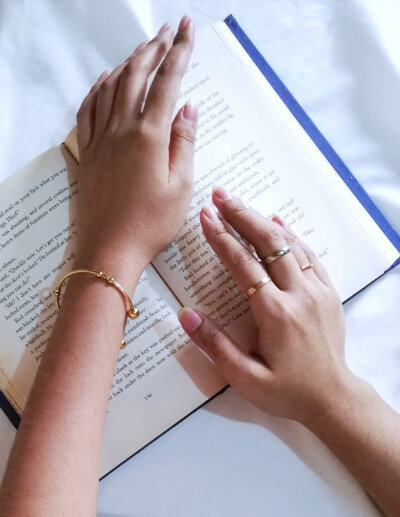 If you haven't noticed by now, I tend to lean towards gold when it comes to jewellery. I think it complements my warm brown skin tone better than silver. So for Thursday, I chose to go with solid gold as a theme. Picking out different bands, I tried my hand (literally) at layering rings, which is a trending style nowadays. As a finishing touch, I decided on adding a thin bangle onto my wrist. It looked nice and all, but after an hour or so of typing onto my laptop, I found the bracelet quite an annoying nuisance. I had no choice but to bid it goodbye.
Fancy Friday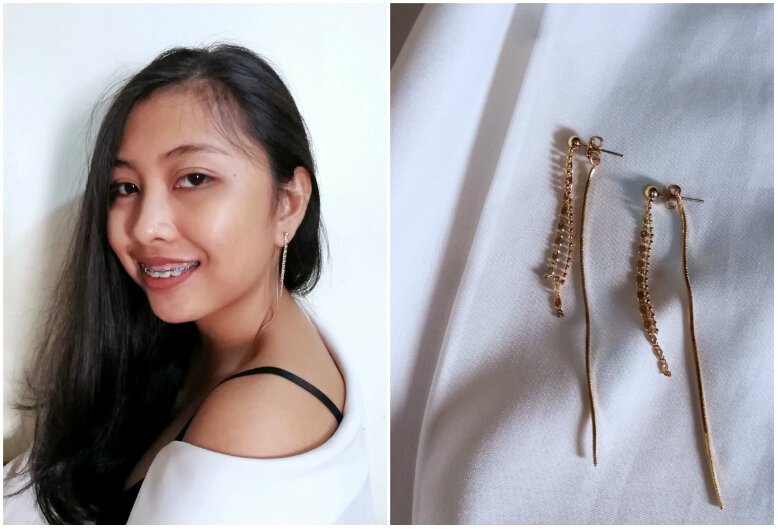 To motivate me to give it all for Friday, I completed my look with dangling earrings. This minimalist pair was party-ready — perfect for welcoming the upcoming weekend after a day of hustle. It was statement-making yet subtle, just the right touch to add glamour to my cami romper. Surprisingly, though it was made up of various chains, the dangling earrings never bothered me as I went along my hectic day.
Thoughts on the style experiment
Though I didn't really receive compliments from my fam that were supposed to help my self-esteem, these little additions to my day boosted my confidence nonetheless. Wearing them and coordinating my outfits made me feel a bit more put-together and has added a little skip in my step as I walked about our home. Whenever I catch a glimpse of myself in the mirror wearing a fancy piece of jewellery, I'm reminded of how good I look when I put in a bit of effort.
This experiment, too, had me looking forward to something fun every day. I definitely enjoyed planning my outfits the night before — something I've so rarely done these past few months. Still, as much as I love getting to mix and match different accessories with my clothes I've learnt that appropriateness to the occasion is one thing I need to consider. As it was on my first try, being and feeling out-of-place can lead to the opposite effect you're aiming for. And, of course, it pays to consider whether what you're wearing affects your physical comfort too.
Wearing jewellery is not something I'd keep doing every day in this stay-home period, but it's still something I'd definitely do every now and then whenever I need a little pick-me-up.
Keen to try this experiment too? Ace the chunky gold jewellery trend while you're at it!
Comments, questions or feedback? Email us at [email protected].