In the rich cultural neighbourhood of Keong Saik, a little Chinatown lined with traditional shophouses built in the 50s, solace comes in the form of a 45-room boutique hotel. Hotel Soloha, which recently opened its doors in Central Singapore, beckons with an urban jungle vibe — breathing new life to Chinatown's heritage and cultural aesthetic.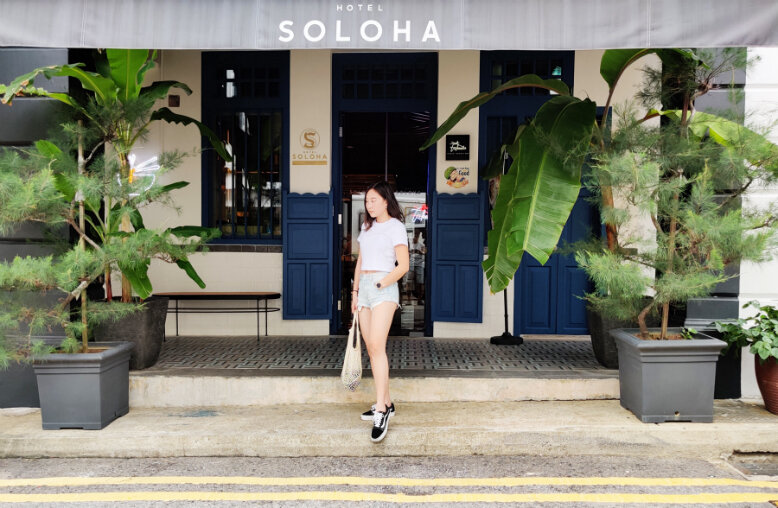 Hotel Soloha Singapore Entrance
Choosing an accommodation that offers an array of experiences can help you regain new perspectives. In search of such a place, Sabrina, our Community Executive, took a 2D1N staycation to find solace on this side of town.
Through the wooden panel doors
Hotel Soloha stands on Teck Lim Road and is easy to locate since it's nearby the famous Potato Head Singapore. You wouldn't have a hard time accessing the hotel even if you don't go by car. Retaining the old-school glamour of a shophouse, the blue and white façade is very Insta-worthy, with quite a few passersby taking OOTD shots in front.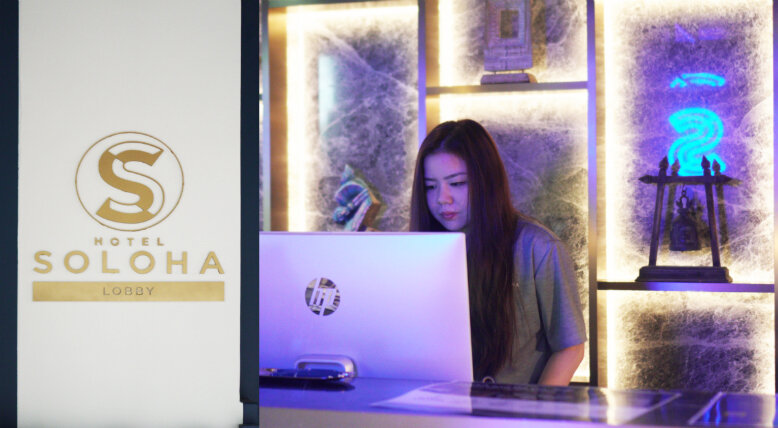 The hotel lobby sign and bar-reception counter
Upon entering, you'll immediately find the hotel's Takeshi Noodle House as well as the hotel's reception counter that doubles as a bar. Sabrina says, "[Hotel Soloha] does give off a very tropical forest-inspired vibe." Playful murals by local artists Ethrisha Liaw and Danielle Tay are all over the hotel. Different levels each have a different spirit animal artwork adorning its walls, making the place quite chic and artistic.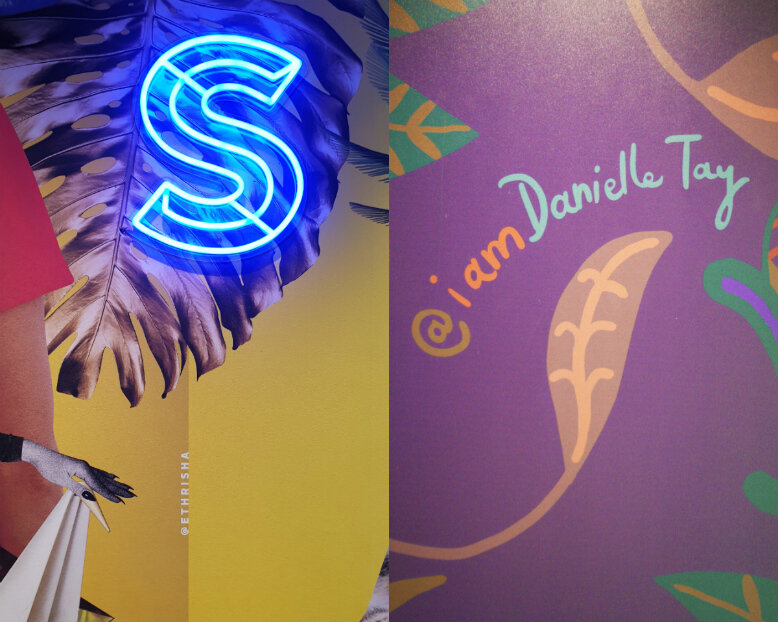 Colourful jungle-themed murals
Friendly and polite staff, dressed in casual uniform, welcome guests. The check-in process was delightfully smooth as well.
Cosy designer's enclave
In Hotel Soloha, there are five different hotel categories: Standard, Deluxe, Loft, Suite, and Outdoor Suite — all of them with complimentary free-flowing snacks, coffee, and breakfast for their guests. For her stay, Sabrina checked into a Loft, a dual-level room perfect for groups with its two double beds and high ceiling space. Its bespoke artisan furnishings create a minimalist environment that's homey. You can chill in and keep yourself entertained all-day-long too with their 4K TV. And, most importantly, the soft beds were comfortable, enabling guests to sleep soundly, keeping their worries at bay.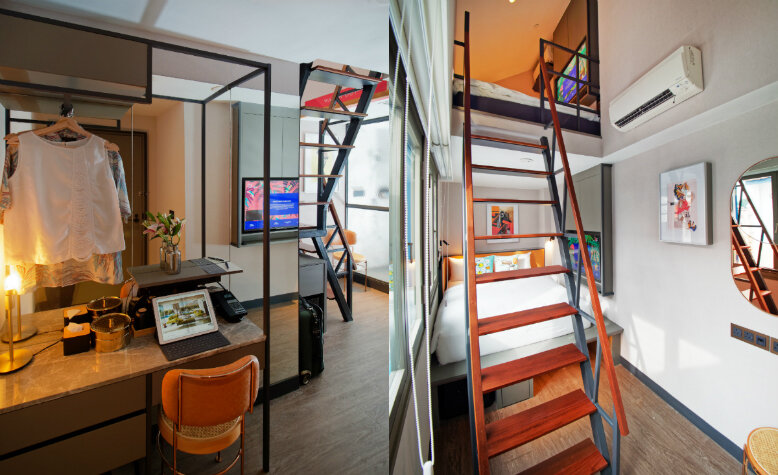 The loft is perfect for groups with its two double beds and high ceiling space
For those who would prefer having more room to stretch out, Sabrina recommends getting the Outdoor Suite. The much-coveted room lets guests in on their exclusive outdoor space and a luxurious tub so you can relax under the stars.
Comfort dining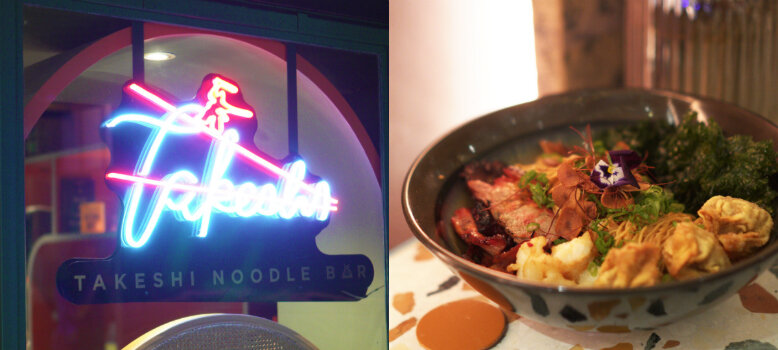 Takeshi Noodle Bar; Mala Lobster Wonton Noodle
What takes the cake during Sabrina's whole stay was the food. The Takeshi Noodle Bar by the lobby offers a range of delectable choices, including Singapore's first Seafood Mala Ramen. But, in the end, she ended up choosing the Mala Lobster Wonton Noodle as recommended by the waiter and it definitely didn't disappoint. Other favourites for the night were Grilled Striploin, Mentaiko Oysters, and Sliced Wagyu Beef with Truffle Iberico Tonkotsu. "I would go back to the restaurant!" she exclaims. Visitors planning to dine should note, however, that the restaurant is closed every Tuesday.
A hub for explorers and fun-seekers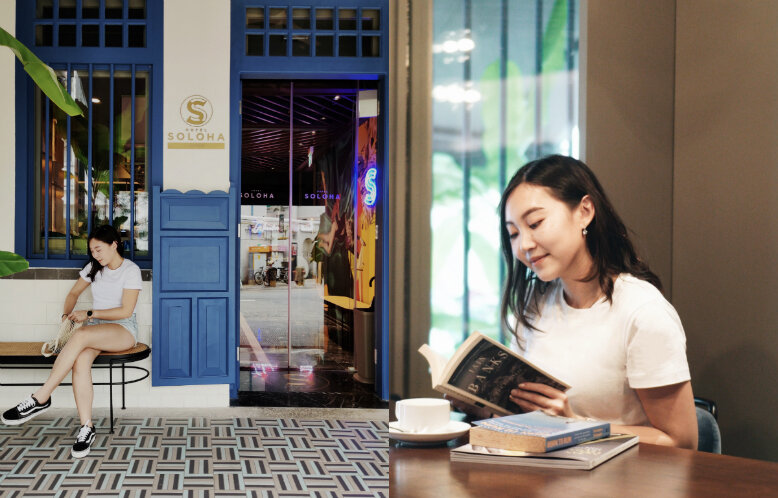 Hotel Soloha offers various activities for all types of guests
Aside from dining and chilling, Hotel Soloha also offers enjoyable activities to their guests. Bookworms can check the lobby's book rack, and enjoy reading while having a sip of coffee. Those into sporty activities can enter the Games Room where you can play a round of table tennis, watch TV, and play board games with other guests. You can also check out the courtyard and entrance — spaces perfect for Instagrammable shots. For evening wind-downs, you can hang out at the bar-reception and have a drink or two.
But the fun doesn't stop there. Don't coop up inside your hotel room during your whole stay. Head out and explore the surrounding Chinatown area, a cultural epicentre filled with much surprises for both locals and foreign travellers. Aside from the historical neighbourhood being filled with well-preserved shophouses and whimsical street art that IG feed-material, here, you'll find the Buddha Tooth Relic Temple and Museum, as well as Sri Mariamman Temple, the first Hindu temple in the country. Not to mention, Keong Saik Road is also famous for being a foodie's enclave. Venture out and dine in the Chinatown Food Complex down the road that's home to long-established local favourites.
According to Sabrina, it's perfect for curious travellers. Aside from the boutique hotel's affordability and aesthetics, "there's so much to discover, explore, and try." Indeed, with the interesting experiences it offers, Hotel Soloha is set to capture the hearts of travellers, particularly looking for respite from the cyclical tasks of their daily lives.
Thinking of going on a wellness getaway farther away? Visit the THANN Wellness Destination in Ayutthaya.
Comments, questions or feedback? Email us at [email protected].