This article was first published on 14 July 2023.
Singapore National Day 2023 is up ahead and there are a lot of sweet feasts for us to enjoy. To celebrate the Little Red Dot's 58th birthday, savour the rich flavours of popular Singaporean dishes like nasi lemak and roti rata at different price points and indulgence levels. Read on to know what you can expect for this year's festivities.
1. LeVeL33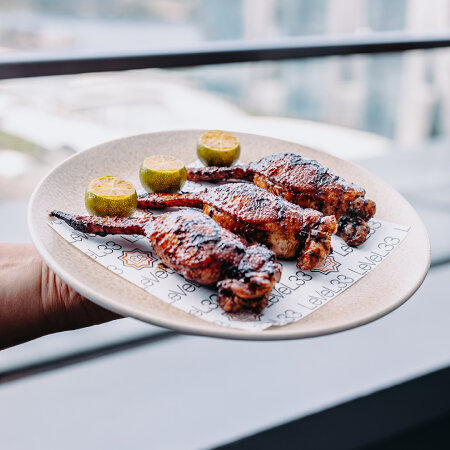 Get ready for a gourmet festival at LeVeL33's National Day festivities! Happening on 9 August from 5PM to 9PM, the exclusive one-evening party (SGD268++ per diner) will treat diners with unlimited servings of locally inspired dishes, house-brewed beers, wines, and the iconic Singapore Sling.
Book here.
2. KFC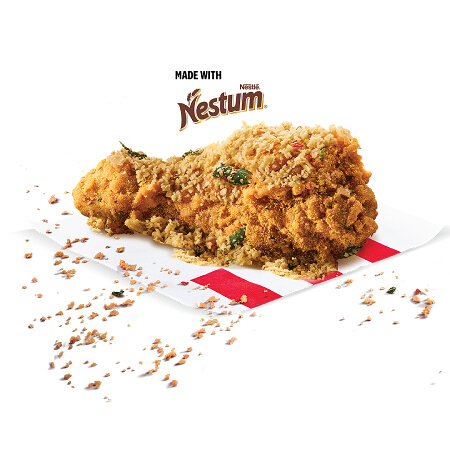 Go "mmmm shiok" with the return of KFC's Cereal Chicken. The special flavour combines buttery cereal specially made with Nestum, aromatic curry leaves, and fresh chillies that create a sweet and savoury coating over KFC's signature Hot & Crispy Chicken. It's available from 10 July to 22 August 2023 across KFC outlets (except KFC Singapore Zoo).
3. Luke's Lobster Singapore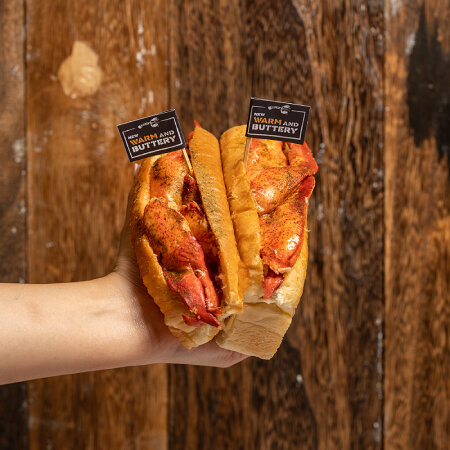 Your favourite lobster roll joint teams up with Atas Butter – a small-scale, cultured butter artisan focusing on Asian flavours — to come up with two new seasonal rolls that celebrate Singapore's 58th anniversary. The Kombu Butter Lobster Roll features chunks of four-ounce lobster meat tossed in Japanese kelp butter made from hand-chopped kombu and locally made cultured butter, creating an umami bomb in your mouth. The Mala Butter Lobster Roll features Atas Butter's secret mala mixture, creating a medium-level spiced roll that has the perfect balance of spicy and sweet. Both will be available starting 1 August.
4. The Marmalade Pantry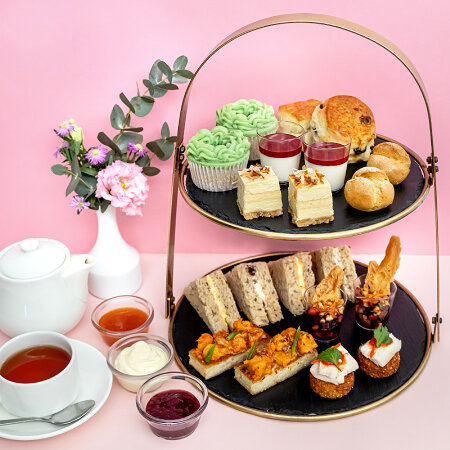 From 1 August to 31 October 2023, The Marmalade Pantry will offer the Singapore Heritage Afternoon Tea Set (SGD78++ for two persons) and the Singapore Heritage Petite Afternoon Tea Set (SGD64++ for two persons). These are locally-inspired two-tiered afternoon tea comprising new sweet and savoury treats including the Kueh Salat Petite Cupcake, Pandan Cream Puff, and Hainanese Chicken Quinoa.
5. The Capitol Kempinski Hotel Singapore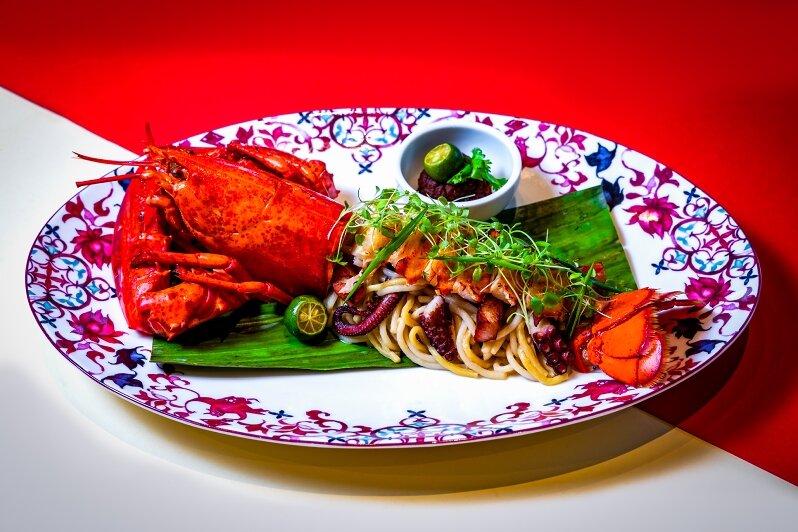 The Capitol Kempinski Hotel Singapore will be celebrating Singapore's 58th birthday throughout the month of August at its two restaurants! The Lobby Lounge will be offering the National Day Afternoon Tea (SGD 56++), which includes elevated takes on local faves such as the Chili Crab Tartlet, Charred Carrot Cake, Hawthorn Financier, Beef Satay and Pandan Scone.
Meanwhile, the 15 Stamford by Alvin Leung will be having the Lobster Hokkien Mee (SGD115++ for two persons) for their diners. Treat your tastebuds to succulent chunks of lobster meat and a medley of umami-filled noodles.
6. Kinki Restaurant + Bar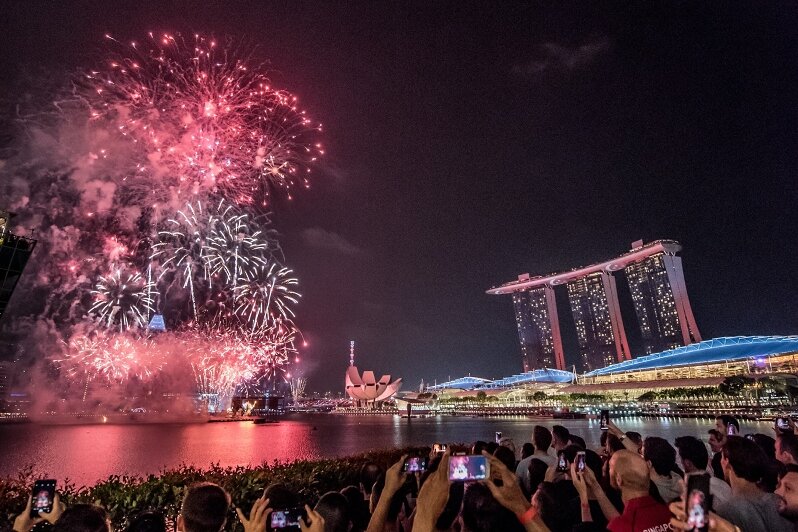 Get the perfect view of the fireworks display on National Day at Kinki Restaurant + Bar's rooftop bar. It will be offering two packages: the Rehearsal Day Package (SGD288++ per table for up to four persons) on 22 and 29 July as well as the National Day Package (SGD588++ per table for up to six persons) on 9 August. These packages include spirits, mixers, and a sharing platter of sesame-marinated and deep-fried Chicken Kaarage, Ebi Fries, and Cassava Nachos.
7. Tablescape Restaurant & Bar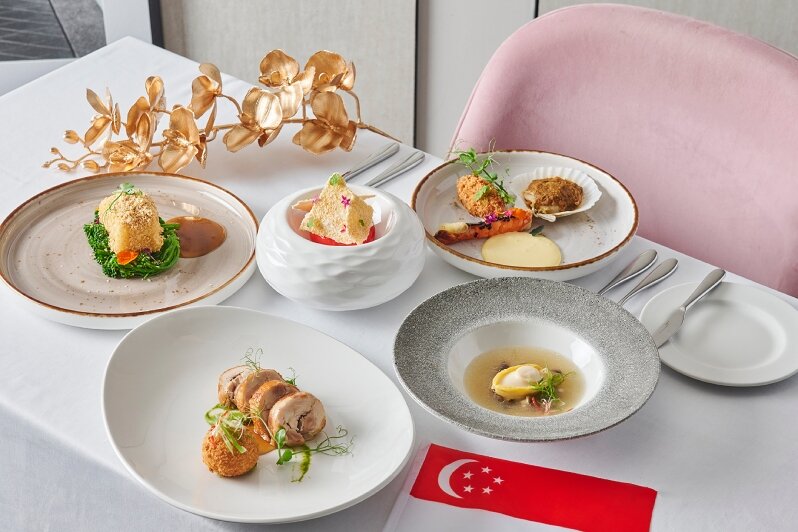 If you'd like to treat yourself to a European feast with a local twist, head over to Tablescape Restaurant & Bar on the NDP rehearsal dates or on 9 August to catch the state flag flypast and fireworks. It'll be preparing the Botanical Afternoon Tea Set (SGD88++ for two persons) inspired by the greeneries of the restaurant as well as the dine-in National Day Set Menu (SGD88++ per person).
8. Binary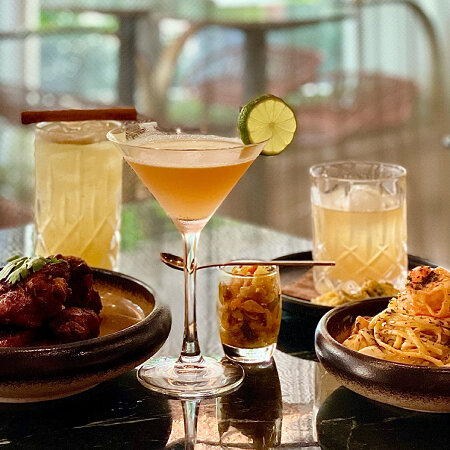 Want to have some booze while celebrating? Binary has a trio of limited-edition cocktails (SGD9.80 each) inspired by the three major races in Singapore: Chinese (Ah Ma's Sesame Ginger Old Fashioned), Malay (Assam Pedas-tini) and Indian (Masala Meets Collin) that you can indulge in.
9. Da Paolo Dempsey Restaurant & Bar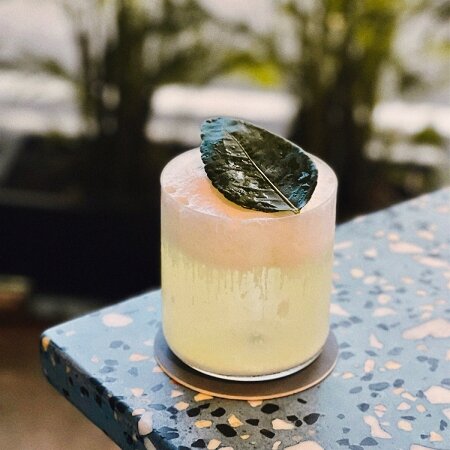 Did you know that the Singapore Sling has numerous variations? The Da Paolo Dempsey Restaurant & Bar takes on the challenge of innovating the beloved cocktail with the Lion City Sling (SGD24). It's made with a mix of vodka redistilled with kaffir lime, rum combined with aromatic coconut cream, lime juice, sweet chilli and bright lemongrass syrup.
10. PATH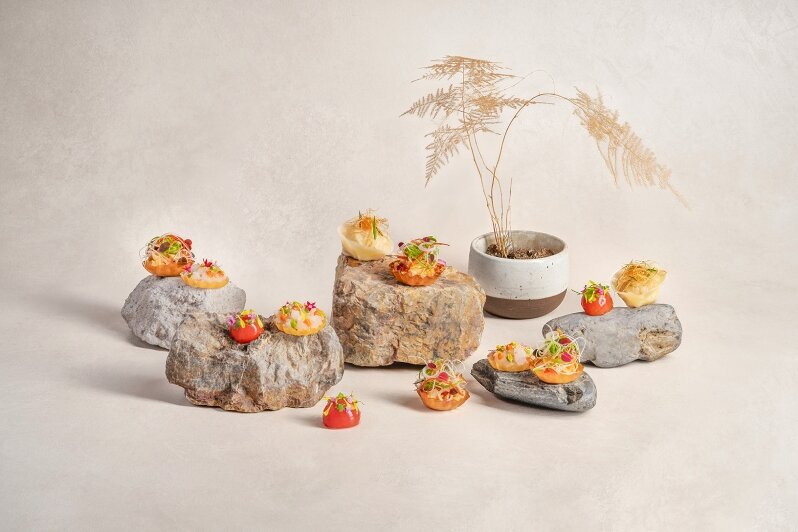 PATH's Chef Marvas Ng is opening his kitchen to chefs Lee Zhe Xi and Soh Yong Zhi of Malaysia's Eat and Cook for a National Day celebration like no other. They collaborated to create an eight-course menu that celebrates Singapore's and Malaysia's National Days. Some of the dishes are the Crystal Chicken Feet with Teochew Chilli & Yuzu Pickled Cherry Tomato, Maine Lobster "Sui Gao", and Penang Oyster.
11. Rempapa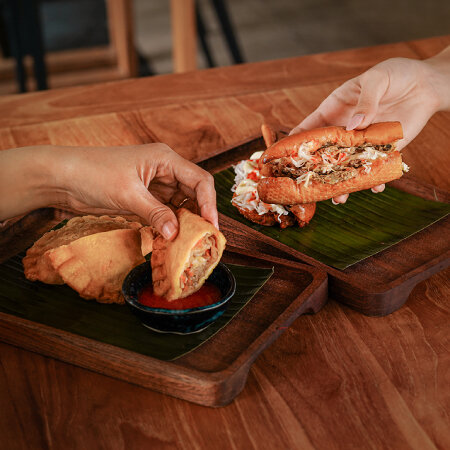 If you're more of a snacker, you'll love Rempapa's National Day menu. From 7 to 13 August, munch on two well-loved local snacks: the crunchy Epok Epok Sayur (SGD8 for three pieces) and the sweet and spicy Roti John (SGD10 each).
12. Restaurant Gaig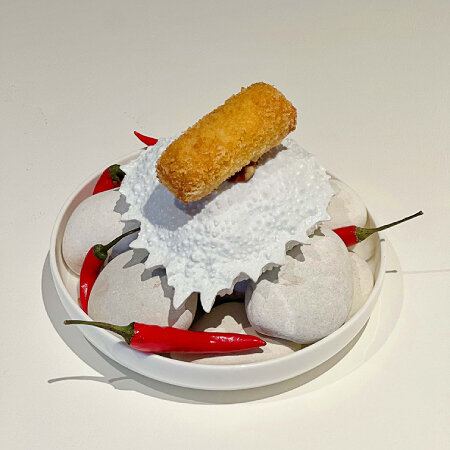 Can't get enough of chilli crab? You don't want to miss out on Restaurant Gaig's a la carte special Chilli Crab Croqueta (SGD6++ each). It has a chilli base made with ginger, shallot, soybean paste, ketchup, tomato and belachan that is tossed on top of shelled mud crab and bechamel. Sounds savoury? Our mouths are watering too.
13. PastaMania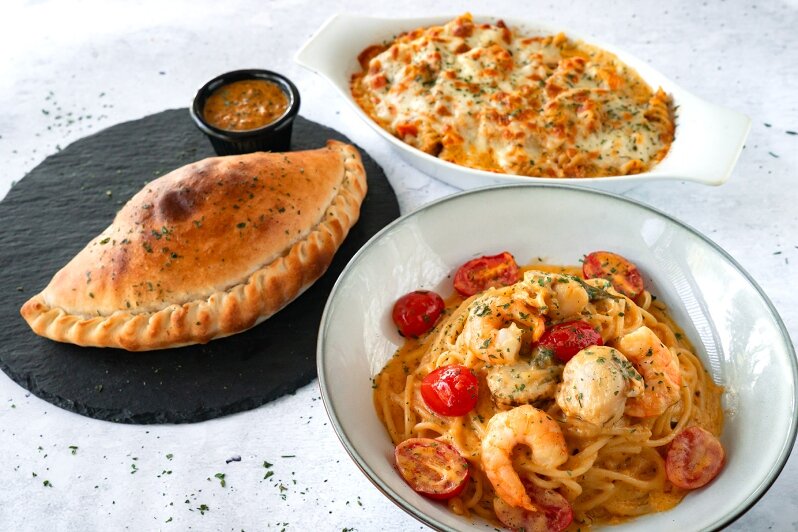 Pasta with a Singaporean twist? Then head over to the nearest PastaMania outlet and ask for the National Day Promotion Combo (SGD15.80)! You'll get to pick between the Baked Laksa Chicken & Prawn Pasta, Laksa Chicken Calzone, or Salted Egg Mala Seafood Pasta as your main and enjoy a carafe of the Fizzy Pomegranate Refresher. It's available from now until 31 August 2023.
14. CÉ LA VI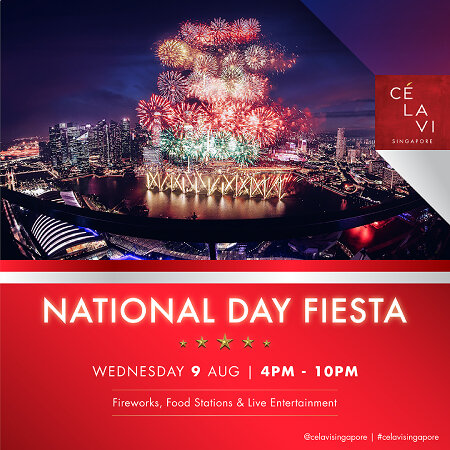 From 4PM to 10PM on 9 August, CÉ LA VI will be treating its guests to a feast curated by Executive Chef Maksym Chukanov. Indulge in a shareable Classic BBQ Platter (SGD150++) comprising juicy pork chops and prime cuts of stony river black Angus tenderloin or go for the Surf & Turf Platter (SGD200 ++) with buttery tiger prawns and luxurious Canadian lobster tail. Then, dance the night away to tunes by CÉ LA VI's resident DJs while waiting for the National Day fireworks. Tickets for the fireworks show can bought here for SGD48 per person.
15. Lion Brewery Co.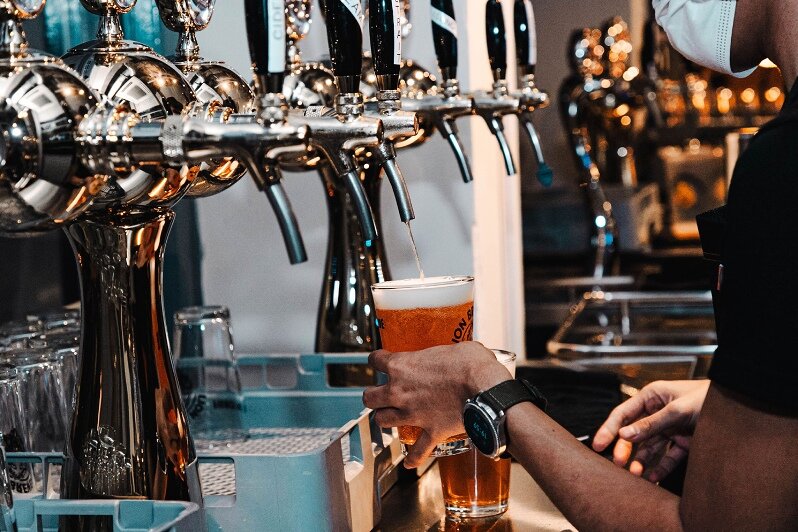 Give a toast to Singapore with Lion Brewery Co.'s new brew, Api Pils. The new concoction is designed specifically for Singapore's 58th birthday and inspired by The Lion City's signature heated temperature and flavours. It boasts the zingy taste of fresh chillies that are baked and dried out in the hot sun, then carefully infused into a classic Lion Brewery Co Pilsner. It's priced at SGD8.00 per 180ML glass, SGD12.00 for 355ML, SGS12.80 for a Happy Hour Pint, and SGD16.00 for 473ML.
16. Hotel Telegraph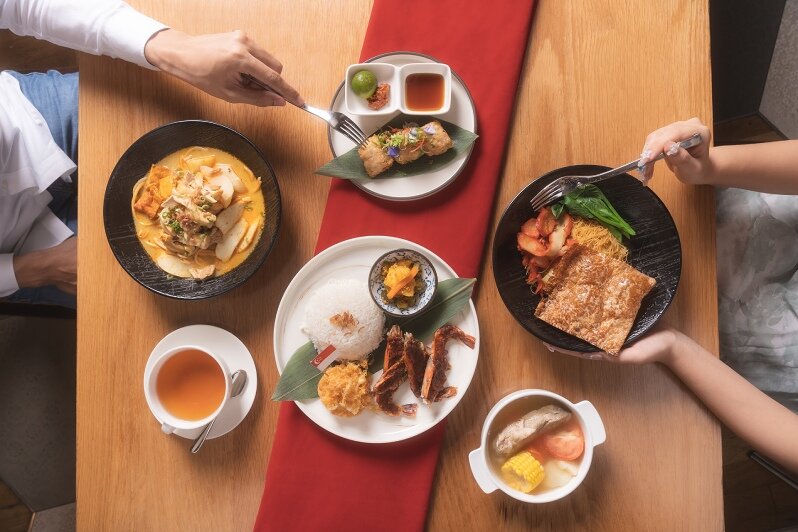 If you'd prefer to stay within the central business district, head over to Hotel Telegraph. Its 1927 Rooftop Bar will be offering special sharing platters of Seafood Bites and Prata Pizza (SGD28++ each) and a gorgeous view of the CBD.
If you want to savour some authentic Singaporean cuisine, head down to The Dining Room and get one of their set meals (SGD38++). Your choices for mains will include Beef Rendang & Sambal Fried Egg, Nyonya Assam Fish with Pineapple & Tomato, and Naan with Dhal Makhani, Mango Chutney & Paneer Tikka.
17. Tiong Bahru Bakery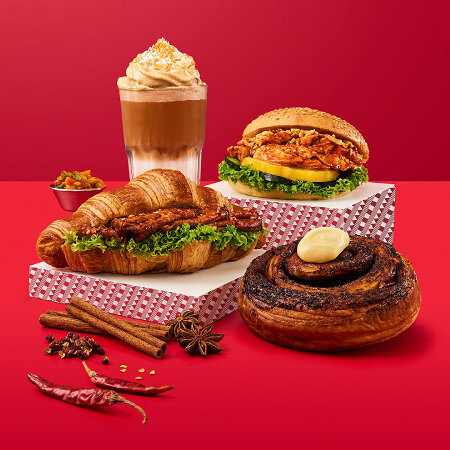 Want to start your day with a warm baked treat? In collaboration with contemporary Sichuan restaurant Birds of a Feather, Tiong Bahru Bakery is celebrating Singapore's birthday with a month-long celebration and mouth-tingling delectables. Indulge in the Sichuan Roast Beef Croissant (SGD13), the bakery's signature croissant filled with succulent spicy roast beef topped with achar. Want something for brunch or a mid-day snack? Pick up the Sichuan Rojak Chicken Bun (SGD12), which features tender poached chicken breast tossed in aromatic spicy Sichuan peanut dressing and served on a fluffy molasses bun.
You can also support homegrown skincare brands for National Day.
Comments, questions or feedback? Email us at [email protected].