What is better than breakfast and lunch? Brunch! The two combined are probably the best meal of the day. If you too are a big brunch fan, you're in for a treat. All around the city, you'll find brunch restaurants where you can go simple with the classic avocado toasts or switch it up a notch with bottomless brunches. And among all the countless options, here are the 12 best brunch places in Singapore where you can indulge at.
1. Le Jardin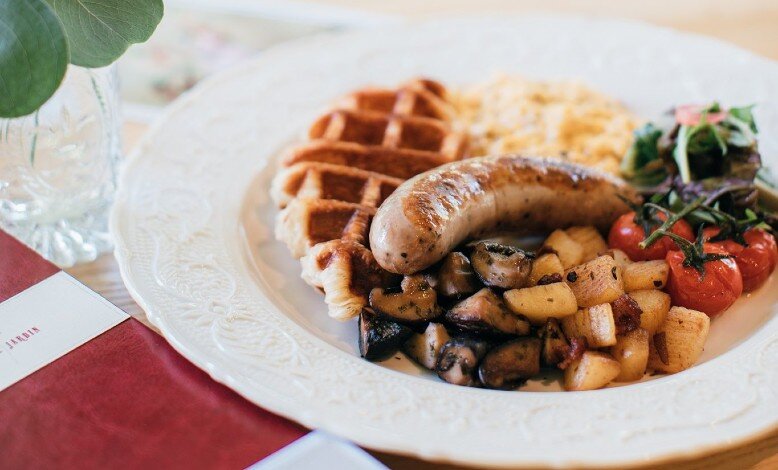 Nestled within Fort Canning Arts Centre is a European-inspired restaurant known as Le Jardin. The restaurant's style and aesthetic focus take you on a Victorian-style botanical journey with greenery and flowers surrounding you.
Some highly recommended dishes at this lovely brunch place are the Croissant Waffle and the Potato Rosti. This whimsical spot is definitely a must-visit for all brunch lovers who have a keen eye for aesthetics.
Visit them at 5 Cox Terrace, Level 2, Fort Canning Arts Centre, Singapore 179620 or call +65 8338 8281.
2. Atlas Coffeehouse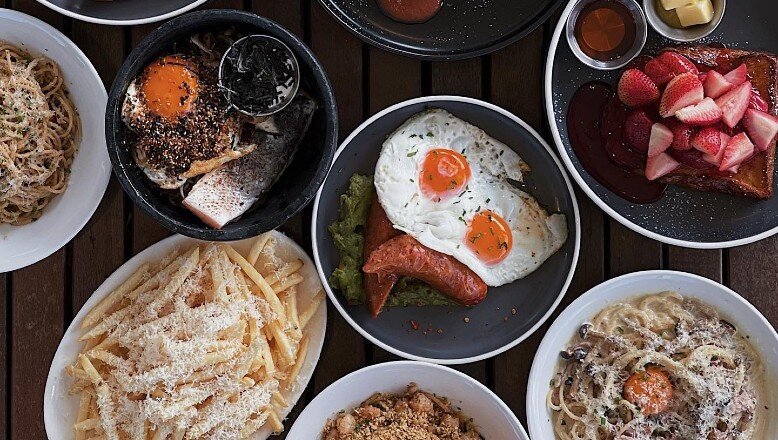 Craving some french toast or maybe some smashed avocado? Atlas Coffeehouse is the place to be. This aesthetic brunch cafe is a stone's throw away from Singapore's iconic Botanic Gardens and serves us exceptional items that will satisfy all of your cravings.
If you are not able to decide on what to order from their extensive menu, gather your friends for a little feast and get all the brunch items on the menu. Trust us, you will not be disappointed. Atlas Coffeehouse's fan favourites are their Wurst Rosti, Truffle fries, and their French Toast Standard.
Visit them at 6 Duke's Rd, Singapore 268886 or call +65 6314 2674.
3. Daizu Cafe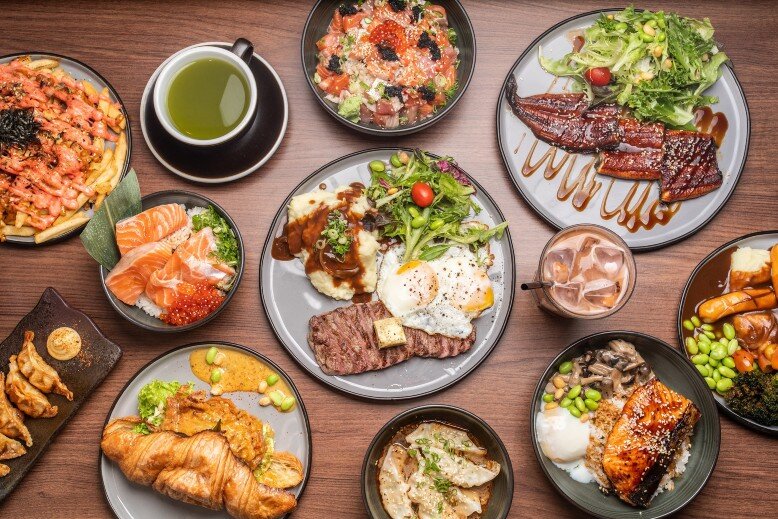 Daizu Cafe is a go-to spot for brunch lovers who enjoy a little twist on their classic European dishes — think salted egg, soft shell crab and a croissant combined. Located near Farrer Park train station, the brunch cafe boasts minimalist decor and has alfresco style dining if you enjoy basking in the sun.
On top of their fusion cuisine selections like the Salted Egg Soft Shell Crab Croissant, Daizu Cafe also does classic brunch dishes for those who prefer a safer option. If you want to stick to the classic dishes, do try their Brioche Bread, Truffled Scrambled Eggs, Spicy Chicken Sausage, and of course a Rosti Hash.
Visit them at 129 Rangoon Rd, Singapore 218407 or book now here.

4. Kafe Utu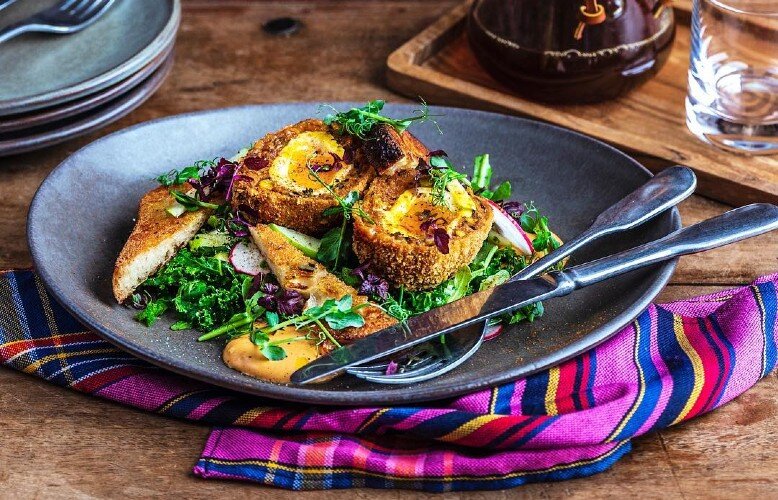 If you have never visited Africa but want a little slice of its delectable dishes, Kafe Utu is where you should get your next brunch. A little back story: Kafe Utu's owner had spent most of his childhood in different African countries. He aspires to make Kafe Utu a place a "home away from home" for others, just as how his mother's kitchen had been to visitors when he was a kid.
The brunch cafe serves up dishes that were influenced by African cuisine, giving each customer a little peek into the incredible dishes from the continent. Some recommended dishes to try out would be their Ricotta Hotcakes and Tropical Cloud 9. What's even better is that the space is exceptionally Instagram-worthy — so don't just eat, let your camera have its fill too!
Visit them at 12 Jiak Chuan Rd, Singapore 089265 or call +65 6996 3937.

5. Carrotsticks and Cravings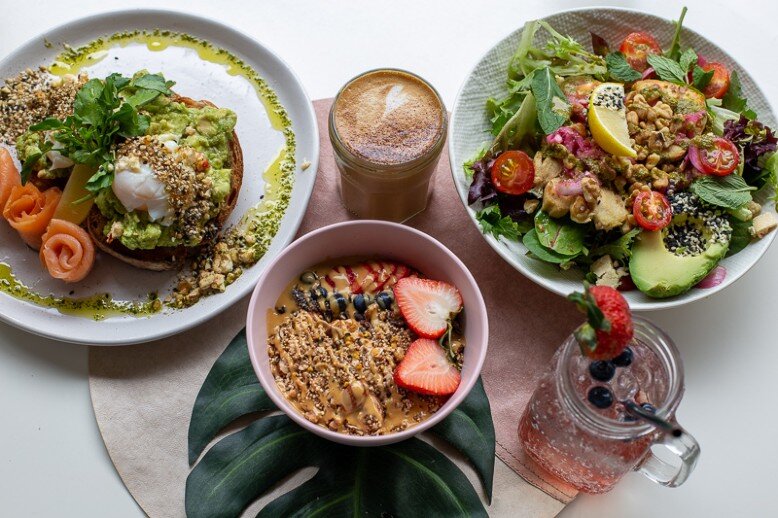 Yet another incredibly Instagram-worthy spot that all foodies must check out is this Australian brunch place in Singapore called Carrotsticks and Cravings. Healthy eating is what Carrotsticks and Cravings is all about. Its owner wanted to provide everyone with delicious yet health-focused dishes inspired by her own creations for her children's meals.
When you visit this gorgeous brunch cafe, you'll find the classics like Smashed Avo on Sourdough, Keto Chicken and Avo Salad, and, the all-time favourite for most brunch addicts, the Red Shakshouka — all of which are exceptional selections that you will absolutely love when you do visit this wonderful brunch spot.
Visit them at 7 Rodyk Street, #01-34, Singapore 238215 or 5 Stanley Street, #01-01, Singapore 068724. You can also place your orders here.
6. Toby's Estate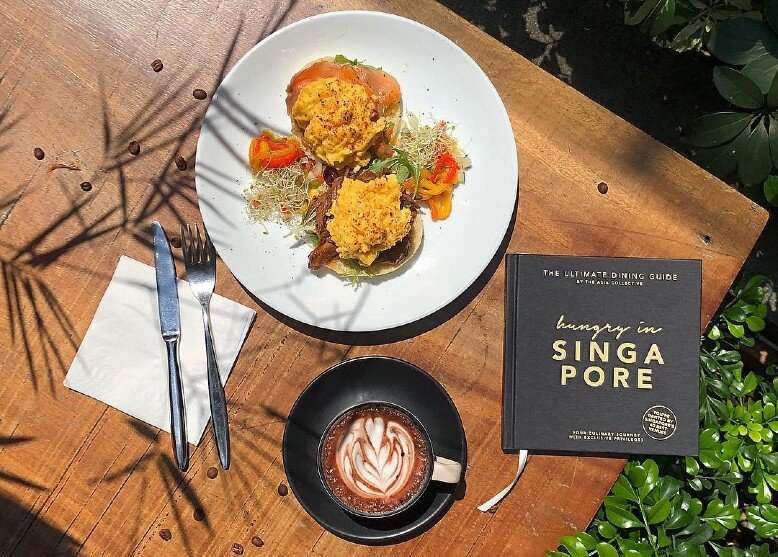 If you're looking for a brunch spot in Singapore that takes you near the calm waters, then Toby's Estate is where you should head to this weekend with your friends. Situated alongside the tranquil Singapore River, Toby's Estate gives diners a relaxed brunch experience with exceptional coffee.
Under the parent company Toby's Estate Singapore Coffee Roasters, they pride themselves on their coffee's quality. Of course, the brunch cafe also serves mouth-watering healthy, and hearty bowls. Apart from brunch staples like Muesli Bowls and Eggs Benedict, crowd favourites are their Brekkie of Champions and the Surf and Turf Tower.
Visit them at 8 Rodyk St, Singapore 238216 or call +65 9177 3256.

7. The Summerhouse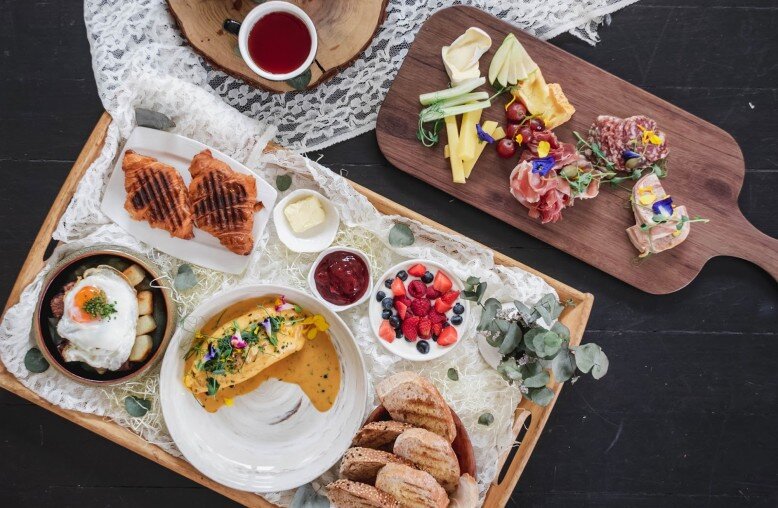 Want to immerse yourself in history while enjoying a luxurious brunch spread? The Summerhouse is the brunch restaurant in Singapore for you. The restaurant is located in a black-and-white bungalow built in a historic architecture style from the pre-war era of the 1930s.
The farm-to-table dishes of The Summerhouse are nature-inspired. The restaurant even has an in-house edible garden, sticking true to its sustainable dining concept.
Some delicious options that one could select from their menu are their Crepe Au Babeurre or their Tarte au Champignon Portobello et Burrata. Would you like to indulge even more? The Summerhouse also has an exceptional communal brunch that comes with an Entree, a Plat Principal, and a Sharing Le Dessert.
Visit them at 3 Park Ln, Singapore 798387 or call +65 8809 5840. You can also place reservations here.

8. Kinki Restaurant + Bar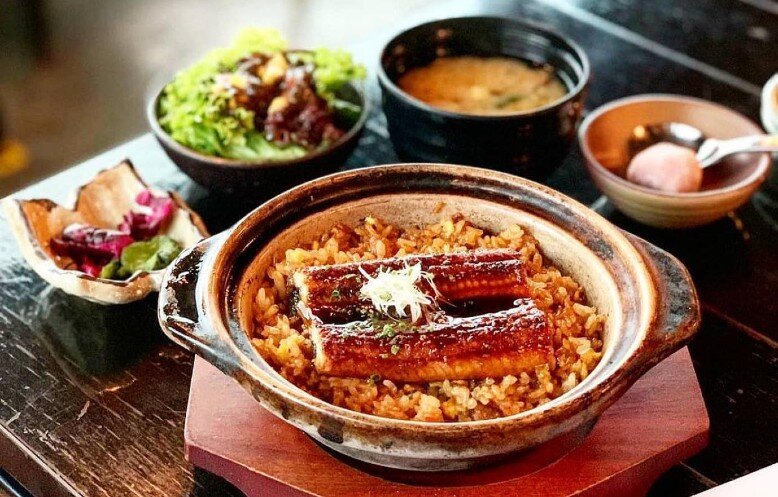 Now, moving on to brunch places in Singapore that serve up endless dishes: the buffets. One such spot you should visit is Kinki. This chic restaurant bar serves bottomless buffet brunch on the weekends and public holidays.
As they say, the more, the merrier. So, order as many servings as you like from the endless selections of Sushi, Sashimi, and many more. Not only is the food delicious, but the view is also breathtaking. If you happen to be lucky, you can sit near the windows that overlook Marina Bay Sands and the Singapore River. Does this not sound like the perfect brunch to you?
Visit them at 70, #02-02 Collyer Quay, Customs House, Singapore 049323 or call +65 6533 3471.

9. Xperience at SO/ Singapore
Xperience at SO/ Singapore calls its brunch the "Mother of All Brunches" and you can most definitely expect nothing short of perfection when you dine here. Xperience takes you on a truly magical experience with a tower of magnificent delights.
Look forward to sinking your teeth into dishes like Grilled Truffle and Cheese Toasties, Chicken and Beef Sliders with Poached Tiger Prawn Skewers, as well as Tonkotsu Tartare Beef Ribeye. Sweet tooths, on the other hand, should look forward to finishing the meal with the Chocolate Fondue and Homemade Waffles.
Visit them at 35 Robinson Rd, Singapore 068876 or call +65 6701 6800. You can also book your dining slot here.

10. Kwee Zeen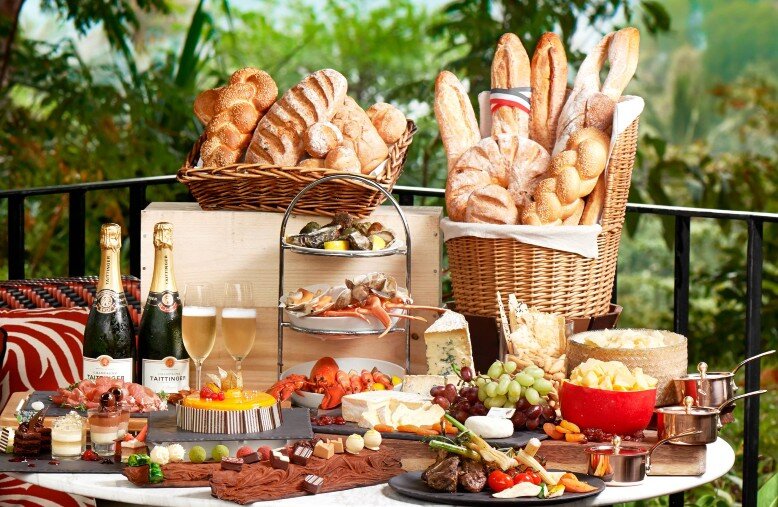 If you enjoy having a luxurious brunch in a paradise retreat, Kwee Zeen is going to be your one true love. Held only on Sundays, Kwee Zeen's brunch is comprised of eight sections: the Salad, Sea Treasure, Artisan Corner, Baker's Corner, Live Station, Hot Selection, Little Prince and Princess Corner, and Dessert. That's right, you read it correctly — there is a section meant for kids that serves cold and hot food with dessert.
This brunch spot in Singapore is the place to be, especially for families looking for a relaxing day in a resort spa. You can look forward to enjoying a lovely Sunday afternoon amongst lush greenery or lovely architecture while digging into your food.
Visit them at 2 Bukit Manis Rd, Singapore 099891 or call +65 6708 8310. You can also reserve a table here.
11. Tanjong Beach Club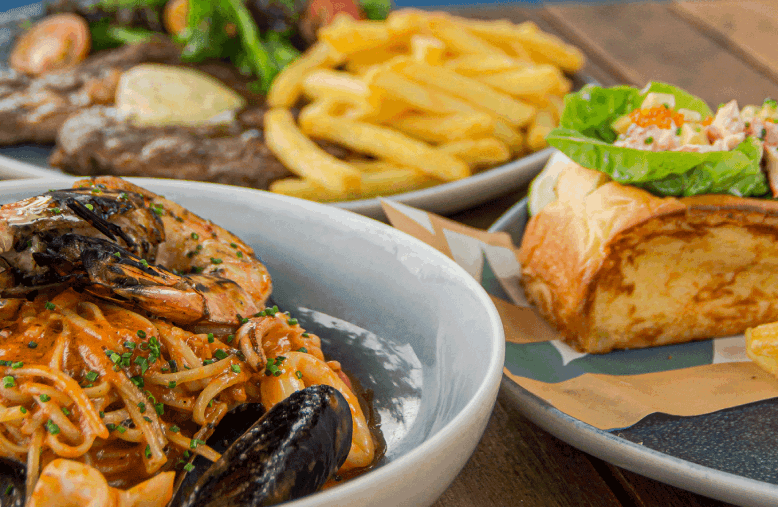 If you want brunch with a view, Tanjong Beach Club is the place to be. Enjoy your favourite hearty meals — pasta, burger, French toast, you name it — while basking in the sun and admiring the clear blue water. Every member of the family will surely have something they can enjoy on the menu, so it's definitely an experience perfect for adults and kids alike. Plus, the place has a tropical vibe that makes you feel relaxed and serene!
Visit them at 120 Tanjong Beach Walk, Singapore 098942. You can reserve a table here.
12. 6 Letter Brunch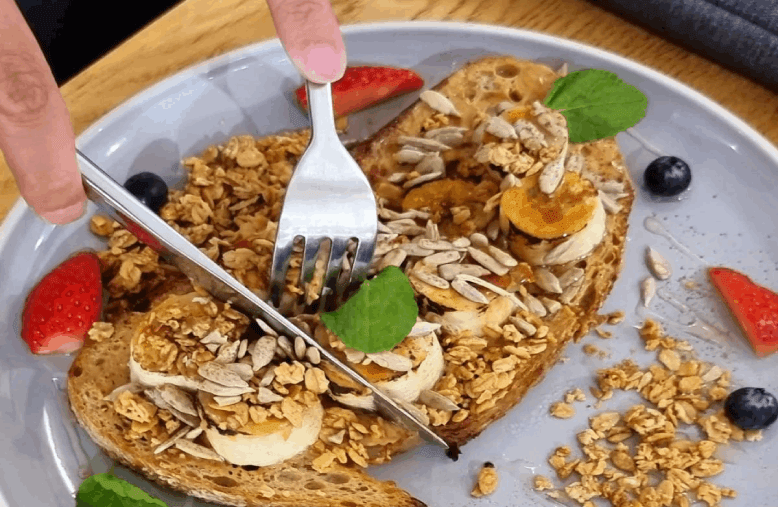 Healthy brunch options fill the menu at 6 Letter Brunch. Get your daily dose of greens every time you enjoy a scrumptious meal from this place. You can have yourself a hefty serving of Avo and Toast, cooked-to-perfection Fish and Chips, or a comforting plate of Salmon Aglio Olio. Or maybe it's time to take a bite of their delicious Pulled Pork Tacos and enjoy a mouthful of their packed smoothie bowls for brunch? Whatever dish you choose, it'll surely be healthy!
Visit them at 103 Frankel Avenue, Singapore 458225.
Which one are you trying out first?
Craving for more? Check out these 10 Best Korean Cafes & Restaurants in Singapore.
Comments, questions or feedback? Email us at [email protected].