Missing Seoul? Let your tastebuds do the travelling and indulge in the flavours you crave for. Ahead, we name the top 12 Korean cafes and restaurants in Singapore that'll surely transport you to the Land of the Morning Calm.
1. Cafe Kreams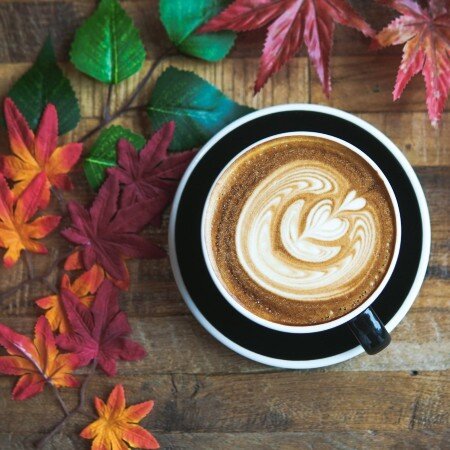 It's summer all year round in Singapore, so why not take a trip to Cafe Kreams in Maxwell Chambers for a feel of autumn goodness? This cosy spot has a unique aesthetic to it, with its whole interior decked out in orange and red leaves from giant branches on top of the ceiling.
Not only is the decor incredible, but the drinks and food there are simply great in bringing the best of Korea to you. K-culture lovers will enjoy the drinks they serve like the Dalgona Latte and Korean rice wine. Want to have more than just drinks? Cafe Kreams serves dishes like their Tteok-Bokki Hot Plate and Gang Jeong Hot Plate are a must-try.
2. PLUS EIGHT TWO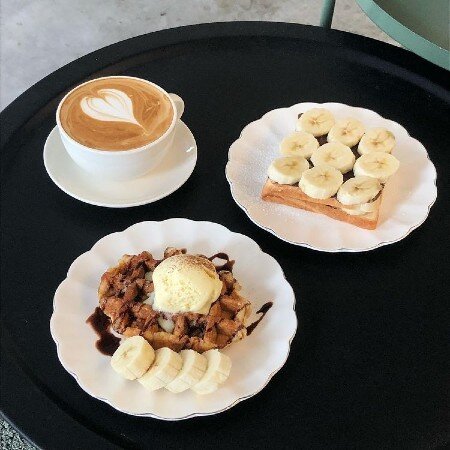 Located at Bras Basah is this adorable Korean dessert cafe called PLUS EIGHT TWO. Opened by Eun Kwang, a K-pop star from the boy band BTOB, it has become a popular spot for K-pop fans, who gather there to celebrate the birthday events held by the cafe.
Looking for a place to grab afternoon tea with your friends who all love Korean food and music? This is the place to go to. Visit PLUS EIGHT TWO and delight in classic Korean cafe dishes like the Injeolmi Toast and Silk-like Shaved Ice Bingsu while fangirling with your pals.
3. 82Bunsik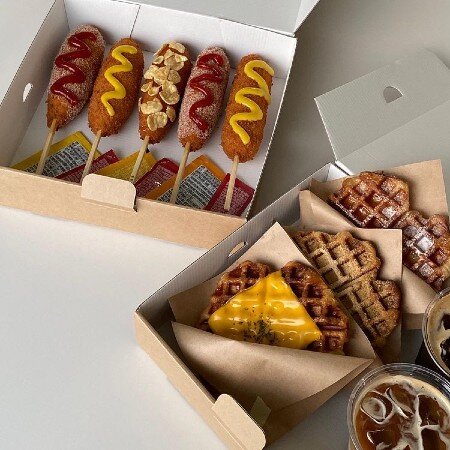 Yet another concept by PLUS EIGHT TWO is this joint called 82Bunsik serving up delicious treats. Like the minimalist cafes you would see in Seoul, 82bunsik has all the ambience and decor that will transport you to Korea.
On top of their best-selling Injeolmi Croffles and Cereal Corn Dogs, they also serve an incredible spread of Korean dishes like Tteok-bokki and Korean chicken drenched in sweet and spicy sauce. Sweet tooths, on the other hand, would delight in their Bingsu as well.
4. Pocha in a Forest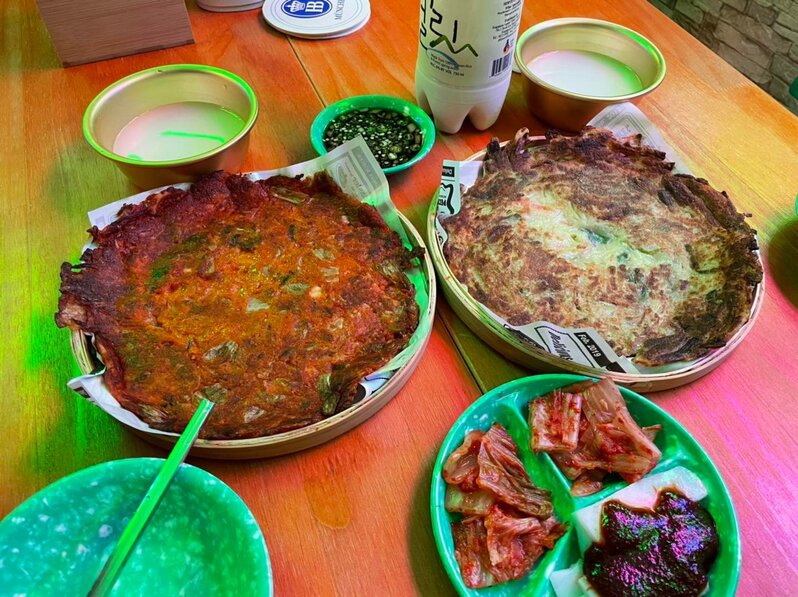 On the streets of South Korea, you'll always find colourful tents serving street food called the pojangmacha. Inspired by that, Pocha in a Forest offers a similar one-of-a-kind dining experience that you probably won't experience in other Korean restaurants in Singapore.
For a fun Friday night get-together, invite your friends for drinks at Pocha in a Forest. Dine in their tent and taste dishes you can order in a pojangmacha such as fried chicken, kimchi stew, and chive pancakes.
5. Walking on Sunshine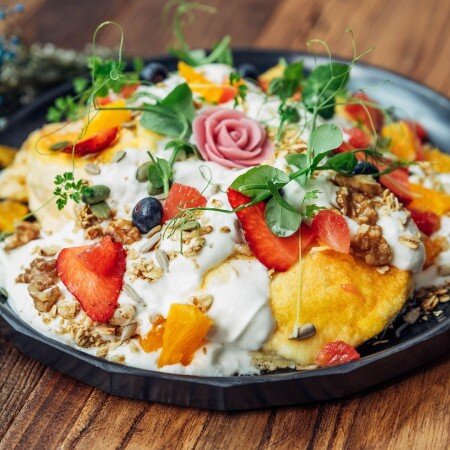 Have you ever wanted to indulge in Korean food while getting your hair done? Well, Walking on Sunshine gives you just that. While you get a makeover, you can order hearty dishes from their cafe, which serves a number of flavourful Korean dishes like the classic Korean kimchi and seafood pancakes.
For those who want to indulge, head over to their Croffle buffet spread, which gives you eight different flavours to sample. Choose from sweet ones like chocolate or go for savoury options like the bacon mash potato.
6. Ice Lab Cafe
On the other hand, if you are looking for a drink that takes you back to your last trip to Korea, Ice Lab also serves authentic Da-bang coffee. The drink allows you to have a glimpse of Korean history as it draws inspiration from the coffee served by the tea rooms or da-bang that were widespread in South Korea before western-style cafes came in the 20th century.
7. Kong Cafe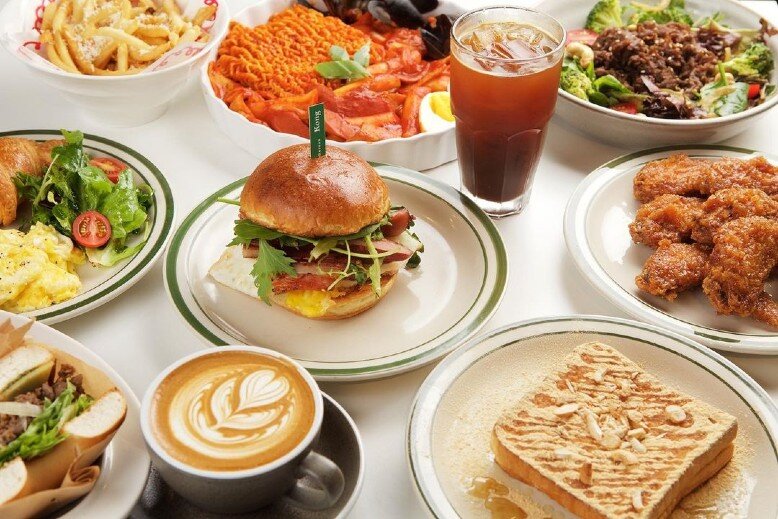 If you adore Korean street food, then Kong Cafe is the place you need to visit. Kong Cafe has two outlets — one in Bukit Timah and the other in Thomson — and both have equally delicious items on the menu.
The Bukit Timah outlet, in particular, has some very interesting dishes that will blow your mind, such as their Blueberry Honey Pizza and their Bulgogi Pizza. But fret not if you are not a big risk-taker, you can take your pick from the array of classic Korean selections like their Yangyeun Chicken and Seafood Ramyun, which are incredibly delectable.
8. Nayana Kpop Cafe & Restaurant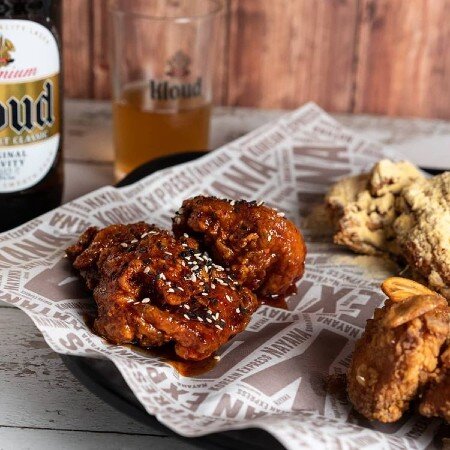 At Nayana K-pop Cafe & Restaurant, you will find your favourite bingsu flavours and your go-to Korean fried chicken that will not disappoint. The cafe-cum-restaurant serves Korean breakfast dishes like Croffles, Mandu and Injeolmi toast.
You can expect Nayana's specials to be served for lunch, like their Hotplate Chicken Dakgalbi and Tofu Kimchi Jeongol, which are perfect for sharing. So when you visit, grab some friends or family and indulge in Korean food!
9. Two Cranes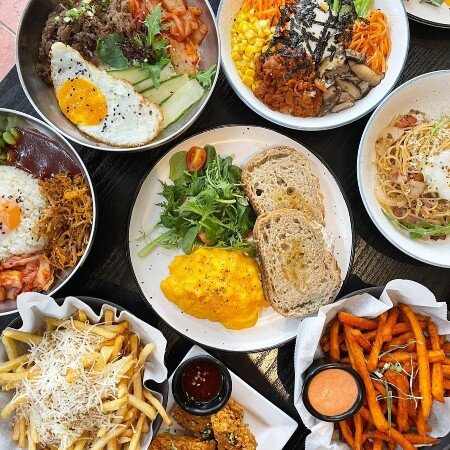 If you live in the East and want to get some Korean food, then you're in for a treat. Just located in Hougang is Two Cranes, a Korean-inspired cafe that serves up bingsu with a local twist. Two Cranes delivers a little bit of Singapore in their Pulut Hitam Bingsu and it is truly a delightful combination.
Other than bingsu, Two Cranes also serves Korean-inspired brunch meals like Dakgalbi with Scrambled Eggs on Toast — sounds yummy, right? If you are headed there, remember to also try the Naengmyeon and Wonda-fu drink!
10. Cafe de Muse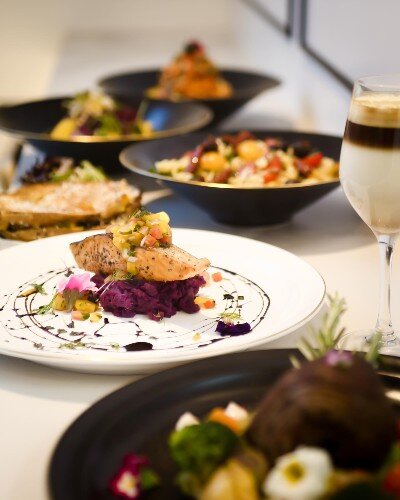 Located along the bustling streets of Orchard Road is the whimsical Cafe de Muse that will take you on a unique culinary experience. The establishment has two levels — you'll find the brunch cafe at the first, and then the dessert cafe when you head over to the second.
Similar to the cafes that you would visit in South Korea, Cafe de Muse has an aesthetically-pleasing touch to its interior. They also serve a great range of Korean-inspired dishes both in their restaurant and their cafe. Try their Kimchi Fried Rice, Korean Chicken Skewers, and Bulgogi Pasta then finish off your meal with a bowl of Bingsu.
11. Infusion Roastery Cafe
Looking for a place to eat and drink coffee on a day out? Give Infusion Roastery Cafe a visit! Owned by someone who grew up in Gangnam, the menu includes different dishes and pastries that have hint of Seoul to it just like their Bulgogi Beef Pasta and Chicken Deopbap (rice bowl).
Plus, their coffee is a must-try whenever you drop by the place. They have their own micro-roastery where they roast their own beans. And you can pair your coffee with croissants of various flavours or delectable waffles!
12. Snap Cafe


Freshly opened in July 2023, Snap Cafe offers pastries and desserts inspired by Korean favourites like the Black Sesame Cheesecake Crumble and the Sweet Potato Pound Cake.
They also serve hearty Korean-inspired Sourdough Toasties that will transport you back to Seoul with just a bite. Have a taste of its Gochujang Prawn and Korean Spicy Chix and Egg flavours next time you visit.
Which are you going to first?
Visiting Seoul soon? Drop by these cafes to channel your SEVENTEEN bias.
Comments, questions or feedback? Email us at [email protected].