adidas has officially opened its first-ever Brand Centre in Singapore! Named Adidas Homeground, it is also the largest mono-brand retail sports store on our sunny island. Here's what you can expect when you pop by the store, which is located at 270 Orchard Road.
Spanning three floors, the store offers the largest array of adidas performance and Originals apparel, footwear and accessories in Singapore. It includes a few store exclusives too, including the new Ultraboost 22 running shoe for women and an SG Key City t-shirt with graphic elements of Singapore.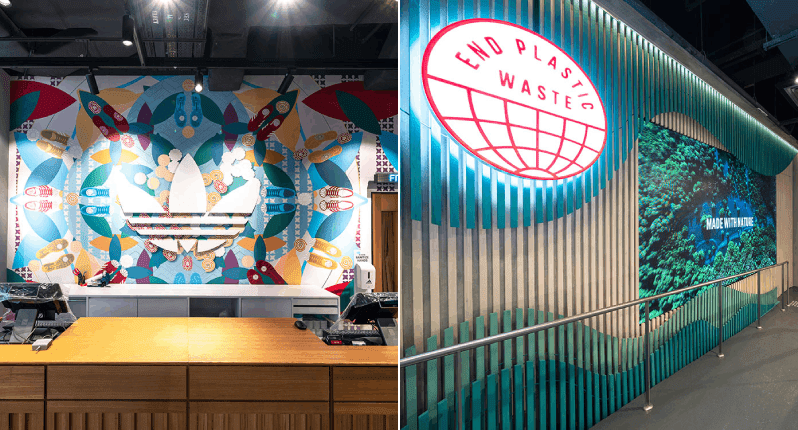 The store also boasts five key features that are not to be missed — in fact, most of these features bear thoughtful elements that are inspired by Singapore. Pop by the 'Local Delights' station, which celebrates Singaporeans' shared love of food. It is distinguished by a vibrant piece of artwork that is inspired by traditional local cakes and snacks, such as Ang Ku Kueh, Muruku, and more.
Next, visit the sustainability feature wall, which is created using layers of reclaimed wood. It is inspired by the Singapore River's coastline and aims to show the brand's commitment to sustainability.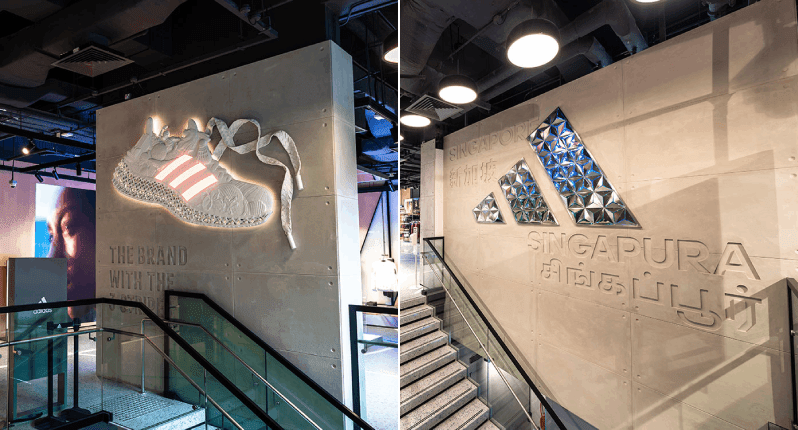 As you work your way up and down the stairs within the store, keep an eye out for two installations as well: the 'Always Fwd' wall collage that consists of locally inspired elements and takes the form of an adidas shoe, and the 'Badge of Sport' living sculpture that has mechanically controlled stainless panels moving in a rhythmic pattern.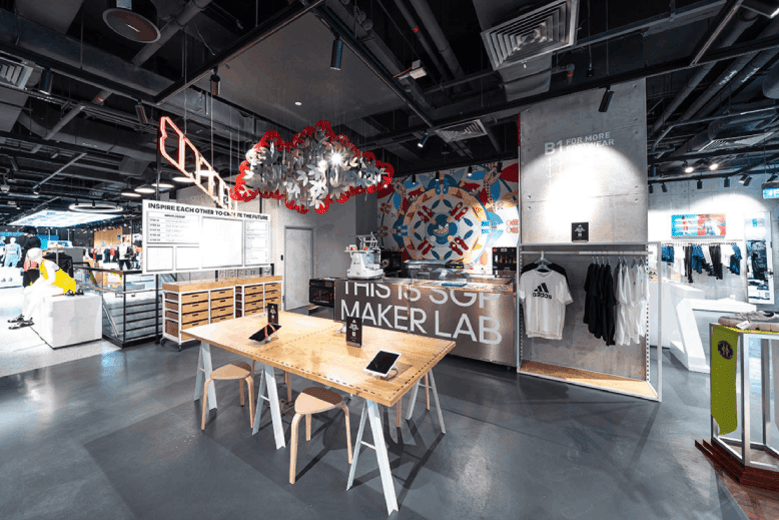 Finally, make a trip to the MakerLab, which has an anamorphic ceiling installation that is made with 180 pieces of stainless trefoils. It is specially designed to resemble the brand's 'Trefoil' from one angle, and an outline of Singapore from another. To celebrate the launch of the brand centre, shoppers can also stand to get their hands on 15 exclusive limited edition MakerLab designs that are created by local artists Studio155 and Kristal Melson.
The adidas Homeground store is located at 270 Orchard Road, Knightsbridge, Singapore 238857.
(Cover photos from: adidashomegroundsg.com)
adidas has teamed up with Prada recently to launch a luxury sportswear collection too. Read more here.

Comments, questions or feedback? Email us at [email protected].