The heat might discourage you from exercising, but we're here to tell you to push on! If exercising inside your house is unbearable, the next best thing is heading outside to enjoy the soft breeze as you get your body moving. But since there are several restrictions in place for physical activities in our region right now, we're a little bit limited when it comes to options. We still have quite a few though. So don't worry because we've rounded up some safe ways to stay active outdoors. Read on to find out what they are.
Switch to a stepper bike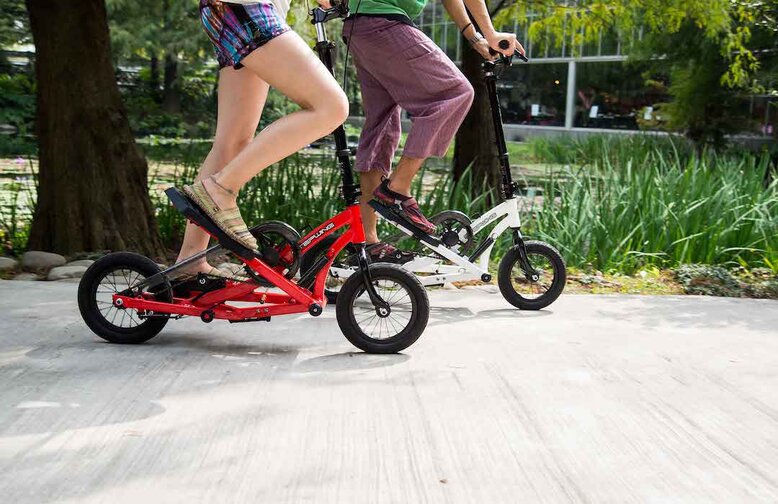 Biking is a great way to get your fitness on while outdoors. But did you know that there's a variation of a bike that is more ergonomic and engages your entire body? It's the stepper bike. These bikes switch up the pedalling stance to a gentler alternative that's good for your knees, hips, ankles, and back. This makes it more of a weight-bearing exercise so it supposedly helps improve bone density more than traditional cycling.
Perfect if: You're pressed for time. A stepper bike doubles as a safe and eco-friendly form of transportation, so you can use it to fit in some exercise during your daily commutes or during your errand runs.
Try this: The Brizon Stepwing Bike. If you're in Singapore, you can try one before you buy. On top of the health benefits, it's also pretty easy to use — you can already get the hang of it in just a few minutes.
Pick up a jump rope
If you're searching for safe ways to stay active outdoors, jumping rope is another good way to fit in some exercise in your day. This cardio workout is deceptively simple, but it's actually more intense than running or cycling. In fact, you can burn calories faster by skipping rope versus running. It also challenges you to improve your coordination and balance, since you need to maintain a rhythm as you skip and hop in place.
Perfect if: You want something you can do alone. You can jump rope anywhere there's enough space like in your driveway or on your balcony, for example.
Try this: The Decathlon 900 Skipping Rope is a versatile option if you want to add more weight or length to your rope as you become more versed in the exercise.
Do your yoga flow on the balcony
If you're craving to switch it up with your yoga routine, you can always take it outdoors. All you'll need is your yoga mat, after all. If you have a garden, you can also do away with the mat and do yoga on the soft grass instead. Some instructors believe that the direct contact with the ground (called "grounding") allows the soil's electrical current to "stabilise your body's circuitry". Even without it, yoga is great for improving your flexibility, strength, and balance. After hours of sitting down at your desk, doesn't a good stretch sound good to you?
Perfect if: You want a relaxing yet healthy way to start or end your day. Vinyasa yoga gets your heart pumping while hatha yoga eases you into a more relaxed state. Imagine welcoming the day with the sunrise and saying farewell to the sun as it sets — it's quite a tranquil vibe, if you ask us!
Try this: Wear some stretchy activewear, like the Pinksalt Eliena Sports Bra and Leggings in Linear, so you can move smoothly from one pose to another.
Check out an outdoor gym
This may seem like a cop-out, but outdoor gyms offer a refreshing change of scenery. You get the same equipment but with the added element of fresh air. In fact, a study suggests that there's an added psychological benefit of exercising outdoors in natural environments since it can boost that surge of energy and exhilaration that naturally comes with a successful workout. There's a lot of variety in outdoor gyms too. You can join different classes, from spin classes to yoga to circuit training depending on the facility's roster of programs.
Perfect if: You like group exercises and the great outdoors. Most outdoor gyms have small classes where they require participants to wear masks for low-intensity activities so you get to enjoy the company of other people also working on their own fitness goals.
Try this: Some outdoor gyms and classes you can check out are Virgin Active in Singapore and Fitness First in the Philippines. Unfortunately, current restrictions in Malaysia don't allow gyms to be open to the public.
Take a dip in the pool
What better way to exercise and keep cool than swimming? Swimming is a popular cardio exercise that engages all the major muscle groups since you use your arms, torso, and legs to move down the pool. But did you know that swimming can also help lower blood pressure and help improve your breathing control? It's also easily modifiable for those who have weaker joints, so it's good for you if you can't do more physically taxing activities like running or weight-lifting but still want to stay mobile. Don't forget to wear the appropriate swimwear so you can smoothly slice through the water.
Perfect if: You want a quick but effective exercise at the end of the day. Swimming for 30 minutes is already equivalent to 45 minutes of other land-based exercises. If you're in Singapore, as long as you're alone or there's only one other person using the pool at the same time, you're well within the safety measures.
Try this: We're eyeing the GIGI Hi Cut One Piece Swimsuit in Leopard that's made of 100 per cent spandex and comes in a fun print.
Now that you know of these safe ways to stay active outdoors, which one will you be trying soon?
(Cover photo from: brizon.com.tw)
If you're getting back into the groove of exercising at home, check out these basic at-home gym must-haves.
Comments, questions or feedback? Email us at [email protected].