The newly unveiled Tory Burch Fragrance Essence of Dream collection features five whimsical fragrances; each scent symbolises a certain "dream" for the future. Check them out below!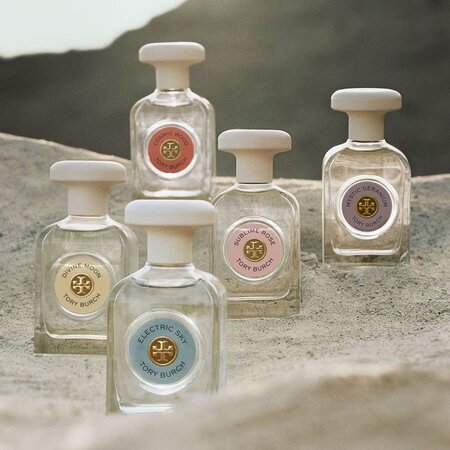 Tory Burch Fragrance Essence of Dreams
The collection includes The Electric Sky, Divine Moon Cosmic Wood, Sublime Rose and Mystic Geranium. Each scent has uplifting notes that will help put you in a cheerful mood.
The Electric Sky aims to capture the "scent of freedom". It's a light, fresh scent with notes of cactus flower, lavender and wood. It also has saltwater and blue sage which further its breezy fragrance.
Meanwhile, Divine Moon is a woody-citrusy perfume that features a blend of Lady of the Night flower, honey and citrus. It's inspired by designer Tory Burch's dreamy garden in Antigua and is meant to evoke a sense of peace.
Next is Cosmic Wood, a bold floral blend that will remind you of "magic". The vibrant perfume starts with spicy cardamom, jasmine and vetiver. It ends with a warm base of smokey wood, patchouli and sage.
Like Cosmic Wood, Sublime Rose also has a strong scent. The romantic perfume harnesses the "smell of love" and consists of warm notes blended from classic rose, blackcurrant and warm wood. Notes of freesia are also added to lighten the fragrance.
Last, but not least is Mystic Geranium. This playful perfume is "joy" in a bottle. It utilises fresh bergamot, geranium, lotus and musk. Cedarwood serves as the closing act of this scent.
Tory Burch Fragrance Essence of Dreams Price, Availability In Singapore
Tory Burch Fragrance Essence of Dreams is currently available on the brand's United States website for USD125/~SGD173 per 90ML. Stay tuned for its price and availability in Singapore!
(Cover photo from: @toryburch)
Next, check out these luxurious-smelling perfumes that won't break the bank.

Comments, questions or feedback? Email us at [email protected].