Ms. Kim Kardashian is back in the beauty game! The 41-year-old reality TV star and entrepreneur is launching SKKN by Kim, her first skincare line, in collaboration with American beauty conglomerate Coty — the same company that acquired Kylie Cosmetics in 2020.
Goodbye KKW, hello SKKN by Kim
SKKN by Kim is unveiled only two months after Kim Kardashian announced the closure of her two beauty brands, KKW Beauty and KKW Fragrance. The reason? Her team shared that it's to focus on creating "new formulas that are more modern, innovative and packaged in an elevated and new sustainable look". And that exactly describes SKKN by Kim!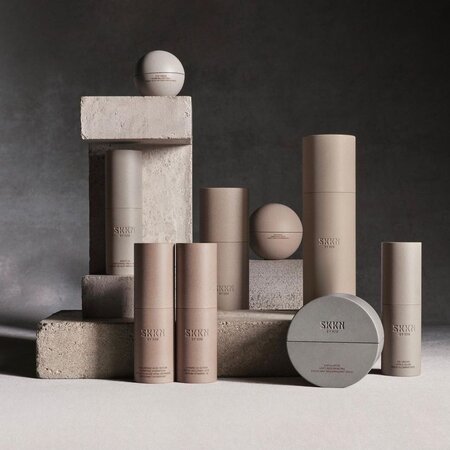 SKKN by Kim skincare products: texture, ingredients, packaging
Kim describes her skincare line as a "nine-product ritual". The first step involves a light foaming cleanser that can wash off water-resistant makeup without stripping skin of its hydration. Next on the line-up is a "skin-renewing" toner that contains double acidic and enzymatic exfoliation which are great for smoothening the skin's texture. Then, there's the "double mechanical and enzymatic exfoliator" that promotes skin rejuvenation.
The range also includes two serums: a multi-molecular weight hyaluronic acid serum that delivers hydration deep into the skin and a vitamin C8 serum that helps even out pigmentations and keeps wrinkles at bay.
To seal in the serums, SKKN by Kim offers cream products as well including a rich firming moisturiser formulated with anti-inflammatory postbiotics and a moisturising eye cream that reduces puffiness.
Kim Kardashian is also a fan of facial oils so it's no surprise that her skincare line features two: one is infused with vitamin C for glowing skin and the other is a night oil that helps the skin become supple and smooth.
The whole line is made with the help of Kim Kardashian's facialist, Joanna Czech. Kim also shared that the line is essentially "years of experience, and facials, and dermatologist appointments" bottled up. What's more, each formula comes in refillable packaging — great for the wallet, great for Mother Earth!
SKKN by Kim: launch date, price, and where to buy in Singapore
SKKN by Kim is set to launch on 21 June exclusively on the brand's website. The price for the products ranges from USD45/~SGD62 to USD95/~SGD131. It's yet to be revealed whether SKKN by Kim will be available for international shipping so stay tuned for its availability.
This article will be updated as more information becomes available.
(Cover photo from: @skkn)
Next, check out these buzz-worthy beauty picks. ​​

Comments, questions or feedback? Email us at [email protected].