When you live in a tropical country, showering every day is a must to keep you cool and get rid of a day's worth of sweat. The only problem is that taking a shower frequently can make your skin so dry. That's where ReFa's new FINE BUBBLE S Shower Head comes to the rescue! Coming from the makers of the famous Carat Ray Massager, this bath accessory is specifically designed to hydrate your skin while you cleanse it.
Benefits of using ReFa FINE BUBBLE S Shower Head
True to its name, ReFa's FINE BUBBLE S Shower Head creates ultrafine bubbles and microbubbles to gently penetrate deep into the skin's surface. These tiny bubbles will remove impurities and unclog pores while also increasing the outer skin layer's water content by 36% right after each use.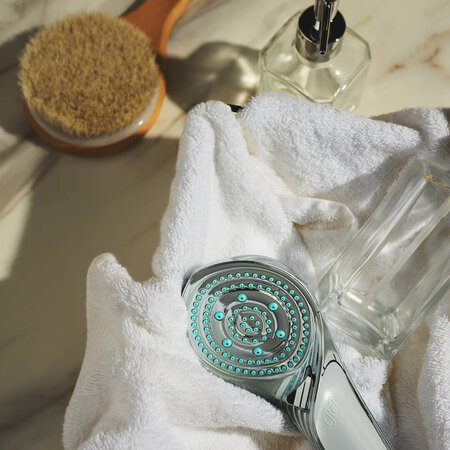 There are four spray patterns available: Mist (has a mist-like spray, perfect for sensitive areas), Jet (provides a blood circulation-improving pressure for skin and scalp), Rain (good for therapeutic showers), and Powerful Rain (for a quick-rinse, invigorating shower).
You can also use ReFa FINE BUBBLE S Shower Head to create bubble baths if you're in the mood to make bathtime extra special. Ready to get one? Installation is easy. You can just attach this shower head to any universal standard size shower hose and holder. No need to change the filter!
ReFa FINE BUBBLE S Shower Head price and where to buy in Singapore
ReFa FINE BUBBLE S Shower Head is now available for SGD399 at the brand's local website and at its Shopee and Lazada official flagship stores.
Next, check out these bath bombs that will give your baths that extra oomph.
Comments, questions or feedback? Email us at [email protected].