You're probably familiar with the term "beauty sleep," where rest and recovery are key to helping your skin and body recover from the day. And if you're ready to amp up your PM skincare routine and wake up to smoother and brighter skin overnight, philosophy has added the Microdelivery Resurfacing Solution to its lineup.
What it does
Exfoliation is an important step in a skincare routine as it helps to slough away dead skin cells and reveal healthy, vibrant-looking skin. The philosophy Microdelivery Resurfacing Lotion is specially designed to address this beauty need while keeping it gentle enough for daily use every evening.
It contains 4% alpha hydroxy acids (AHAs), which "peel away the surface of the skin" to make way for "new, more evenly pigmented skin cells" to generate and take their place. It also has centella asiatica (cica), a sensitive skin-friendly ingredient with anti-inflammatory properties, alongside vitamin C, peptides, niacinamide and hyaluronic acid.
How to use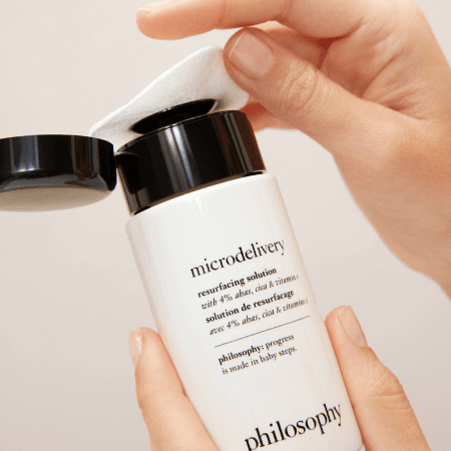 To use this leave-on daily liquid exfoliating solution, you're required to follow a three-step 'pump, swipe and smooth' routine.
After cleansing your face in the evening, press a cotton pad onto the bottle's pump to dispense the solution. Then, gently 'swipe' and sweep the cotton pad over your face, avoiding your eyes. You won't have to rinse off the product — simply allow your face to dry before you continue with the rest of your PM skincare routine.
Where to buy
The product launches this month at selected retailers including Lazada, Zalora and Sephora and is priced at MYR174/~SGD55.82 for 150ML.
Speaking of exfoliation, here's a guide on how to exfoliate your underarms properly.

Comments, questions or feedback? Email us at [email protected].