Givenchy joins other beauty and fashion brands in the metaverse in its signature grand style. Everyone, take a tour of the newly opened Givenchy Beauty House on the metaverse platform Roblox.
Inside the Givenchy Beauty's metaverse house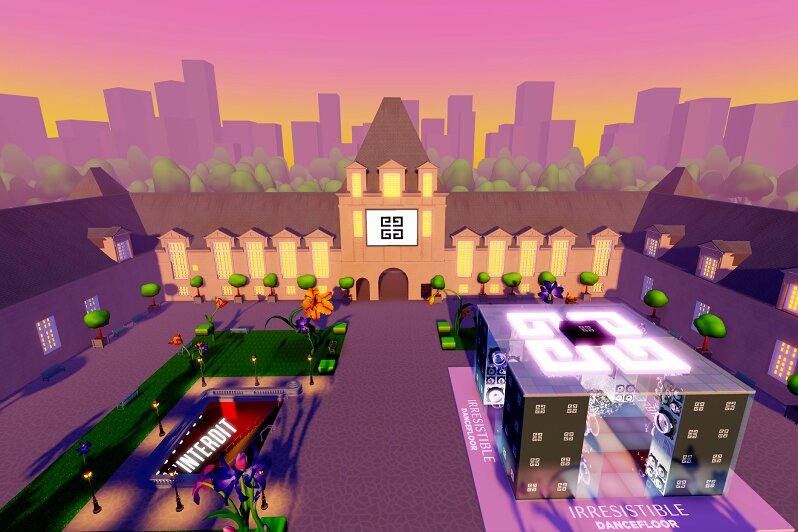 The virtual space, which is made in collaboration with the Swedish developer studio The Gang, features a grand castle with a garden courtyard landscape that's inspired by and pays homage to the late Givenchy founder Hubert de Givenchy's aristocratic home in Paris, France.
The garden acts as the starting point for all visitors where they can visit two areas, the Irresistible dance floor and the L'Interdit forbidden station. These are inspired by the two signature Givenchy fragrances. There are also makeup stations, a photo booth and a swimming pool.

Givenchy-inspired spaces
The Irresistible dance floor has giant speakers and colourful panels that recreate the party vibe of IRL clubs. It also has the Givenchy 4G logo hanging from the ceiling that sprays a cloud of multicoloured powder inspired by the Prisme Libre powder collection.
Meanwhile, the L'Interdit forbidden station is a virtual representation of a Parisian metro station and contains "vending machines" full of the Le Rouge lipstick cross-body bags. These are one of the five digital Givenchy fashion items fans can earn to dress up their avatars.
According to the brand, fans can also get these virtual accessories for free by entering a contest where they need to replicate a specific beauty look according to a given theme in five minutes.
How to access the Givenchy Beauty House on Roblox
You can view the new Givenchy Beauty House here. Visitors will need to make a Roblox account to access the game, but luckily, this is completely free to do.
Want a real-life experience instead? Head over to the YSL Beauty pop-up at ION Orchard this weekend.
Comments, questions or feedback? Email us at [email protected].