This story was first published on 14 December 2021.
Have you heard? Owning virtual Nike sneakers is set to become the new norm as the sportswear giant is doubling down its investments for its digital future — AKA the metaverse. Leading beauty and fashion brands such as Clinique, L'Oreal Paris, Nivea and CHANEL have made, or are also intending to make major digital moves. Read on to learn more.
Clinique's first makeup NFT campaign aims to address the lack of diversity in beauty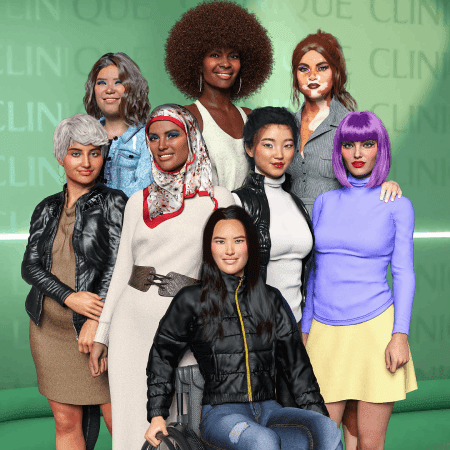 Following its official foray into the metaverse in 2021, beauty brand Clinique has unveiled its first makeup NFT (non-fungible token) campaign, titled Metaverse Like Us. The brand teamed up with Daz 3D, who has created one of "the most inclusive avatar collections", to spotlight underrepresented identities in the metaverse.
The collection comprises three NFT makeup drops which will be launched from July through September. Each drop will feature two makeup looks, which will be available for avatars in virtual reality and in real life on Clinique's website.
Nike acquires virtual collectibles company RTFKT
Nike revealed in a press statement that it has acquired RTFKT to "deliver next-generation collectibles that merge culture and gaming." RTFKT was founded in 2020 and it leverages the "latest in-game engines, NFTs, blockchain authentication and augmented reality to create one of a kind virtual products and experiences."
The love is mutual. RTFKT announced in an Instagram post that Nike is the "only brand" that the company "always looked up to and got inspired by" when starting the brand. RTFKT has also previously worked with renowned Japanese artist Takashi Murakami, streetwear stalwart Jeff Staple and video game company Atari. Now, who's ready to build their series of Air Jordan 1s NFTs?
CHANEL contemplates metaverse move
French luxury fashion house CHANEL intends to dip its toes into the metaverse too, but has yet to reveal any official plans. It will happen when the house "is ready," and will probably come with their "own contribution," confirmed Bruno Pavlovsky, the president of CHANEL Fashion in an interview with Vogue Business.
Unlike other luxury houses such as Gucci and Louis Vuitton, CHANEL doesn't intend to pivot into e-commerce just yet either with regard to the sale of its fashion and leather goods. Meanwhile, its line of fragrance and beauty goods is available online.
L'Oreal Paris unveils 'Women of Worth' NFT campaign
Moving on to the beauty sphere, cosmetics giant L'Oreal Paris has also forayed into the metaverse with an NFT art campaign to support its philanthropic initiative, Women of Worth. It teamed up with five female artists to create NFT art that is inspired by its new L'Oreal Paris Reds of Worth by Colour Riche lipstick range.
A report by Glossy.co revealed that the female artists will retain 100% of primary sales, while 50% of secondary market sales will be donated to the Women of Worth for one year. The sale is hosted on NFT auction site Opensea and will close on 16 December.
Nivea launches 'free' crypto art
Nivea has launched NFT artwork to uplift female artists too. It teamed up with Italian visual artist Clarissa Baldassarri to offer limited-edition crypto art that showcases the value of touch, according to Fashion United. The artwork is free and is part of the brand's Care for Human Touch to Inspire Togetherness campaign, which was launched in January 2021. Click here to collect The Value of Touch NFT.
Have you invested in cryptocurrency?
(Cover photo from: @clinique)
Click here as we dissect the hype around fashion's NFTs.

Comments, questions or feedback? Email us at [email protected].