Fans of Balletcore or TikTok's trending coquette aesthetic, listen up! If you're looking for makeup that will help you channel romantic, angelic, and soft girl vibes, Flower Knows is set to release its Swan Ballet makeup collection on 1 September.
Meet Flower Knows, the C-cosmetics brand that's taking over Douyin
New to Flower Knows? Flower Knows is a Chinese cosmetics brand that is known for creating fairytale-esque makeup collections. Established in 2016, Flower Knows is particularly popular on Douyin (China's equivalent of TikTok) and is the girly girl's go-to brand for creating soft and sweet beauty looks. Searches for unboxing content of Flower Knows' products have also reached over 38.7 billion views on TikTok. Another cool fact about the brand? It is founded by Baozi and Hana, two celebrity cosplayers from China.
Flower Knows Swan Ballet collection
Beautifully packaged in shades of pastel pink, baby blue, and black, the Flowers Knows Swan Ballet collection consists of 12 products. It features a variety of Six-Colour Eyeshadow Palettes, Liquid Eyeshadows, Shine Lipsticks, Embossed Blushes, Loose Setting Powder, fragrances and a selection of accessories.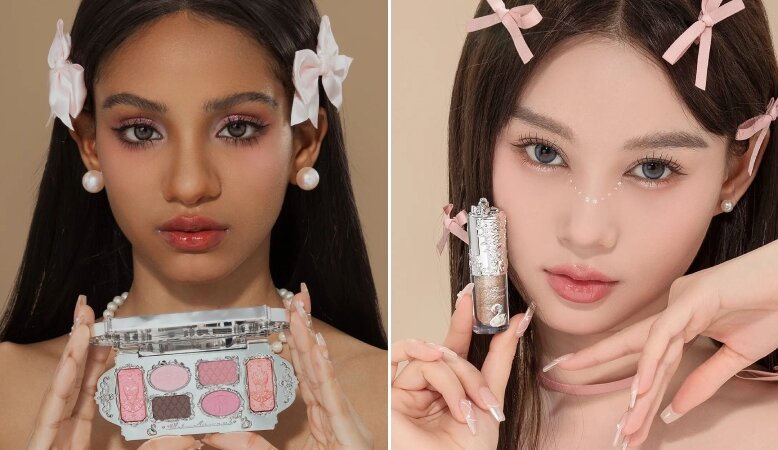 Flower Knows has given fans a sneak peek of the Six-Colour Eyeshadow Palette, which comes in three variants: White Swan, Pink Swan and Black Swan, to suit different skin tones and makeup styles. The brand has also shared more visuals of its Liquid Eyeshadows, which are available in five shades: Diamond Star, Shining Nova, Rock Ballet, Perfect Blossom and Cracking Crystal.
Where to buy the Flower Knows Swan Ballet collection
Flower Knows has yet to release details such as the price, availability and ingredients of its upcoming Swan Ballet makeup collection, so stay tuned for more information when it arrives on 1 September.
The brand's international site, flowerknows.co, offers complimentary shipping to Singapore on orders over SGD135.79. Flowers Knows products are also available via Lazada and Shopee in several countries in Asia, including Singapore, Thailand and the Philippines. Will you be adding this collection to your cart?
(Cover photos from: @flowerknows_global)
Luxe beauty lovers, have you heard? Italian luxury fashion house Prada is entering its makeup and skincare era. Learn more here.

Comments, questions or feedback? Email us at [email protected].