Makeup techniques are always a staple on BeautyTok (which covers everything beauty-related on TikTok). Here's what you need to know about the buzzworthy trend that's making waves in the colour-correcting game — the demi makeup method.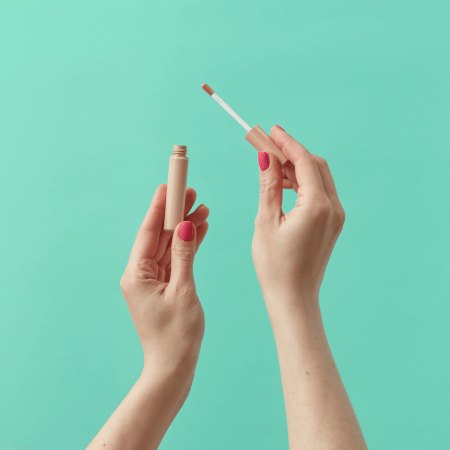 Demi makeup method
Sometimes called micro-concealing or micro-colour correcting, the demi makeup method gives a powerful illusion that you're fresh-faced and wearing no makeup at all (plus, no proof that you've got panda eyes too!). It'll also help you achieve a more flawless and even skin tone. Let's dive right into it.
How to do the demi makeup method
To ace the technique, think of it as spot-correcting instead of layering all of your makeup products, such as your concealer, foundation, and powder.
If you've usually gone straight to brightening up the dark areas of your face, the demi makeup method asks you to consider darkening some areas first before brightening up other areas. Here's a tip: go for cream formulas so that they're easy to blend.
TikTok creator @tarasigari shows us how it's done in her step-by-step video. The apples of her cheeks are naturally brighter than the rest of her face so she darkens this area to match her midtone (you can check out the Fenty Beauty Cheeks Out Freestyle Cream Bronzer or other bronzers that work well for Asian skin tones here).
She then lightens up the dark lines and spots on her face such as her smile lines with concealer (check out the innisfree My Concealer Dark Circle Cover or other of our budget-friendly recommendations here). Makeup hack alert: she first puts the concealer on her hand before using an eyeliner brush so that she doesn't overdo it. Then she blends it out, and her face looks effortlessly clearer.
The demi makeup method and the colour wheel
The method emphasises the need for balance when covering up dark areas or blemishes, and you can also use the colour wheel to achieve this. How? For example, if you have purple-ish under-eyes, you should look for a colour-correcting product in a yellow tone as it's on the opposite side of purple on the colour wheel. Or if you have red spots, you can colour correct with a green tone product such as this one from Givenchy Beauty.
Would you try out this method?
Speaking of TikTok trends, check out this intriguing filter.

Comments, questions or feedback? Email us at [email protected].