Our skin needs all the SPF protection it can get, and Beauty of Joseon has just launched its Matte Sun Stick that's designed for everyday use whether you're stuck indoors with the humid weather or you're out and about in the sun.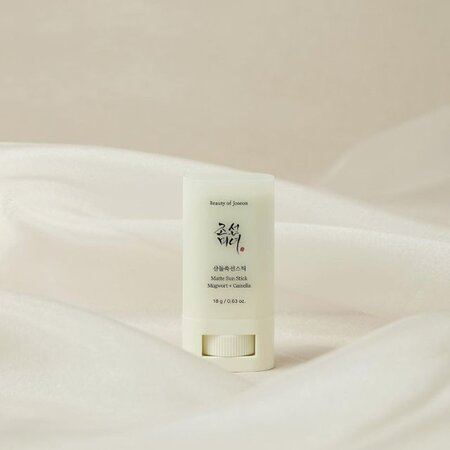 Beauty of Joseon
is a Korean brand that grew viral on social media for its glowy cream sunscreen (you can check our full review
here
). However, it comes in packaging that can easily be punctured and one that's not so convenient for reapplication throughout the day.
Nowadays, sunscreen should be reapplied every two to three hours to attain the recommended SPF and PA protection level, especially when you're spending time outdoors. But that's not easy to do all of the time. And so, it comes as no surprise that the sun stick (which you don't have to apply with your hands) is the number one product Beauty of Joseon's followers were searching for.
To respond to the demand, the brand collaborated with influencer and cosmetic chemist Ramón to create a compact sun stick with a matte formula that doesn't get clumpy and doesn't feel sticky even when reapplied several times over makeup.


Beauty of Joseon Matte Sun Stick
Beauty of Joseon's Matte Sun Stick
is made up of Mugwort extracts that are gentle and great for dry or sensitive skin, Camelia for tackling fine lines and wrinkles, and Sebum-control silica powder for regulating sebum (or that oily substance that sometimes builds up on your skin). Meanwhile, the sun stick's artemisia capillaris and green tea extracts promise to pave the way for smooth skin while maintaining moisture.
Aside from developing the Matte Sun Stick, Beauty of Joseon has also put together a special kit with Ramon. It features the Glow Deep Serum and Matte Sun Stick that work in tandem to prevent and treat hyperpigmentation (which is commonly caused by the day's stresses, age, and exposure to the sun).
With the kit, Beauty of Joseon believes it'll be the no-nonsense, ideal duo for healthier and brighter skin.


Where to buy Beauty of Joseon Matte Sun Stick in Singapore
The Beauty of Joseon's Matte Sun Stick is priced at SGD21 and is now available in the brand's official
Lazada store.
Comments, questions or feedback? Email us at [email protected].