Our "I Am Her" series features the female movers and shakers of the industry to learn how femininity and power coincide beautifully and seamlessly together.

Before Greta Thunberg, there was Dame Anita Roddick. The late founder of The Body Shop was an environmental and human rights activist, and thus implemented banning animal testing and led Fair Trade practices when it was her turn to contribute to the beauty industry. It is safe to say that The Body Shop, which was founded in 1976, is one of the pioneers in the natural beauty space.
Today, Dame Anita Roddick's mission is continued by The Body Shop's general manager for Asia Pacific Brand and Singapore Yang Kean Hye. She has been in the business of beauty for almost two decades now, but her own journey towards practicing sustainability began differently: during a trip to a South Asian beach, she was astounded by the amount of plastic waste collecting on the shore. There, she realised the impact of the beauty industry on the degradation of nature, and the responsibility she holds as a beauty industry top executive.

"In the past, I never cared much whether or not a product's packaging was made of sustainable materials," Kean Hye told Clozette in an interview. Over at work, she oversees commercial and marketing projects, and also spearheads digital communications efforts across 16 markets in the region amongst many other responsibilities. "As my previous roles were more focused on public relations and marketing, I was more concerned about the product's efficacy and in beautifying it," she added. "For the first time, I've given a serious thought about a brand's purpose, its impact on the society and how I can contribute to the society with the work that I do."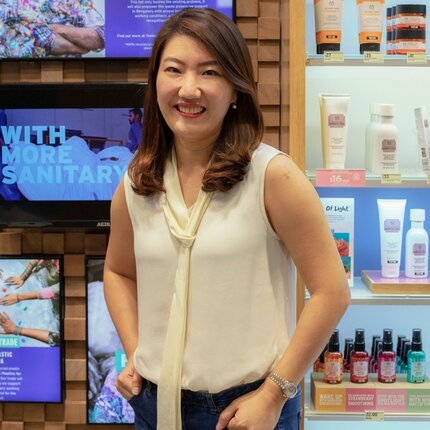 Yang Kean Hye


Today, Kean Hye is becoming an eco-activist in her own right. She beams that she is "personally passionate about conserving the marine environment and in protecting the oceans," and in her personal capacity, does her own research and donates to groups dedicated to this cause.
"With our small efforts, we can still make a big impact," she says. She's proud to have kept to her 2019 resolution in doing away with plastic straws completely. For this year, she wants to make it a habit to carry her reusable coffee tumblers at all times. What else? Read on to discover Kean Hye's journey in practising sustainability in beauty, and also in life.
What does your daily "natural beauty" routine look like?

I'm a believer of the 10-step Korean skincare routine! In the morning, I use the
Drops of Youth
Gentle Foam Wash, Essence Lotion and Concentrate. I'm a fan of the range as it feels lightweight on my skin. For my eyes, I like to use the
Oils of Life
Revitalising Eye Cream-gel as it has a richer texture.
Kean Hye is a fan of the brand's beauty products, including the Tea Tree Oil range


How has your thoughts on sustainability changed in the past three years that you've been with the company?

Firstly, I care more about the materials that are used in beauty products now. Secondly, I try to use less plastic bags, so I'll always bring my own eco-bags when I do my grocery shopping. At home, I separate my waste and recycle those that I can. When it comes to used plastic bottles, I'll make it a point to clean and dry them too.
What are some easy ways that others can become more sustainable in their daily lives?

First and foremost, they can participate in our
Plastics for Change
movement. Instead of throwing away empty bottles from The Body Shop, they can return it our stores and as an appreciation, we will reward them with a small gift. With every five 250ml bottles returned, they are automatically contributing to the Green Force in Bengalaru, India, which works with waste pickers to help clean up their city's streets.
These local workers, who are primarily women, help us to collect plastic from the streets and in return, we pay them fair wages and provide them with better working conditions. In each of our 250ml bottles, 30 per cent of it is actually made from plastic that's recycled from there.
Kean Hye believes that we can help change the world as long as we stand by our convictions
Finally, what's something you've learned from being immersed in The Body Shop's eco-consciousness?
I'm incredibly proud to be working for The Body Shop. Singapore is a very well-established country, however there are still areas where we can help. Last year, when we supported the Singapore Children's Society, it made me realise that with our seemingly small efforts, we can still make a big impact.
Rather than rely on government policies, let's focus on what we can do as a beauty brand by identifying different ways that we can support. The Government is unable to do everything, so it's also up to us as individuals and as corporations to do what we can. I believe that we can help to change the world as long as we stand by our convictions.
This interview was edited for brevity and clarity.
Click here for more inspiring stories of women.
Comments, questions or feedback? Email us at [email protected].