Our recent
48-hour trip to Taipei
saw us
reuniting
and sitting down for another chat with renowned dermatologist and founder of his eponymous brand,
Dr. Wu
. This time, our discussion ventured into what is considered one of the most prominent beauty trends in Asia: whitening skincare.

In the Western context, given the widely talked-about issue of race equality, "whitening skincare" is often viewed as a somewhat controversial topic. However, in Asia, to what extent do we equate whiteness to beauty? Is whitening merely about having, well, whiter skin? We don't think so, and neither does Dr. Wu. We talk to Taiwan's Godfather of Cosmetic Medicine about whitening skincare and the brand's latest revolutionary DR.WU Glutalight™ Whitening System.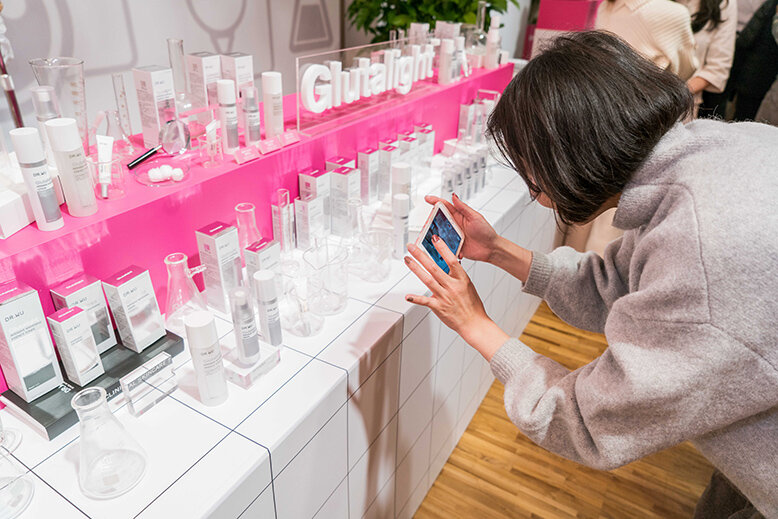 Yes, whitening injections are a thing in Taiwan
Fun fact: the top three countries the majority of overseas patients come from to get this non-invasive whitening treatment are Shanghai, Hong Kong and Singapore. "We customise treatments based on the frequency of their visits," shared Dr. Wu.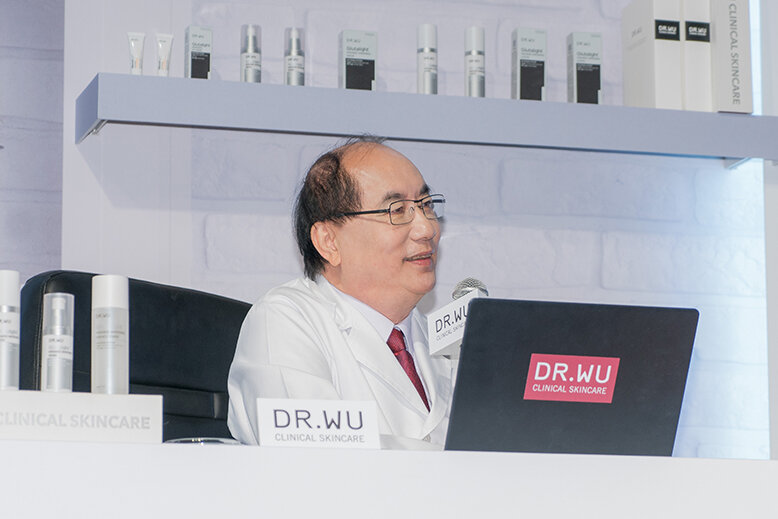 And yes, the Glutalight™ Whitening System mimics whitening injections
Formulated with key Japanese-patented ingredient, Gluthathione, the DR.WU Glutalight™ Whitening System is crafted to mimic the formation of whitening injections. The results from skincare products, as compared to an aesthetic treatment, may not be as quick. But it is more affordable and less invasive, so to speak. "The government is very strict on beauty product guidelines," said Dr. Wu. "We started on creating the Whitening System two years ago and spent a lot of time testing and verifying the results with academics from good laboratories before doing internal testings."
"The objective of our skincare products is to bring our science-backed, dermatological experience to users for the ultimate home care indulgence."
Whitening is not about having whiter skin
"After observing different skin types for so many years, I realised what's important to most is achieving an even skin tone and having smooth skin," Dr. Wu revealed. "It's not about having whiter skin. We place emphasis on healthy skin with a healthy glow – skin with a pink baseline resulting from good blood circulation."
That's why DR.WU launched the latest Glutalight™ Whitening System, designed to tackle the issues of dullness and uneven skin tone caused by free radicals and melanin.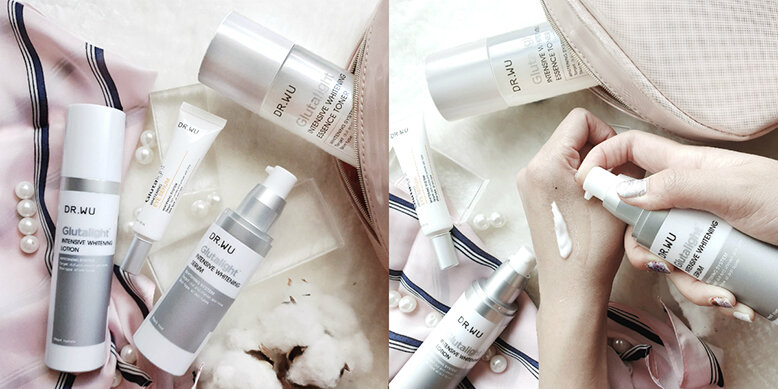 So yes, with Gluthathione, your skin will become fairer – but the skincare benefits of the Glutalight™ Whitening System is much more holistic than you think. Featuring four products tailor-made for Asian skin types – and sensitive skin! – the toner, serum, lotion and eye serum each work to make your skin appear brighter, clearer, softer, more even and moisturised than ever. The addition of Vitamin B3, B5, B6, and HerbEx Silybum Extract also help to soothe, relieve, repair, protect and hydrate skin. How's that for a winning formula?
Other skin-protecting habits you should be observing
Of course, prevention is always better than cure. Besides using the Whitening System, make sure you're caring for your skin by observing these habits as recommended by Dr. Wu. "Use physical protection like umbrellas, hats and masks. Understand the differences between using a physical sunscreen and chemical sunscreen for various occasions. Most importantly, get plenty of rest to ensure hormonal balance for better skin."
Discover the highlights of our 48-hour Taipei trip and learn more about the DR.WU's latest Glutalight™ Whitening System here.
Comments, questions or feedback? Email us at [email protected].