When it comes to sunscreens and SPF, one of the first brands that come to mind is Supergoop! The Texas-originated brand centred its entire product range around skin protection, infusing SPF in every formula. And it all started with the passionate advocacy of Holly Thaggard. Ahead, the former elementary school teacher shared the ins and outs of SPF, as well as her favourite skincare products of the moment.
In the beginning, there was Supergoop!
"When a close friend was diagnosed with skin cancer at age 29, I learned that it's the most common type of cancer in the U.S. and that it's primarily preventable with the use of daily SPF," Holly shared. "I also discovered that the number one reason people don't wear it every day is that it doesn't feel good on their skin."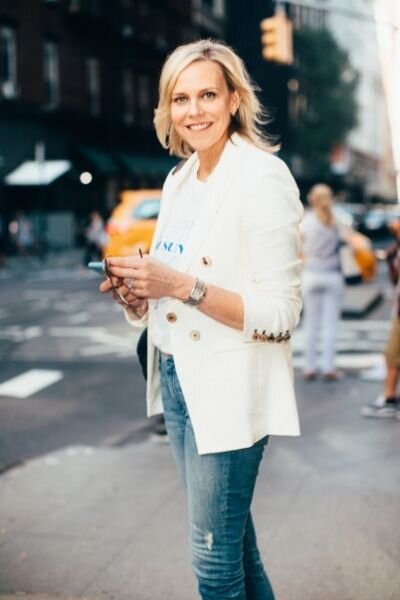 So in 2007, she made the leap into revolutionising the sunscreen business with Supergoop!'s collection of ingredient-conscious, efficacious formulas that delivers broad-spectrum protection in unique, user-friendly and feel-good ways.
Her inspiration? "To end the skin cancer epidemic and change the way the world thinks about sunscreen."
"I've dedicated the past 13 years of my life to developing new ways to infuse SPF into your favourite products that have traditionally never been made with your skin's health in mind, advocating for skin health in Washington D.C. and creating a community of SPF superfans."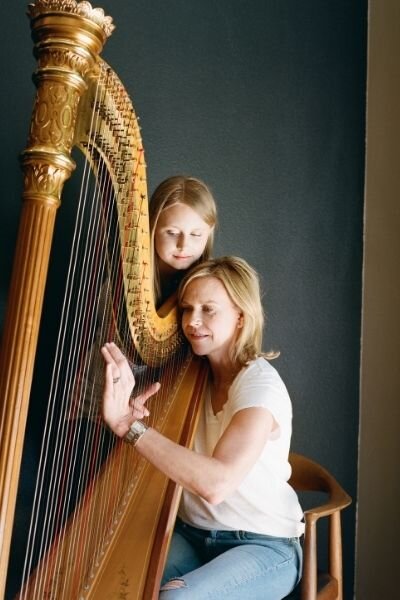 A little known fact about this charismatic businesswoman was she left behind a career as a harpist when she began her crusade for SPF education. It also gave her an edge over the established beauty insiders, coming in with her atypical products and outsider's perspective. "A lot of larger companies who have built the industry know how hard it is to formulate SPF that feels good, smells nice, is free of harmful ingredients, and works. Since I came from outside of the industry, I didn't realise what a challenge formulating SPF would be and accepted it as part of the typical product development process," she explained. "We'll test dozens of formulas before we land on the perfect one for any one of our product launches! A sense of perseverance has been so helpful."
Aside from that, she knows how to network thanks to her prior experience as a harpist. "Part of what I loved about playing the harp was the business of it all: finding clients, booking venues, marketing, etc. I have an entrepreneurial spirit so it's where I got my start running a small business. Plus, performing requires many of the same skill sets of an entrepreneur: consistency, discipline, confidence and perseverance."
On "perfecting" the science of sunscreen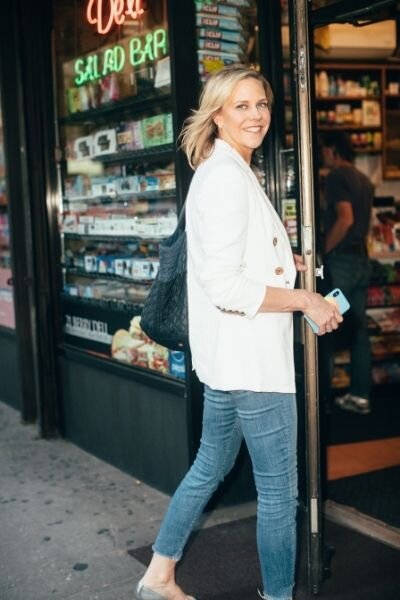 As Holly can attest, formulating sunscreens that are easy to wear and doesn't leave a white cast isn't a walk in the park. "Since we create both clean chemical and 100 per cent mineral formulas, the product finish, look, and feel are super important. For 100 per cent mineral products, we often infuse them with a blendable tint so that they rub into the skin better.
Our clean chemical formulas have a clear finish (no white cast), and a variety of finishes, be it our moisture-rich Superscreen Daily Moisturiser SPF 40, or our velvety Unseen Sunscreen SPF 40. At the end of the day, we create products that blend seamlessly into your beauty routine so that you'll apply (and reapply!) throughout the day."
What helps is they always have what their consumers want at the forefront of their development process. "When we're developing products, we really want to create things that our consumers need and want. Many were looking for a clear sunscreen that would work under makeup, so our Unseen Sunscreen SPF 40 came to life." Another example was an SPF-infused product for the eyes. "A lot of people want to protect their eyes, but find that some SPF formulas agitate them. So we created our Shimmershade SPF 30 to glide atop the eyelids, and our Bright-Eyed 100% Mineral Eye Cream SPF 40 to work all around the eye area."
Supergoop is also constantly reformulating their products. "Product formulation is my favourite part of this journey, and we take inspiration from everywhere," Holly shared. "When it comes to reformulation, we update our formulas as needed. For example, we pulled octinoxate from our formulas about a year ago, making them reef-safe, or we'll tweak based on consumer feedback. We're always growing and iterating, so it's important to occasionally take stock of the products and see how we can improve them further."
They also tweak their existing formulas based on the demand. Their latest reformulation was the CC Screen SPF 50 to expand its shade range to 15. "For CC Screen SPF 50, we wanted to expand the shade range and increase the SPF coverage. We're thrilled with how the formula turned out, and are excited to expand the range even further in the future."
A sunscreen for different occasions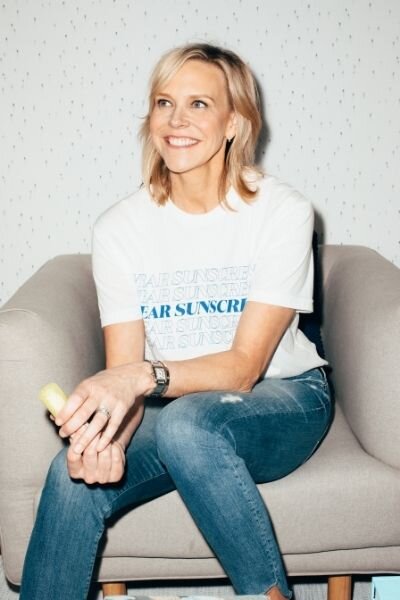 Aside from constantly revolutionising the SPF world, with her background as an educator, Holly has been very passionate about SPF education. "Education is at the core of our mission and marketing at Supergoop! We strive to educate our consumers at every brand touchpoint, be it an e-mail, a social post, video, or a note from the brand."
As she put it, "My background in teaching transferred naturally to Supergoop!, as there are still tons of misconceptions around SPF. We spend a lot of time myth-busting around sunscreen and educating around the importance of wearing SPF every single day."
One of her primary teachings is having a different sunscreen formula for different occasions. "We know that people's SPF needs change based on a variety of factors including the weather, skincare concerns, and lifestyle and we are here to ensure there's a formula that addresses every person's needs."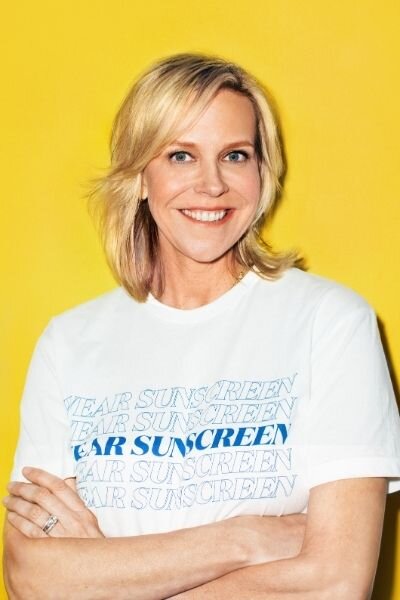 "Our SPF-spiked primers, for instance, are the perfect solution for daily use because they blend seamlessly into your morning makeup routine. And our PLAY Everyday Lotion SPF 50 is essential to have around if you have an active lifestyle (or a family with one) because the water- and sweat-resistant formula can be used where you're playing sports, at the beach, or by the pool.
I even change my SPF based on the weather — in the winter months, I love to use our uber-hydrating Superscreen Daily Moisturiser SPF 40 but once it warms up, I love to use Mattescreen SPF 40 because it blurs pores, mattifies the skin, and leaves a flawless finish. We want to make sure there's an SPF for every occasion, and that everyone can find one that's right for them."
It also helps to see what other brands can offer and work together with SPF. "I am always testing products! I love Fresh's Black Tea Kombucha Essence — I use that every single day. I also love the oil from Vintner's Daughter." And if you're curious about the skincare products that work best with your SPF, take it from the Sunscreen Queen herself: "If you're wearing retinol at night, I always recommend SPF during the day. And if you're using a Vitamin C formula, it's super important to wear SPF and it helps them work better!"
The future of SPF use
In the 13 years since she launched Supergoop!, SPF use has come a long way. "We've seen that once people start buying Supergoop!, they actually do start wearing SPF every single day, which is why I set out to start the brand in the first place — I find that so inspiring!"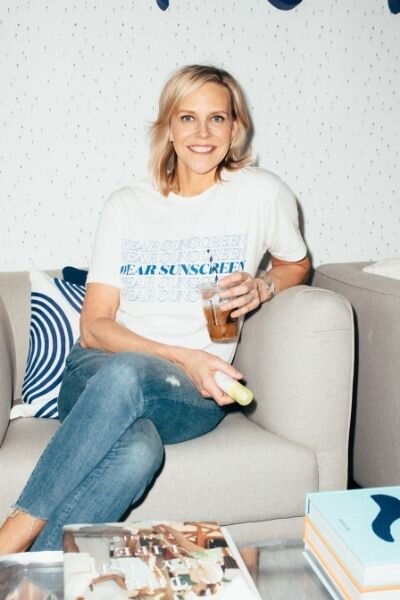 Holly credits this to the ever-growing support the SPF industry has received — and Supergoop! is at the front of the crowd. "We've also loved to see how the industry conversation around SPF has broadened, and how consumers, influencers, and dermatologists alike now include SPF in their daily routines. Our community of SPF devotees is incredibly supportive, and it's amazing to see how many people have joined our community over the past few years."
There are a lot more things to come from this SPF pioneer and we're eagerly awaiting to see what she has planned in the coming months. "We're always looking to broaden our message to change the way the world thinks about sunscreen and want to keep spreading our message!"
(Cover photo courtesy of Supergoop!)
Get to know Bruno Grizzo, the visual artist behind the limited edition Mega-Mushroom Power Duo.
Comments, questions or feedback? Email us at [email protected].