Most indie beauty brand founders are beauty lovers who want to share their passion for makeup and skincare with other people. Two such individuals are Summer Fridays co-founders Marianna Hewitt and Lauren Gore. Both were beauty bloggers with a background in media, pairing journalistic curiosity with their obsession for beauty products. From sharing beauty flatlays and reviews on their feeds, they've since moved on to making their own 'gram-worthy, effective skincare that people rave about online — we bet you've seen their bestselling Jet Lag Mask on your feed.
If you're curious to know more about their story, we spoke with Marianna and Lauren to discuss their beginnings, plans for Summer Fridays, how they design photo-worthy skincare packaging, and more.
What was your very first experience with skincare and how did it influence you growing up?
Lauren: I remember my first breakout as a teenager, and how devastating it felt at that moment! But it's also the first time I remember really understanding the power of a good skincare routine and what a significant difference daily habits can make.
Marianna: Growing up, my dad would always take me to beauty counters at department stores, searching for the best skin and makeup products. I think that's when I started to become beauty product-obsessed. To this day, I try everything and I'm always inspired to create a product from what I need.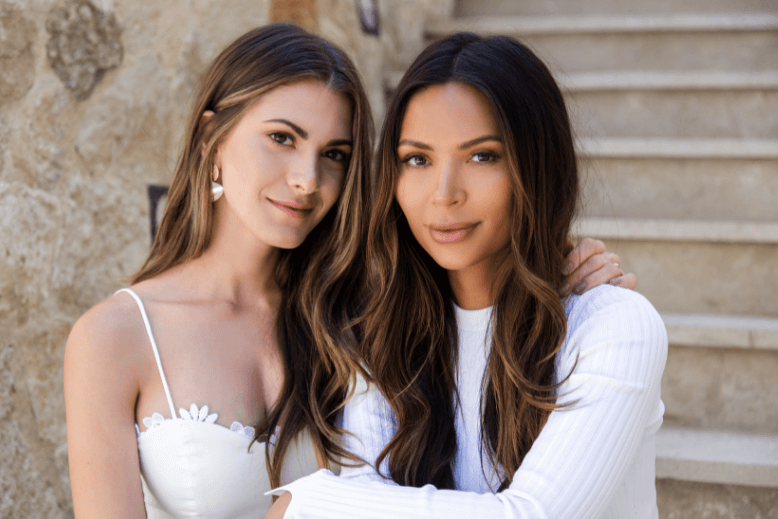 You both worked in media and communications prior to being beauty bloggers and entrepreneurs. What did you learn from these jobs that help you in creating skincare now?
Lauren: It taught us a lot about the importance of being flexible. We are both open to evolving quickly, and I think a lot of that comes from our media backgrounds. We're also strong researchers, which we learned as journalists first.
Marianna: I always had to juggle different roles while working, and I became really good at teaching myself what I didn't know. A lot of those same lessons carried over into building a business — I don't always have an answer, but I know how to find one.
What aspect of developing beauty products intrigued you the most and how did you incorporate that into Summer Fridays?
Lauren: I was early into my first pregnancy when Marianna and I had the idea to launch a skincare brand. I had spent weeks cleaning out my beauty cabinet because of ingredients I wanted to avoid during pregnancy. So for me, personally, I've always loved the challenge of creating products with good-for-you ingredients alongside a brand story that strongly resonates with both Marianna and myself as founders.
Marianna: I am obsessed with trying products and truly finding and creating the best of the best. So I have always been hyper-involved in the product development process from ideation, to testing each iteration of formulas, to the type of package it goes in. You won't see anything I'm not personally in love with.
You started with one product, the Jet Lag Mask, when you launched in 2018. Why did you decide to launch a moisturising mask versus other skincare, at the time?
Lauren: Our Jet Lag Mask is super versatile, which we loved as a first product. It can be used as a daily moisturiser, an overnight mask, or a 10-minute no-rinse mask. The ease of Jet Lag is exactly what we wanted in our first product.
Marianna: It's also really great to use on-the-go. Lauren and I had been used to travelling constantly while juggling work and our personal lives, and we needed something that made us look less tired than we felt. Jet Lag Mask felt like the perfect first product, because it's so core to who we are as founders and the lifestyle of our brand.
How did the pandemic impact your brand, since people were forced to stay at home and look for other ways to "escape" from reality? Did you have to change anything to keep up with the changing scene?
Lauren: I think being home really highlighted the importance of self-care. For the first time, we had to collectively slow down and recognise how we were prioritising time for our well-being. Escapism remained very much a part of our brand story over the past year, in a new way — our products are meant to make you feel like you've been transported some place far away, even from [the comfort of] your house.
Marianna: Of course we made changes, just as every business did over the past year. We pivoted campaigns quickly and launched merchandise, like our sweat sets that sold out in minutes. We've always really understood how to connect with our community digitally, which proved to be significant for us over the past year.
Your packaging is very minimalist and fresh. What factors go into deciding how you'll package certain products and keep them 'grammable?
Lauren: We always think about packaging two ways: how will the product itself work in a specific package and how will it translate in photos and videos? We know most of our community will be introduced to a new product through a screen first, so it's incredibly important that our packaging is both photogenic and memorable.
Marianna: We felt so strongly about our first product being in an aluminium tube, because of how it would photograph especially on Instagram. We always think digital-first, so if something isn't captured well on camera (or an iPhone!), it won't work for us. I think it's a big reason we've had success in being shared so often across social platforms.
Now that you're making your own skincare, what have you learned that you wish you knew earlier?
Lauren: We're constantly learning, and that's probably been the biggest lesson — to be forgiving of ourselves along the way, and to retain the ability to evolve quickly. I wish I had reminded myself of this early on!
Marianna: Now that we have such an incredible team, I recognise how much more we are able to accomplish together. When we started working on the brand in 2016 and for a few years after, our team was super lean, and there were limits to what we could do because our team was small. We've been able to grow and having the best team of people who are passionate about the brand is invaluable.
You have a very strong following on Instagram between the two of you and the Summer Fridays account. How does having a solid social media presence, personally and professionally, help with being a business owner in a big industry?
Lauren: We are used to juggling a lot of different roles within our own social media platforms — photographer, writer, publicist, customer service, etc. — so I know that prepared us well for building our own business. We're very active on social media, which makes us hyper-aware of what's happening online, in regards to the conversations, the trends and what our community is wanting.
Marianna: We have the unique viewpoint of being both a business owner in the beauty industry while being an avid consumer in that same industry. That vantage point has really impacted the trajectory of our business as a whole. We say all the time, we are our target consumer — so we are creating products, marketing, gifting and more for the way we would want to receive it.
What do you think is the value beauty holds today for young women?
Lauren: I really appreciate the way in which the conversation around beauty is changing — it's so much deeper than what you see surface-level, and the focus is truly centred around best caring for yourself. That kind of self-care and self-awareness is what creates more beauty in every other aspect of our lives.
Marianna: I am eager to see how the industry continues to shift, but I appreciate the inclusivity we're seeing as a whole. Growing up, it felt that we all had to fit into a specific mould to resonate with a brand, and today, I think we are seeing ourselves more and more in varying ways across different campaigns.
What's the direction skincare brands are heading in right now? What is Summer Fridays working on at the moment?
Lauren: We are working on creating new products and supporting our current retail partners, while growing our own e-commerce. We look forward to connecting with our community in real life when it's safe to do so.
Marianna: I think we're seeing more skincare brands, which says a lot about the importance people are putting on self-care and their skincare routines, which is incredible!
Which Summer Friday item on NET-A-PORTER is the most popular and why?
Both: Our CC Me Serum is always a favourite — it instantly brightens for a beautiful glow, and works long-term on dark spots and hyperpigmentation. It's best used after cleansing in the morning, before moisturiser and SPF.
Summer Fridays is available in Singapore and the Philippines, as well as coming soon to Malaysia, through NET-A-PORTER.com.
This interview has been edited for clarity and brevity.
(Cover photo from: NET-A-PORTER)
For more insider takes on everything beauty, click here.
Comments, questions or feedback? Email us at [email protected].