Our "I Am Her" series features the female movers and shakers of the industry to learn how femininity and power coincide beautifully and seamlessly together.
Jungmin Lee is like the sister you never had. She listens attentively to your problems (pesky acne issues and wardrobe woes, anyone?) and gamely takes on the role of 'personal stylist' to offer you honest advice on managing them effectively. Need a trusted, second opinion on trying out a new beauty fad? You can be assured that she's done all the heavy lifting in testing them personally before she recommends them to you.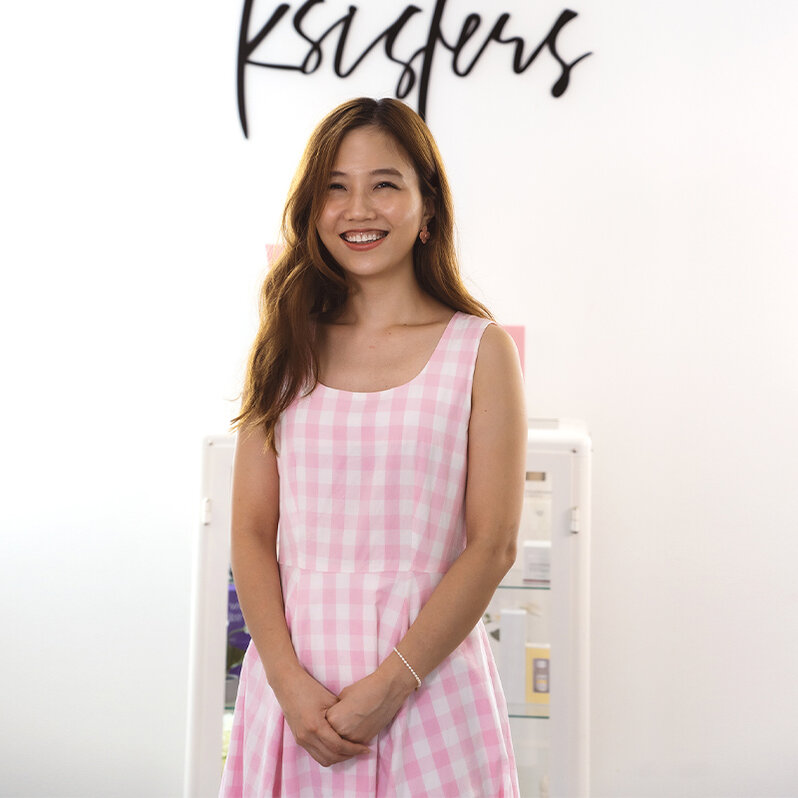 Honest, nurturing and extremely hands-on in guiding you towards making better lifestyle choices, the founder of leading K-lifestyle online platform Ksisters is a shining role model to an ever-growing community of women who have a strong interest in all things K-fashion and K-beauty. Below, Jungmin shares with us her journey in founding Ksisters, her favourite beauty trends and why it's important to love one's skin.
Fill in the blank: I am an entrepreneur, a mother of two and ___________.
A dreamer. I'm a person who constantly dreams about what my future would look like in two years, five years and even in 10 years. That said, I'm also very focused on what I'd need to prepare to bring myself and my team at Ksisters one step closer to making them a reality.
Since young, I've always wanted to carve my own space in the beauty industry. I started with the goal of working for an international beauty company and hence, actively took part in marketing competitions in university and spent a year at the University of California, Berkeley as an exchange student to strengthen my English language skills.
After spending six years managing global haircare brands such as Wella and Pantene at Procter & Gamble (P&G), I founded Ksisters in Singapore. The experience of building a business from scratch felt foreign to me as there was no 'benchmark' for me to follow. I learnt on the job and embraced new challenges, step-by-step before I was able to grow Ksisters into what it is today.
In the beginning, Ksisters was focused on offering fashionable twinning outfits for stylish mothers and children. However, I realised that I wanted to expand beyond that and venture into offering well-curated K-lifestyle products as well.
Similarly, when we were trying to develop Ksisters' in-house label Jung Beauty, it took us quite a long time to prepare for it. From registering trademarks to deciding on how these products would meet our customers' needs, it's far from an overnight process, to say the least. But at the end of the day, I believe these were possible because I wasn't afraid to dream big and make them a reality.

Growing up, what was your relationship like with your skin?
It was a love-hate relationship! I was very much into skincare when I was younger but I'd reached a point during my teenage years where I began to hate it, especially when I experienced a major breakout after trying out a new skincare product. My self-esteem took a hit whenever I was faced with less than perfect skin.
However, over time, I realised that it was more important for me to strengthen and celebrate my best features instead of fixating on my so-called imperfections. I also realised how much it helped when I shifted my mindset towards enjoying the process of discovering ingredients that worked well for my skin. After all, there are no shortcuts to this and you can only learn from experience. It took me a decade to come to terms with this. Embrace yourself. Life is short!
When do you feel most confident and beautiful?
I feel the most confident and beautiful after I've completed my daily skincare routine. It's a peaceful moment of truth where it's just my bare face looking back at me in the mirror. It reminds me to be happy and thankful for where I am in my life.
Ksisters was inspired by your daughters. What's one beauty lesson which you've imparted to them?
I always tell them to load up on SPF every single day. Ever since they were only around four or five years old, I'd explain to them how important SPF is in preventing premature, ageing skin. Now, it's become part of their daily routine.
As a Korean living in Singapore, what are some key similarities and differences between women's approach to skincare?
The key similarity is that every woman wishes to be beautiful! That's almost a universal truth. But I believe the needs of women in Korea and here in Singapore differ slightly, especially at my age. In Korea, most of the women would've been stay-home mums and would look for DIY spa-like, aesthetic clinic-quality treatments which they can enjoy at home. We're talking high potent ampoules and modelling masks.
However, here in Singapore, I've noticed that there are many working mums who appreciate and prefer to enjoy out-of-home, salon care services. That being said, they still educate themselves on skincare ingredients and are gradually embracing DIY, at-home beauty treatments too.

Koreans are known to be early adopters of beauty trends. Are you into trends too? If yes, what's one trend which you've tried and loved, and one which left you with less than desirable results?
As a curator and online platform for K-Beauty, we purchase a lot of samples from Korea and test them internally. Through this process, I've been able to discern between the ones which go on to become part of really meaningful and interesting trends, and those which seem to be made for the sake of 'marketing'.
One trend which I'm loving currently is probiotics skincare. Initially, I had my reservations about it. But after understanding how the skin's microbiome works and how probiotics help to protect the skin's barrier, I became quite fascinated with it. Another trend which I've been enjoying thus far is the rise in demand for at-home spa tools – whether it's LED masks or peeling devices. This trend is huge in Korea at the moment.
Moving on to a trend which I didn't like, I'd have to say neck creams. I decided to try one from Korea and I was convinced that it'd be fun to observe its effectiveness in reducing the appearance of wrinkles and fine lines around my neck. Unfortunately, the product felt like glue on my skin. Its sticky and thick consistency does not work for Singapore's weather either.
COVID-19 encouraged us to step up on self-care. What's one beauty discovery that you've made during quarantine?

'Mask'-ne was an issue which many people, including myself, have experienced during the lockdown. Whenever I faced similar skin issues in the past, I'd head to a dermatologist to get them sorted. However, during quarantine, I discovered products which focused on calming the skin as well as products that would help me to effectively remove blackheads and dead skin cells, such as pore-cleansing devices. I also discovered the wonders of Centella Asiatica (or cica)-infused products too. They do an excellent job in soothing the skin.

Tell us a little more about Ksisters' in-house brand, Jung Beauty. What inspired you to launch the 2-Step Steaming Hair Spa?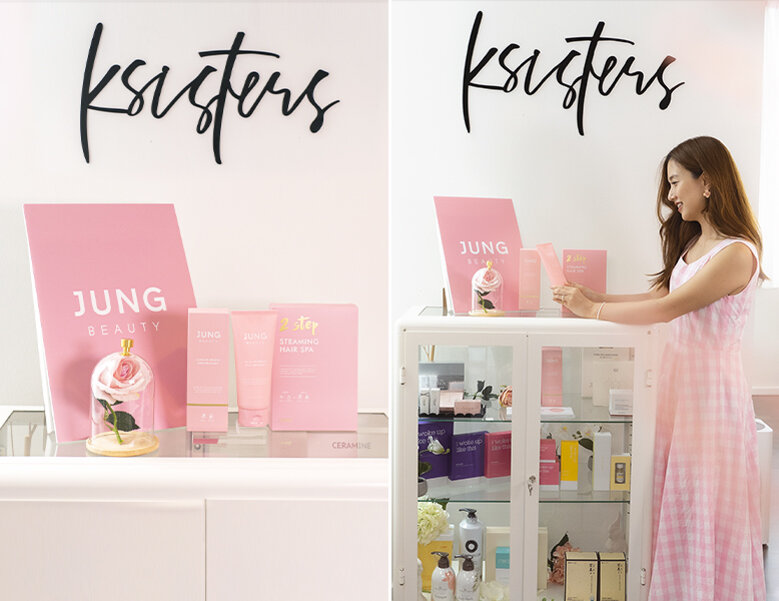 We decided to offer hair care products as my prior experience at P&G has equipped me with a lot of knowledge about what women were looking for in hair care products. Over the years, I've also observed how having good hair can drastically improve a woman's confidence and self-esteem. I also realised hair care is often a neglected category in beauty, especially in comparison to facial care.

With Jung Beauty, we wanted to prove that women could experience salon-quality hair treatments at home as well. That inspired us to launch the 2-Step Steaming Hair Spa which is designed to deliver vitamins, silk amino acids and intense hydration to your hair.
Having successfully expanded Ksisters to Malaysia recently, what are the next milestones which you hope to achieve with the platform and for yourself in this new decade?
We'd love to expand further in Malaysia as well as broaden our categories to offer more food and lifestyle items too. The pandemic has caused many of us to focus more on our living spaces, and I believe this has spurred a rising demand for stylish home and living accessories. This is something which I hope Ksisters can venture into in the near future. All in all, I hope Ksisters becomes a platform which has the finest curation of products and brands for customers here in Southeast Asia.
What are your Clozette essentials?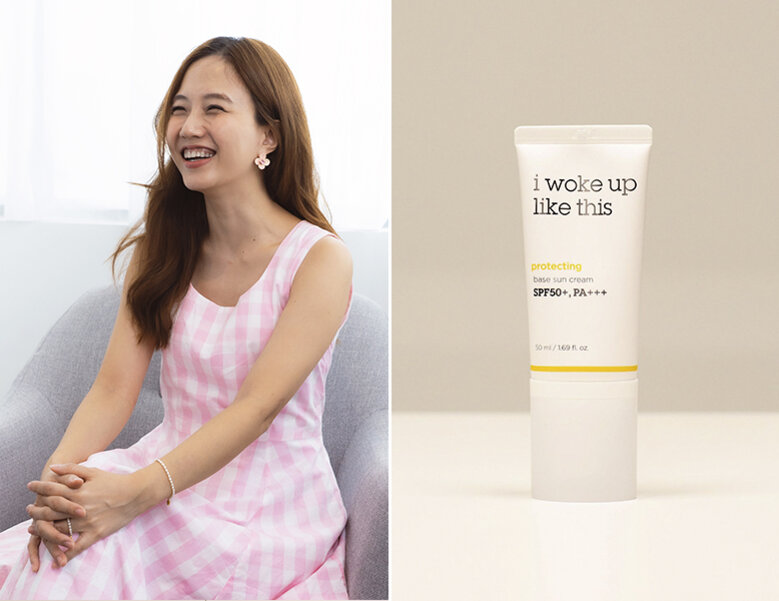 My Clozette essentials include my collection of Petit Fiore earrings from W.SEN, which is a well-loved jewellery brand from South Korea. I have them in a variety of colours and I always look forward to their latest collections. You'll always find me wearing one of their designs in my photos.
Beauty-wise, I can't live without my I Woke Up Like This Protecting Base Sun Cream. This the first-ever product that we brought into Ksisters and it's our number one bestseller till this day. Of course, there's Jung Beauty, Ksisters' in-house brand which I cherish dearly.
Finally, I'm a huge fan of Yulip, a lipstick brand which was launched around two years ago. The brand's founder Won was inspired to design her own range of lipsticks after realising that certain ingredients in lipsticks could be potentially harmful for her child. Their tinted lip balms are so soft and moisturising, which makes them perfect for my dry lips. Young mums such as Andrea Chong and Melissa Celestine Koh are fans of this product too.
This interview was edited for clarity and brevity.
Discover more stories of inspiring women here.

Comments, questions or feedback? Email us at [email protected].