Korean beauty products have truly taken over the beauty industry. In 2019, the global market for K-beauty products accounted for USD10.3 billion and is projected to reach USD31.6 billion by 2029. Now that K-beauty is a category all on its own, the competition is fierce among K-beauty brands. Aside from creating makeup and skincare products that truly benefit the skin, these brands also have to contend with keeping a big presence on social media. And one brand, in particular, stood out — meet Glow Recipe, the epitome of online notoriety. With almost 840 thousand followers on Instagram and 54 thousand on TikTok, this K-beauty brand has become one of the most sought-after skincare brands on social media.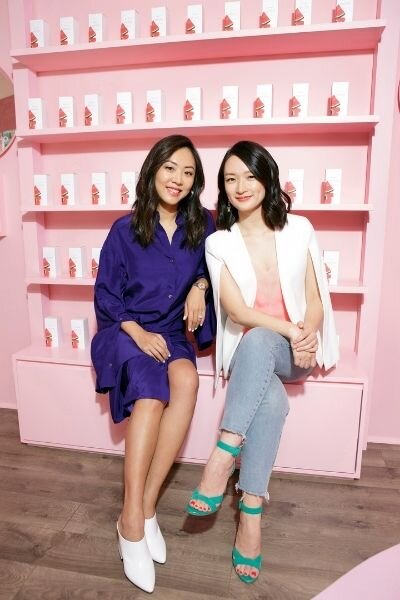 Launched three years ago by Sarah Lee and Christine Chang, who both worked for L'Oréal Korea before being transferred to the United States (Sarah with L'Oréal and Christine with Kiehl's), Glow Recipe has taken the best of the Korean and Western beauty industries and merged them into a success story following their stint on the hit entrepreneurial reality show Shark Tank. Ahead, Sarah and Christine share their thoughts on the role of social media in growing a beauty brand, K-beauty secrets, and the top skincare trends of the moment.
Taking K-beauty to the next level
Before they started formulating their own skincare, Glow Recipe started off as an online website for selling other K-beauty brands in America. "As global marketers, and having travelled to Korea multiple times annually, we were always astounded by the amazing innovations in Korean beauty but found that many Korean companies lacked the expertise to take their domestic success global," Sarah recalled.
She said there was an "absence of a stakeholder who had the ability to identify, market and nurture Korean products and brands with the potential to become key players, and make them relevant and appealing to American consumers." So they started curating K-beauty products that they believed would be a hit in the US.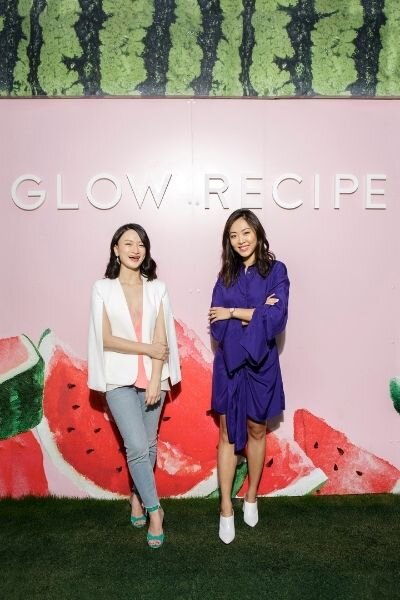 "Since launching glowrecipe.com at the end of 2014, we've built a strong community through our curations and skincare education. Glow Recipe Skincare was born three years ago as we wanted to combine the latest technologies from Korea with an easy, sensorial, results-driven approach." Armed with their knowledge of Korean skincare practices and Western beauty marketing, Sarah and Christine began formulating their own in-house products, which eventually took over their skincare curations.
"After much thoughtful deliberation, we decided to focus our team's energy on our in-house brands so that we could give our customers what they've asked for — continued skincare innovation with Glow Recipe Skincare."
Their secret to social media success
If you ask Sarah and Christine what they attribute the success they've attained since then, they'll tell you it's a mix of three things: "First-to-market innovations, educational and engaging content, and our community are some of the key strengths of our business."
"Since the beginning, our mission was to make skincare not just efficacious, but fun and joyful," Sarah shared. "Our recipe to achieving this goal is focusing on formulating unexpected, delightful, and sensorial innovations with powerful results, and pairing these products with skincare tips and tricks inspired by Korean beauty to truly provide a complete and immersive skincare journey with every launch."
Aside from their cult-fave products, their online community, called the Glow Gang, was their partner from the beginning. "We've fostered our community from the inception of the brand, we make sure to give a voice to each and every community member and make our best efforts to have meaningful dialogues," she continued. Their social media strategy hinges on "delivering fresh and relevant content" that "generates two-way conversations".
Even three years on, this tried-and-true approach continues to pay off. "Staying true to our brand and telling our story in a transparent way and truly connecting with them has helped us grow our business together with our community," Sarah further opened up.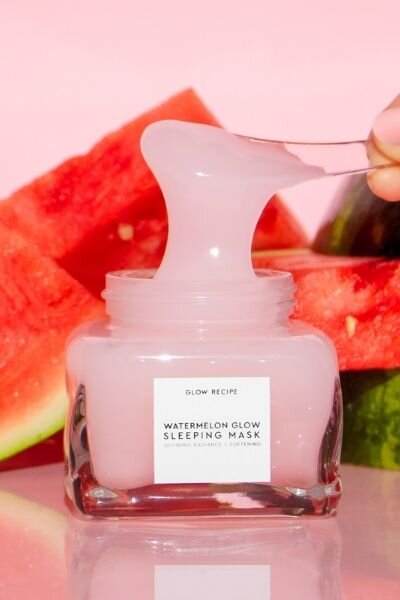 She also shared that the Glow Gang is what keeps them on social media feeds. "With the original Watermelon Glow Sleeping Mask, for example, we were not only one of the first brands to speak to watermelon in skincare but also to combine both a blend of hydrating ingredients and exfoliating AHAs in one overnight treatment," she explained. "To invite our community into our product development journey and to transparently share the process, we created a video that went behind the scenes of how the product is created in our Glow Labs in Korea. The reception has been incredible — it's been one of our top-engaged pieces of content to date."
Fruit-powered skincare
Aside from their solid online presence, Sarah and Christine have built Glow Recipe as "The Fruit-Powered Skincare Brand" and continue to wear that crown. But before they started creating fruity skincare products, they were loyal users first. "Fruits have always been an important part of our beauty rituals growing up and we were influenced by our mothers and grandmothers who would incorporate ingredients from the kitchen in DIY home recipes."
Watermelon, in particular, was a staple in their individual skincare journeys as both Christine and Sarah's grandmothers "would rub the chilled rind on heat rashes to soothe the skin in the summer months". Attesting to the powers of watermelon, Christine shared that they "wanted to leverage the soothing and anti-inflammatory benefits of watermelon for our first product but also infuse the formula with AHAs to provide the effects of a K-beauty facial in a jar" and hence, Glow Recipe's Watermelon Glow line was born.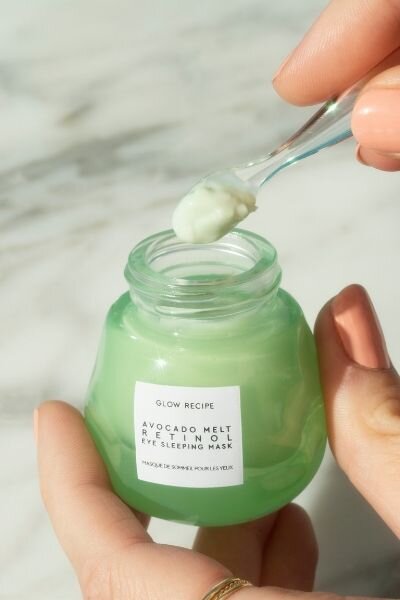 They've since expanded their fruity line-up to include the Avocado Melt Retinol Eye Sleeping Mask (Christine's personal favourite), the Blueberry Bounce Gentle Cleanser, the Plum Plump Hyaluronic Serum (coming to Singapore in 2021), and many more.
K-Beauty insiders
Because there's always something new happening in skincare, Glow Recipe will continue to expand their line-up with every development in the K-beauty scene. "Since K-Beauty came onto the beauty scene, it has truly skyrocketed and informed global brands on new trends and innovations. With our combined 25+ years of experience in both Korea and the US, we saw the opportunity to share K-Beauty inspirations with the US market through thoughtful, educational content and messaging," Christine shared. "The approach to beauty in Korea is beyond the product; it celebrates self-care and taking moments every day to enjoy your routine by centring around the concept of listening to your skin."
Sarah adds on to that, stipulating that "K-Beauty is no longer limited to its label and is beyond a category" as it "touches and informs every part of the global skincare industry through different brands, categories, and retailers." According to Sarah, previously held misconceptions about skincare changed because of the rise of K-beauty. "It has impacted the industry and consumers with its new perspective to skincare — some examples include 1) the philosophy that skincare is no longer a chore, but can be truly enjoyable, 2) the holistic approach with an emphasis on prevention versus repair, and 3) a way to self-care."
Since they both worked with Western brands for a time as well, Christine says there is a different perspective they also incorporated in Glow Recipe. "The US market is very results-driven and straightforward so we were able to combine both of these ideologies for Glow Recipe by focusing on clear, concise education around our innovations and formulations while tying it all back to the holistic approach we take to skincare."
Aside from that, there are a lot of trends they're keeping an eye on. "Some skincare trends we see on the horizon would definitely be more products using enzymes as a gentle alternative to traditional acids, as enzymes target dead skin cells and not living ones," Sarah observed. She also added that "PHAs (found in the Watermelon Glow Toner) exploded in 2020 and we see that trend continuing" and that the clean beauty movement would further increase the demand for vegan ingredient alternatives.
What to expect from Glow Recipe
With that in mind, Glow Recipe is set to grow their portfolio of products more in the coming months. "We are so excited for what's coming next for our business. We are always looking for the next superfruit ingredient and product, as well as finding more ways to expand our business so that more customers are able to enjoy Glow Recipe!" Sarah shared.
With their arrival in Singapore this year, we still have a lot to learn about their cult-fave products. Hopefully, Christine and Sarah will be able to visit and conduct their Glow Recipe masterclasses in person sometime in the future. "We really wish we could've visited Singapore, given how it's our first launch into Asia and we're from Korea — so it feels a little bit like a homecoming. We're sad we're unable to visit and come see you all in person and have our events and masterclasses like we've always done, but hopefully next year! Please check us out at Sephora's ION Orchard store and online."
(Cover photo courtesy of Sephora Singapore)
Next, discover some SPF secrets from the Sunscreen Queen Holly Thaggard of Supergoop!
Comments, questions or feedback? Email us at [email protected].