Known for its anti-ageing formulas, British skincare brand ELEMIS has over three decades of experience in providing luxurious beauty experiences to women around the world. The brand also championed a holistic approach to beauty, well before it became popular on social media. But how did it all come to be? We spoke with Noella Gabriel, the brand's co-founder and Global President, on her journey of growing an award-winning beauty brand.
Noella's roots in the beauty world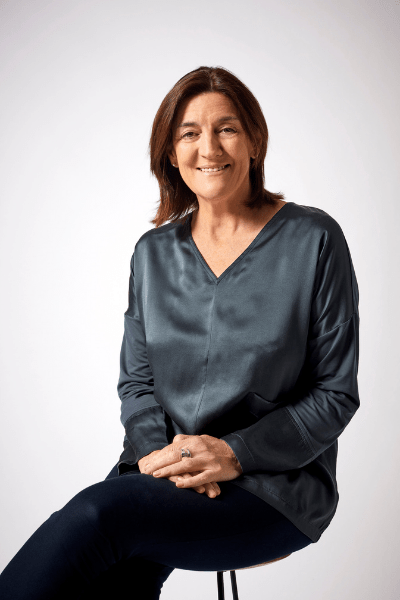 "With a background as a trained beauty therapist, aromatherapist and nutritionist, my entrepreneurial roots run deep," Noella shared. Years before ELEMIS, she opened the first health food store in her hometown in Ireland. She also served as the manager of the Beauty Spa at Harvey Nichols, a high-end London department store. "It was these experiences that helped me identify wellness as a whitespace into how we could expand the ELEMIS brand."
In 1990, Noella joined ELEMIS after hearing co-founder Linda Steiner's vision of creating a retail range that was "as near to nature as possible". Noella was the founding team's leading professional therapist and educator who helped introduce ELEMIS' beauty philosophy to customers and employees.
"As a trained beauty therapist and aromatherapist, I have always believed in treating the skin with a total approach. The method I took — of treating the skin from the inside out — was way ahead of its time."
Prioritising me-time
When it comes to her own skincare routine, Noella prefers to keep it simple. "My daily skincare routine is very simple: I double cleanse with an oil-based cleanser and then a treatment cleanser; I replenish my skin with a lightweight facial oil; I moisturise with a hydrating, nutrient-rich cream and I always apply SPF, even on those cloudy London days!"
Aside from taking care of her skin, she also takes care of her mental well-being by prioritising her time alone. "Prioritising 'time for me' helps me stay real, be a good mum and a listening boss," she explained.
In her downtime, Noella sings and plays the guitar. She always surrounds herself with good tunes because music is her "escape, passion, and source of comfort". "Give me an audience and I'll sing anywhere; it must be the Irish in me, I'm always ready to entertain," she jested.
She includes physical fitness in her me-time routine, too, and keeps fit by practising yoga and taking long walks in the countryside with her daughter.
Beauty and wellness intertwined
Noella took her holistic beauty mindset and experience and built it as the foundation of ELEMIS Skincare. When most brands were only starting to bring up the importance of holistic beauty routines, Noella and ELEMIS have been preaching this to their customers for decades.
"We don't follow trends, we create them. Wellness is not a bandwagon we've jumped on," Noella shared. "From superfoods to skin and gut health, we are setting trends and educating our clients all the time. We live and breathe this idea that your skin tomorrow is a reflection of the lifestyle choices you make today."
With over three decades in the beauty and wellness industry and Noella at its helm, ELEMIS has cemented its authority in creating holistic skincare experiences. "Our approach to skincare has always been holistic. It's not about vanity. We're no longer having a conversation about age. We're now seeing younger and younger people come to us with skin concerns that grow out of lifestyle and the stress of modern life."
Though stress is not a new concept, Noella said the various factors that can cause it has increased dramatically. "We used to worry about a few simple things — the effects of our daily glass of wine or a lone cigarette — but now, we are so much more aware and educated about the effects of modern-day living: pollution, blue light, harmful chemicals and unnatural ingredients," she explained.
Now, ELEMIS and Noella are focusing on educating and engaging customers on holistic beauty.
Her vision for beauty in the future
"In all parts of the world we've learned that there is a universal desire to have a bespoke skincare experience," Noella said. Currently, ELEMIS is available in 45 countries across the globe. Under Noella's recommendation, they've set their sights on being a digitally savvy and visible brand through their e-commerce website and recent partnership with Lazada Singapore with the aim of reaching new consumers.
That said, Noella thinks visiting their stores is also still an important aspect of the ELEMIS experience. "Our stores in Singapore offer guests exclusive technical innovations, such as our High-Definition camera," she shared. "This powerful tool goes beyond what the eye can see and provides an in-depth analysis of the guest's skin condition, paving the way to the best product and treatment recommendations."
The medical-grade ELEMIS HD Skin Reveal Camera is an advanced diagnostic tool that the brand uses alongside an in-depth lifestyle consultation. "[This] allows our Elite Skincare Specialists to create a personalised skincare plan to target individual concerns and support one's skincare priorities." It brings us full circle to Noella's philosophy of treating skincare as a holistic practice.
ELEMIS has come a long way from its beginnings in London, and it's through Noella's vision that it has stayed on top of its game. "We introduced the industry and its consumers to an entirely new concept of what skincare and beauty is, and our consumers have grown into this concept with a newfound awareness."
ELEMIS Skincare is available online in Singapore through their e-commerce site and Lazada shop.
(Cover photo from: ELEMIS Singapore)
Get to know the brains behind your favourite beauty brands here.
Comments, questions or feedback? Email us at [email protected].