Visual artist Bruno Grizzo thrives on experimentation and isn't afraid to have fun during the process. While others prefer to confine themselves to their comfort zones, he optimistically ventures out of them and confidently applies his unique perspective across different mediums of art.
The Brazilian-born artist, who graduated from the Columbus College of Art and Design, began his dynamic career as a fashion designer before pursuing art, illustration and animation full-time. His versatility and creativity led him towards exploring photography and ceramics as well and equipped him to set up Studio Bruno Grizzo, a New York-based interdisciplinary visual art studio that counts Tiffany & Co., Chopard and Kate Spade amongst its impressive roster of clients.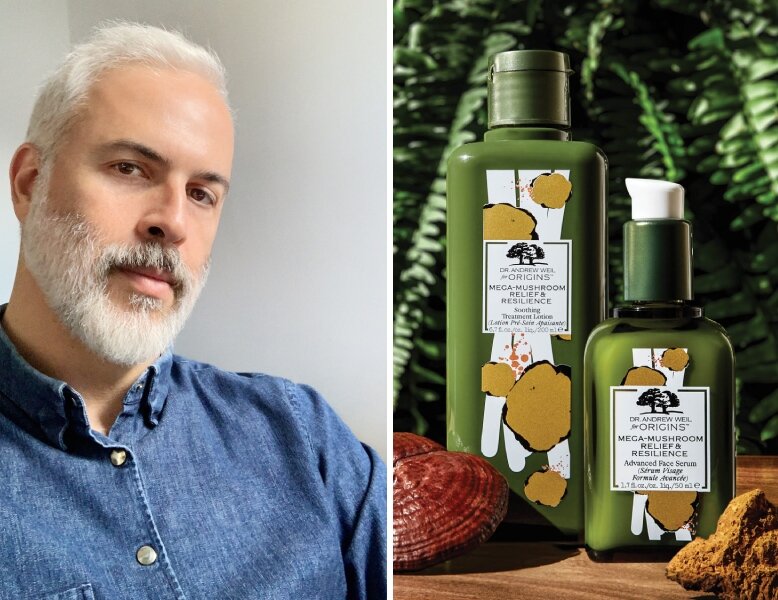 In one of his latest artistic ventures, Bruno has joined hands with Origins to create specially designed limited-edition bottles of the latter's popular Mega-Mushroom Power Duo, which includes the Soothing Treatment Lotion and Advanced Face Serum. This is also his first-ever collaboration with a beauty company. Read on as Bruno reveals how this exciting collaboration came to fruition, his favourite artistic medium of late and more in this exclusive email interview.
On harnessing creativity and the 'magic' of Chaga mushrooms
"My partnership with Origins started with my connection (and now friendship) with Gabriel Eid, Global Creative Director at Origins. We had both been admiring each other's work from afar and I reached out to ask if I could help create something special for the brand," revealed Bruno.
Not long after, the artist began sourcing for inspiration that would help him create visually captivating designs which highlighted the best aspects of Origins' Mega-Mushroom range. "Origins' brand ethos is powered-by-nature, proven-by-science, hence I used nature as the inspiration behind the collaboration," Bruno shared.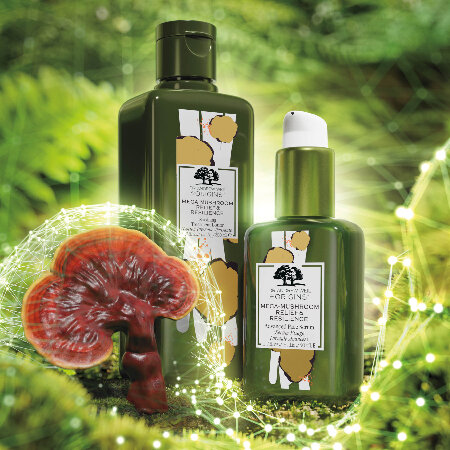 He later decided to focus on showcasing one of the product formula's key mushroom ingredients: fermented chaga. The ingredient is known to act as a powerful anti-irritant that also helps ingredients to be absorbed into the skin more easily. "At first, I found it challenging to represent the chaga mushroom. It grows on birch trees, hence it's tough to distinguish between the tree and the mushroom. However, after I've seen it removed from the birch tree and noticed its golden exterior, I immediately thought of [American artist and filmmaker] Andy Warhol's 'Flowers' paintings," he mused.
This discovery led him to his wish of conveying the visual feeling of the powerful ingredient that was 'very graphic, combined with a handmade painterly aspect.' He added: "The work is handmade meets digital, which correlates nicely to the science meets nature approach of Origins."
On the joy of new ideas and experimentation
Having pursued art full-time for almost a decade now, Bruno's career has been filled with plenty of challenging yet fruitful moments. "I've really enjoyed the process throughout my career as an artist. It's been rewarding to be able to overcome the learning curves as well as have the opportunity to work on a variety of projects," he shared.
As for one of the most significant highlights of his career thus far, Bruno cited his ever-evolving relationship with Estnation, a retail chain in Japan that offers a stylish curation of international fashion and lifestyle brands. "We've been collaborating for over five years now, working from in-store installations to animations to advertisement campaigns. I love when clients have an open-minded approach and are willing to listen to new ideas."
Looking back at his transition from fashion design to art, Bruno added that the process had felt 'very natural' to him and he continues to experiment as much as possible even as he focuses much of his time on more commercial work. "I've been drawn to enamelling recently as it incorporates drawing and colours, and I'm currently using this medium to create men's jewellery. It's become my latest obsession."
On being kind and believing in one's self
Whether it's experimenting with various forms of art or working closely with renowned brands in helping them bring their creative vision to life, Bruno believes that nothing matters more than believing in one's self. "To any type of artist who wishes to pursue a creative career, you really have to go for it and remain true to what you believe in. It takes a village to create something, so always remember to be kind to others when you work with others," he advised.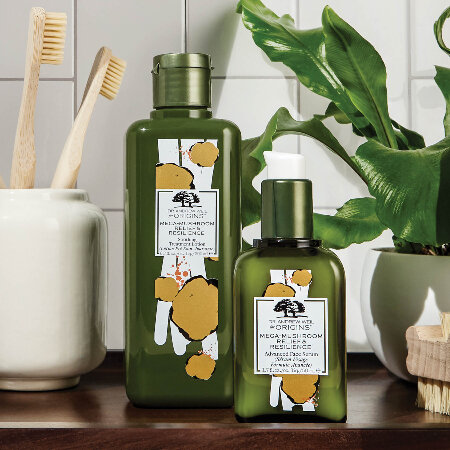 The Origins x Bruno Grizzo limited edition Mega-Mushroom Power Duo, which stars the Relief & Resilience Soothing Treatment Lotion (SGD63/~USD46) and Advanced Face Serum (SGD138/~USD101), is now available at all Origins stores islandwide in Singapore, the Origins Official Flagship Store on Lazada and at Sephora.
(Cover photo: Courtesy of Origins)
*This interview has been edited for clarity and brevity.
Next, discover the latest beauty launches in October that will uplift your mood.

Comments, questions or feedback? Email us at [email protected].