Our "I Am Her" series features the female movers and shakers of the industry to learn how femininity and power coincide beautifully and seamlessly together.

The most effective changemakers walk the talk and Yeeli Lee definitely embodies this principle. After acing her many leadership roles in various global organisations, Yeeli decided to establish her own startup BHUMAN (pronounced as "Be Human") with the desire to pursue her true passion: proper sustainability initiatives. And yes, it's not just 'sustainability' as a buzzword, but a real, informed take and love for making a change and serving the planet.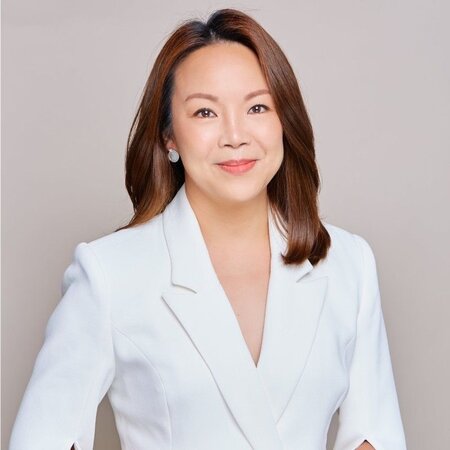 Ahead, we chat about her thoughts on sustainability versus greenwashing, the importance of design thinking, and her tips on leading a sustainable lifestyle even in the simplest way possible.
Fill in the blank (be as creative as you like): I am an entrepreneur, a sustainability advocate, and a _____________
.
"I am an entrepreneur, a sustainability advocate, and a maverick. To quote Elon Musk, 'If something is important enough, you should try it, even if the odds are not in your favour.'"
You were the VP of Amazon China before you started your own business ventures. What made you take the leap and what were the biggest challenges in adjusting from a corporate job to leading your venture full time? How did you overcome these challenges?
"I think I'm still overcoming it. We don't have the big budgets of big companies. So I think that's one of the challenges that I have. I think the other thing is, [in a big company] there's a support system, there's the thing in marketing, your finances — you have everything. But in a startup, it's definitely shrunk a lot, especially with COVID. So that requires you to be extremely creative as an entrepreneur to find solutions and still, you know, hold yourself up to the kind of standards that you have.
Another biggest challenge moving from corporate to startup is walking the tightrope of perfectionism. BHUMAN has created an award-winning high-performance face wash
bclean
(known for its transformative results for acne-prone skin) and
bättre
(pronounced as better and means better in Swedish) a gorgeous line of low carbon, plastic-free hair wash. The process of creation and production was far from smooth with a lean team and with limited resources. I need to remind my team to put action before perfection, to strive to make progress every single day, and not let that mirage of perfection hinder our startup's progress.
As for the biggest joy, it's just being your own boss. And every single thing that you do, you know you do it with such great purpose. You are basically the strongest advocate for your brand and believing you are truly making a difference in everything that you do is wonderful. I think the hard part is just hiring people who can join the team and who believe in the mission and the vision of the company."
How does it feel working with individuals around the world remotely?

"I just love the diversity that comes with different perspectives. People who join startups tend to have just what we call a 'learning mindset'. So they come to be really keen to learn, but they also bring with them a lot of experience having seen different things.

Our team is composed of talented individuals from around the world. The remote collaboration spanning the US, Japan, London, Philippines, Singapore and Spain works because it is built on a bedrock foundation of mutual respect, aligned values, open communication and curious minds. Add in Zoom, Slack, Dropbox, Google Drive, Whatsapp and FedEx, and voilà there you go!"


How did being a diver and a mother inspire you to advocate for sustainability in personal care products? Why sustainability in skincare?
"As a diver since the 1990s, I see the effects of climate change firsthand. Living in Singapore, we are close to some of the most beautiful beaches in the world here in Southeast Asia, and yet we see single-use plastics such as straws ending up in our beautiful oceans, taking 450 years or longer to biodegrade. Next time you see your friend grabbing a plastic straw for her boba drink, smile and tell her, 'It's only one straw, says eight billion people'.
When it comes to the focus on skincare, the beauty industry has an ugly truth: it produces close to 150 billion pieces of single-use plastics every year. Taking care of our appearance is part of our daily routine, but should we be asked to choose plastics over our planet? In the US alone, 550 million used shampoo bottles are thrown away every year."


We learned that design thinking is important to you too as a brand owner. Why is this so?

"I love this quote from Kate Kreba, 'Waste is a design flaw.' As a circular economy student and practitioner, I know important choices are made at the design stage. Design goes beyond aesthetics. Crucial choices around materials, how easily they can be reused, repurposed, refilled are often decided at this critical stage. We need to move away from the old 'take-make-waste' mindset to one that is circular because our planet's resources are finite.
Take our choice to use aluminum for our gorgeous pastel bottles (someone even told me it reminded her of French macarons!); once you are done with the face wash or hair wash, you can choose to refill the bottle at our zero-waste retail partners or recycle the aluminum bottle alongside your other soda cans. Aluminum is the most recyclable material in the world and is lossless unlike plastic; this means you can keep it in circulation infinitely.

Sustainability is now an 'in' word and is rife with 'greenwashing'. As consumers, the onus is on us to be discerning. Bear in mind that each one of us has tremendous agency to shape the future. To quote Anna Lappé, 'Every time you spend money, you are casting a vote for the kind of world you want.' So, vote consciously and mindfully."

Your brand's philosophy is about protecting the 3Ps (people, planet, and pets). How do you think other people can imbibe the same attitude in their own ways?

"Sustainability is a lifestyle; it is not a checkbox. Start small but START. Get your friends and family involved. To make it fun, we have created a BHUMAN sustainability bingo for your Clozette readers to download (see below)."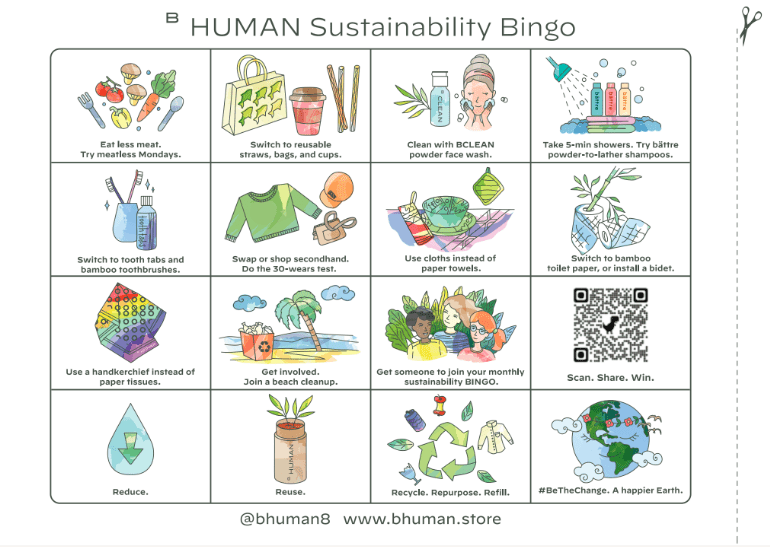 What's your style uniform when you want to feel the most empowered?
"As for my fave style uniform, I love solid white or black colors. Our pastel bottles truly pop against this background (laughs)."
What are your 5 Clozette (closet) essentials? It can be related to beauty, fashion, lifestyle or wellness.
"First, there's the BHUMAN bclean face wash because the niacinamide helps give my skin that glow. Next, the BHUMAN bättre hair wash because having a gorgeous mane is similar to wearing a crown. Third and fourth, a red lipstick and a chunky masculine watch. And, finally, the positive mindset that we can be the change we want to see in the world."
Read more stories of empowering women here.
Comments, questions or feedback? Email us at [email protected].