If you've been hanging around the Korean entertainment world for quite some time now, we bet you've heard of the term aegyo. It's that adorable and sometimes cringey way of acting cute, which you'll see in your rom-com K-dramas or when your favourite idols go on variety shows. But talking about the stars with the best aegyo is a story for another time. What we'll be diving into for now is the Korean aegyo-sal trend which has been making waves in the makeup realm.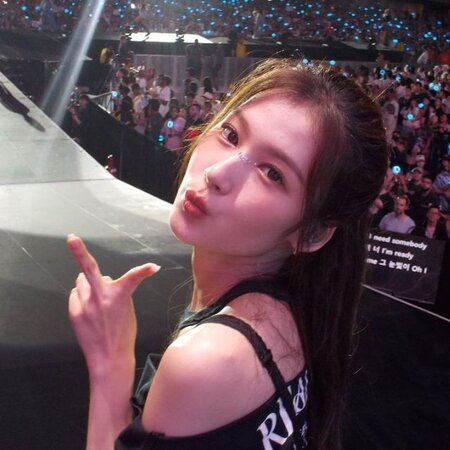 The meaning of aegyo-sal
We've seen how
aegyo
refers to being cute, but what about aegyo-sal? When you translate it, it literally means "cute fat". It's the piece of baby fat on your undereyes that shows up when you smile. It's different from your dark and pesky eye bags that make you look tired and haggard. Instead, aegyosal can make you look fresh and young.
Not everyone has aegyo-sal (some have barely visible ones or a flat under-eye area), but anyone can hop on the trend with a little bit of makeup magic.


Aegyo-sal makeup tips and products
You might feel that you're no expert in achieving a K-celebrity-inspired look. You might even be overwhelmed by the various ways you can go about trying out the trend. Fear not, because we have the tips to help you easily do it.
1. You only need a few products for the basic look
TikTok creator
@seewyen
does her aegyo-sal look with only two steps and the right tools. After getting a flat-tip brush, smile, and once you see a line show up, softly draw on that line with a brown eyeshadow (you can check out
AMUSE Vegan Sheer Eyeshadow Palette
). Then, with a round-head brush, use an eyeshadow shade close to your skin colour to fill in the space between the line and your eyes.
2. If you're using a concealer, don't apply it all over the aegyo-sal
Korean makeup artist Heiley does her natural-looking aegyo-sal with an
Innisfree My Concealer.
Put the concealer on a small brush and apply it only from the inner corner of your eyes to the centre. Don't forget to blend it out so it won't be too prominent.
3. Use a glittery product and mascara for the finishing touches
Hoping to switch up your look? According to TikTok creator
@kbootyjenny
, you can put a bit of shimmer in the area under your pupil. You can use a glittery liquid eyeshadow (like this one from
Stila Cosmetics
). If you feel that you might make a mess with the applicator, you can use a smaller brush instead. Then finish off with mascara (we recommend
Maybelline Lashsensational Sky High Mascara
) to really make your eyes pop.
After getting the basics down, try it out and feel free to make this beauty trend your own.

(Cover photos from: @m.by__sana, @yuqisong.923)

Comments, questions or feedback? Email us at [email protected].