Korean eyeshadow palettes have sealed their place in many beauty vanities because of their longevity, colour payoff, and performance matched with a typically affordable price point. They may not be as strongly pigmented as Western eyeshadows because K-beauty usually leans towards subtle and natural looks, but they offer more than enough colour variations and amazing blendability that still allow for a little bit of experimentation.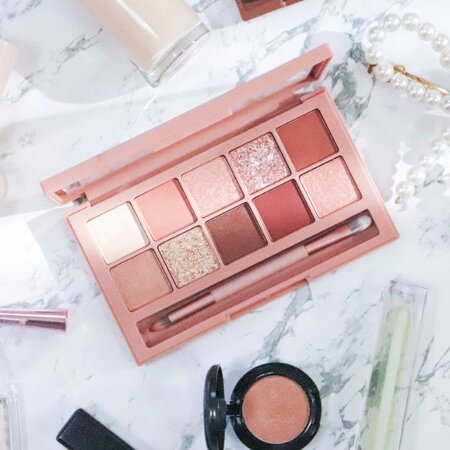 If you're ready to wear soft but still noticeable eye looks (like BLACKPINK's Rose, True Beauty's Moon Ga Yeong, Red Sky's Kim Yoo Jung), these Korean eyeshadow palettes available in Singapore are the ones to check out ASAP.
Korean eyeshadow palettes in Singapore
1. Peripera All Take Mood Palette, 16 Bravo Pink Puppy
This popular eyeshadow palette from Peripera is well-loved for its cute and quirky packaging and eight light-toned shades for your soft girl looks. It contains beige hues, a sparkly shade of pink, and more.
Why we like it: Its range of shades are perfect for a refreshing eye look and will remind you of fun summer days.
Get it for SGD34.90 on Lazada.
2. Coringco Shabam Shabam Eyeshadow Bar Palette in Aurora Night
This eyeshadow palette from Coringco will definitely give your look some 'shabam' with its smooth, high-payoff shimmers that blend without any chunks or uneven coverage.
Why we like it: The shimmers are complemented by mattes that work just as well.
Grab it for SGD17.69 at YesStyle.
3. Holika Holika Terrazzo Shadow Palette in Earthy
Whoever said one can't have too many brown eyeshadows clearly hasn't seen this nine-pan palette from Holika Holika. The shades have a combination of warm, cool, reddish, orange-y, and more variations of the colour that will truly give dimension to your next neutral or soft smokey eye look.
Why we like it: Aside from the mattes, this eyeshadow palette also comes with two mixed shimmer pans that are perfect for highlighting and adding pizzazz to your peepers.
Get it now for SGD28.64 at YesStyle.
4. Clio Pro Eye Palette in Botanic Mauve
Cool-toned grey and brown shadows tend to look muddy on the lids if the formula isn't done right. Thankfully, this Clio eyeshadow palette blends great no matter how much you layer.
Why we like it: You can easily use just your fingers to apply these super-blendable eyeshadows.
Add it to your cart for SGD49.90 on Shopee.
5. Colorgram Pin Point Eyeshadow Palette 01 Peach+Coral
This palette contains 12 warm-tone hues that are perfect for casual hangouts to sweet date nights. It has everything you need such as shimmery shades and velvety powders that promise to be long-wearing and smudge-proof.
Why we like it: You can easily layer the shades and create a variety of stunning looks.
Check it out for yourself for SGD28.90 on Guardian.
6. INNISFREE Essential Eyeshadow Palette in Beige Brown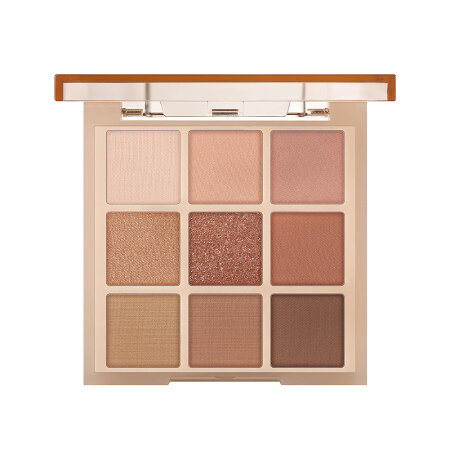 This eyeshadow palette includes mattes, shimmers, and glitters that apply and blend smoothly for the most stunning eye looks. The powders are infused with jojoba oil blends to prevent clumping or flaking while you layer them on your eyelids.
Why we like it: It has the perfect combination of complementing colours that can be mixed and matched for a variety of looks.
Get it for SGD40 on the brand's website.
7. 3CE Multi-Eye Color Palette in Dry Bouquet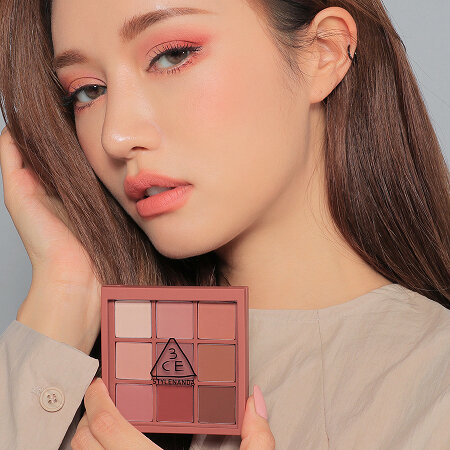 Red eyeshadow may seem intimidating but this eyeshadow palette from 3CE will make you think otherwise. The muted rosy red hues are great for transition, outer corner definition, and more that will inspire you to explore looks outside of your comfort zone.
Why we like it: It contains porous silica to help control oily eyelids, which is one of the culprits for eyeshadow fading!
Add it to your beauty kit for SGD54 at the brand's official Shopee store.


8. AMUSE Vegan Sheer Eyeshadow Palette in 01 Sheer Nude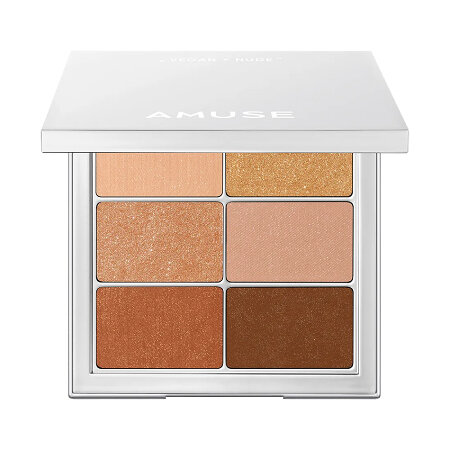 If you're looking for a vegan makeup option, this eyeshadow palette from AMUSE — which Red Velvet's Seulgi endorses, BTW — claims to be vegan, cruelty- and fragrance-free. The brand also emphasises that the palette's formula and packaging are free of any animal products or by-products.
Why we like it: You get six shades that are easy to layer thanks to their microfibre shadow formulation. The shadows are also low in saturation, which is great for no-makeup makeup girlies.
It's priced at SGD39 at Sephora.
9. NATURE REPUBLIC Daily Basic Eye Shadow Eye Palette in Blooming Mood Coral
Don't have the space in your purse for your makeup kit? This eyeshadow palette from NATURE REPUBLIC is compact and sleek — in fact, it's smaller than the size of your palm! — so it will easily fit into a pouch or pocket if you need a portable option. The coral hues are also pigmented and youthful-looking, so you can wear them for everyday makeup.
Why we like it: You have four shades to work with but these are versatile enough to create multiple looks while on the go.
It's priced at SGD26.02 on Shopee.
10. I'M MEME Official I'm Color Pattern Palette in Petal Pattern
In the mood for a radiant finish on your eyelids? This Korean eyeshadow palette from I'M MEME has six lovely pink tones in matte and sheer glitter finishes that you can use to achieve the look you want. Did we mention it's the size of a credit card too?
Why we like it: It has a blush shade too so that you can match your blush to your eyes for a monochromatic eye look.
It's priced at SGD26.18 on Shopee.
11. Dasique Eyeshadow Palette 05 Sunset Muhly
Whether you're a newbie or an expert in the makeup world, this eyeshadow palette from Dasique contains just the right amount of neutral shades with matte and gorgeous glitter finishes. It's buildable, easy to blend, and perfect for helping you create natural, everyday looks.
Why we like it: The glitters aren't too highly pigmented but are enough to help you quickly achieve that subtle glow.
It's priced at SGD38.90 on Guardian.
12. Unleashia Glitterpedia Eye Palette #N5 All of Dusty Rose
If you're looking to go all out when it comes to your eye makeup, check out this palette from Unleashia that's perfect for your fearless and festive looks. It has iridescent matte and glitter shades to fuel your artistic side. It also claims to be designed for an effortless, one-swipe application, and you can simply use your fingers to apply it.
Why we like it: Aside from the high-quality eyeshadows, it comes in beautiful, gift-worthy packaging.
It's priced at SGD31.97 on Shopee.
(Cover photo from: unleashiacosmetics.com)
This article was first published on 6 March 2023. Last updated: 30 November 2023.
Comments, questions or feedback? Email us at [email protected].