Our eyes are always set on skincare's new frontiers. First, we learnt about the magic of double cleansing (a makeup remover followed by cleanser). Then, we discovered the beauty of double moisturising (a toner and a moisturiser). Now, we're ready to delve into the world of Double Serum. Simply put, you get the advanced formula technology that reactivates and adjusts to your skin's ideal condition with a base serum and a targeted serum. Think of it as helping you achieve your ultimate skin goals with minimal effort — realising your essential and immediate skincare needs in an efficient way. Not quite sure how to do it? Here's how this game-changing skincare system from SOFINA iP can give you double skin-loving benefits.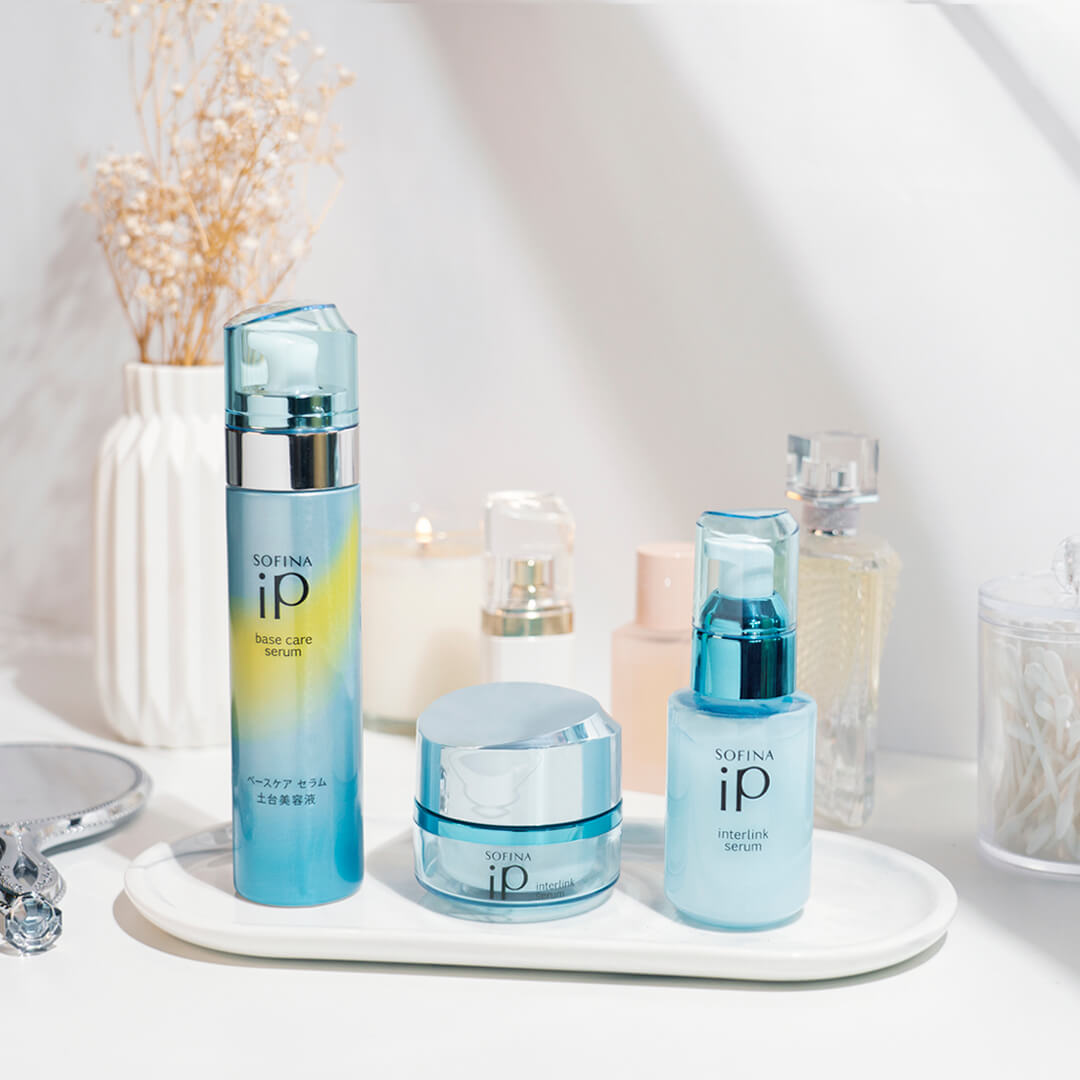 Set up a good skincare base
Multiply skin-enhancing effects by the power of two when you follow the
Sofina iP Double Serum System
. Ditch a few steps from your current routine with its help too. Say goodbye to essences and lotions and start with the
SOFINA iP Base Care Serum
, also known as DODAI Essence, (fun fact: dodai in Japanese means base or foundation).
The skin has three major layers: the epidermis (a.k.a. the outer layer or the stratum corneum), the dermis (or the middle layer), and subcutaneous fat (or the bottom layer). The SOFINA iP Base Care Serum sinks deep into your epidermis to give it moisture and strengthen its barrier. This carbonic acid foam type serum readjusts the skin's surface and penetrates the stratum corneum, which helps turn your reactive skin to your ideal skin.
For more supple and soft skin, apply one dollop of the serum — around 3CM in diameter — to your entire face, ensuring each section is covered (cheeks, forehead, chin and nose). Then smooth it all over using outward strokes. Make sure you don't miss a spot, pay attention to every part of your face — including the corners of your mouth and the sides of your nostrils — and let 20 million* micro-carbonated bubbles smaller than pores enhance blood circulation, effectively delivering oxygen and nutrients to the skin for a healthy, beautiful state. Then, press both your hands on your face with gentle pressure. Doing this first step helps to prepare your skin for active ingredients to penetrate deeply into your skin — giving you more immediate but long-lasting results.

Double it up with targeted nourishment
Make it personal on the next step. Choose from the different variants of the ​
SOFINA iP interlink serum
​ that will help you reach your skin goals. These serums work both as an emulsion and a lotion, have moisturising properties and are formulated to give you the look and feel of your ideal skin. They do that by offering specific skin-caring benefits such as replenishing (helps to give intense hydration from the inside with Kerato NMF and Xylitol), softening (promotes ceramide production with Eucalyptus extract), lifting (helps firm up and lift your skin with Ginger extract and Horse Chestnut extract), and brightening (promotes skin radiance with Rosemary extract, Roman Chamomila and Thujopsis Dolabrata Branch extract).
Once you've zeroed in on your concern, pick up the corresponding interlink serum to fortify the results of the Base Care Serum. Spread a small amount of the serum — about 1.5CM in diameter — with your palms flat against your face as you stroke outward. Once everything's been absorbed, press both your palms on your face — and seal the deal of having great skin with this Double Serum System.

Double the skin-caring benefits you get with the SOFINA iP Double Serum System. Get it here.
Comments, questions or feedback? Email us at [email protected].