Caring for the skin, in general, can already be tricky to tackle. Caring for sensitive skin? Now, that's a different battle. Trying out new things can be daunting because you never know what may cause your skin to flare up or be irritated. But it's not an impossible feat. With the help of d program by Shiseido Group, the no. 1 sensitive skincare brand in Japan, here's how you can give your sensitive skin the right kind of loving because the brand promises to transform your skin from sensitive to ideal.

Defend against aggressors
It's great to soothe sensitive skin, but let's agree that it's a short-term solution. For results that last, using skincare that promotes and builds your skin resilience is a must. d program by Shiseido Group's range is backed by 50 years of sensitive skin research in the Shiseido Labs. Each product is developed with a hypoallergenic formulation, manufactured with the highest purification standards, and Japan's golden standards of gentleness, designed specifically for sensitive skin users. d program provides the solution to not only defend skin against harsh aggressors but also help it develop resilience and a healthy skin barrier to stop the recurrence of sensitive skin problems.
Ward off unwanted effects of pollution and stress with the help of the
d program Allerdefense line
. Each product in this chemical-free sunscreen range gives three skin defense benefits — shield skin from airborne particles, PM 2.5 and UV rays, absorb airborne particles on the skin, and neutralise these particles so they don't cause harm — in just one step.

The
Allerdefense Essence
moisturises the skin while protecting it with the help of SPF46/PA+++. For those who want coverage to conceal skin redness and dullness, the Allerdefense Essence also comes in a BB variant (
Allerdefense Essence BB
), which primes and perfects your skin tone with a smooth finish — aside from being moisturised and protected by SPF43/PA+++. Plus, it stays on smudge-free for up to 10 hours. Meanwhile, the
Allerdefense Cream
's smooth creamy texture is perfect for those with dry and flaky skin; it has SPF37/PA+++ for protection too.
Develop and build skin resilience
After defending your skin against unpleasant elements, it's time to develop its strength with the targeted solutions of the
d program Lotions and Emulsions
; they contain an ingredient known as proprietary H-stabilizing A developed by Shiseido Laboratory that soothes, promotes moisture retention, repairs and builds skin's barrier functions and improves skin roughness. With Lotion as your first step to soothe and soften your skin and Emulsion (moisturiser) as the second step to provide lasting moisture and reduce skin's inflammation within the skin, you'll find that there's a perfect range for your specific need.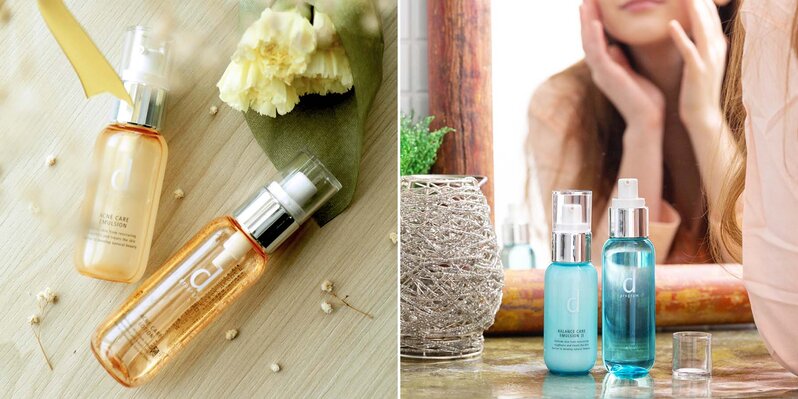 The
Acne Care Lotion and Emulsion
work great at instantly soothing acne-prone skin, treating and preventing acne from forming while reducing scarring without drying your skin; it also re-texturises the skin. Meanwhile, the
Balance Care Lotion and Emulsion
are great for balancing the problems of those with oily and combination skin, visible pores and oiliness, by restoring skin's hydration and reducing skin's sebum level at the same time. There is also the
Moist Care range
that protects from the recurrence of rough and chapped skin,
Vital Act range
that's great for refining and firming ageing skin, and
Whitening Clear range
for soothing dull and irritated skin while brightening it from within.
You'll find that using these soothes your skin in just one day. After seven days, your skin will become healthier. Within 14 days, your skin's barrier and resilience will be stronger than before — just what your sensitive skin needs.
d program is available at Raffles Hospital Pharmacy, Shopee, Watsons stores and online, and Welcia-BHG.
Read real reviews below.
Comments, questions or feedback? Email us at [email protected].