Juggling a million and one things is all in a day's work for mothers, yet they do it so devotedly and tend to neglect their own needs. However, even superheroes deserve "off" days too. Whether it's for a special occasion such as Mother's Day or whenever she needs a little R&R, why not pamper her with a beauty treat, such as a relaxing facial or an anti-ageing treatment to show her how much you appreciate her? P.s. Keep reading to discover how you can pamper mum with our special Mother's Day promotions!
Speaking of which, one of #TeamClozette's very own superheroes and Head of Integrated Solutions, Jessie, knows first-hand the challenges of being a busy, working mum. "My daily routine is time-stretched with work and taking care of my daughter, so I rarely get any 'me' time. My beauty routine has unfortunately become of lower priority too, especially during nights when I'm just so exhausted and I end up falling asleep together with my daughter," she shared.
To uplift her mood and restore vitality back into her life (and skin), we decided to treat Jessie to SkinLab The Medical Spa's Laser Lift Facial, an anti-ageing, powerhouse facial service that helps you to achieve radiant, firmer and more hydrated skin. Read on for her thoughts.

What to expect from SkinLab's Laser Lift Facial
As someone who used to religiously follow an eight-step skincare routine, I know how important it is to dedicate time towards caring for it. That said, I've yet to try a Laser Lift Facial before so I was excited to witness its effects for myself. Furthermore, due to hormonal imbalance, I've been suffering from frequent outbreaks and scarring especially around my chin area so I'd greatly use some professional help!
I was initially worried that the lifting treatment would be painful. However, all my worries were put to rest after consulting my aesthetician, Jia Qi, who was very detailed in explaining every single step to me. According to her, the comprehensive service takes two hours to complete and it utilises three key technologies: Low-Level Laser Therapy, Galvanic Current and Lymphatic Drainage to repair and rejuvenate dull or ageing skin. I also noticed how comfortable and clean the clinic was as well.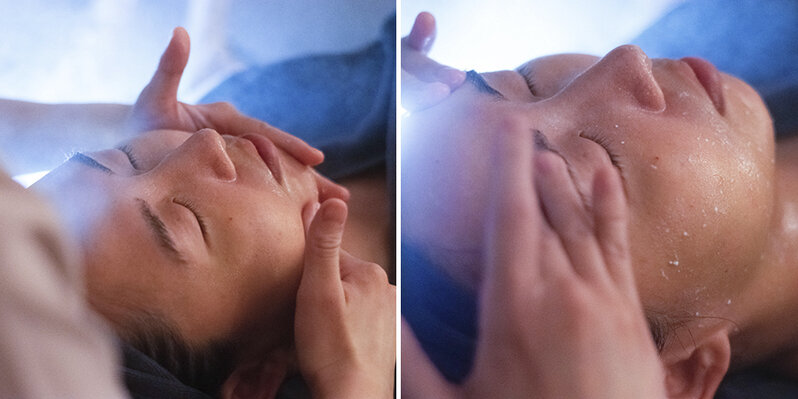 The treatment started with a welcome head massage, which made me feel more relaxed and less tense. Then, we proceeded with a double cleanse and toning to help free my skin from unwanted traces of dirt and oil. Next, we used hot steam to open up my pores for extraction and prep my skin for Nano Gold exfoliation, which utilises ingredients such as papain, gold elements and copper tripeptide-1 to dispel water retention.

Experiencing the benefits of Low-Level Laser Therapy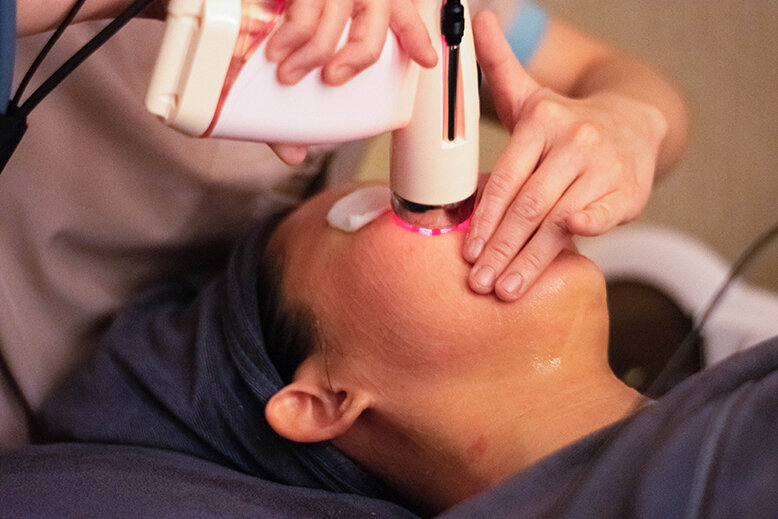 The next step was the Low-Level Laser Therapy, which I found the most interesting! It uses low-level lasers and galvanic current to stimulate the skin's collagen production, rebalance its hydration levels and boost its active ingredient absorption. To be honest, the idea of delivering electric currents to my skin sounded a little daunting at first, but I didn't experience discomfort at all. The laser therapy was first done on the right side of my face and I was able to witness the immediate "lifted" effect. There was no redness on my skin either and my face also looked less bloated too.
Winding down with Lymphatic Drainage Massage and Sorbet Modelling Mask
Following the Laser Therapy service, I was given a Lymphatic Drainage Massage, which was definitely my favourite step of this facial as I found it to be incredibly de-stressing and therapeutic. SkinLab's thoughtful incorporation of this massage made me wish more facial providers would carry this service!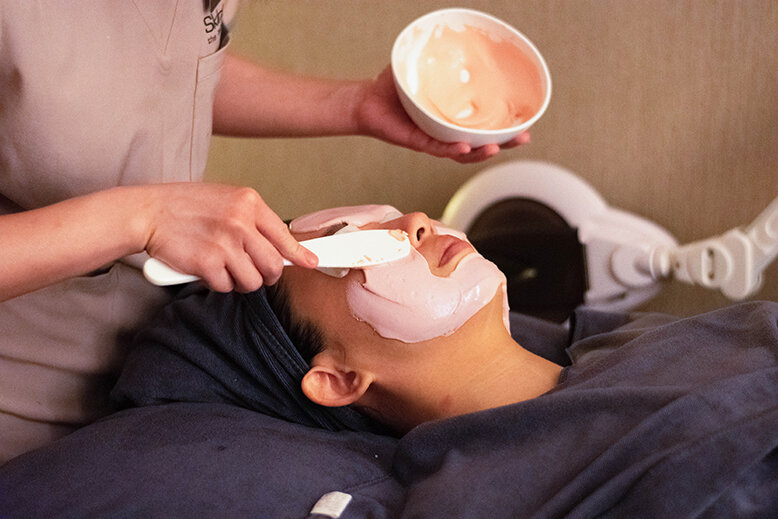 For the key final step of the facial, the aesthetician applied a Sorbet Modelling Mask on my face, which contains ingredients such as phytosqualene, argireline peptides and liquorice root extract to aid the skin with cell turnover. The scent of the mask was so calming that it made me drift off to dreamland in a matter of minutes. I appreciated the much-need power nap and was so happy to wake up to brighter-looking skin.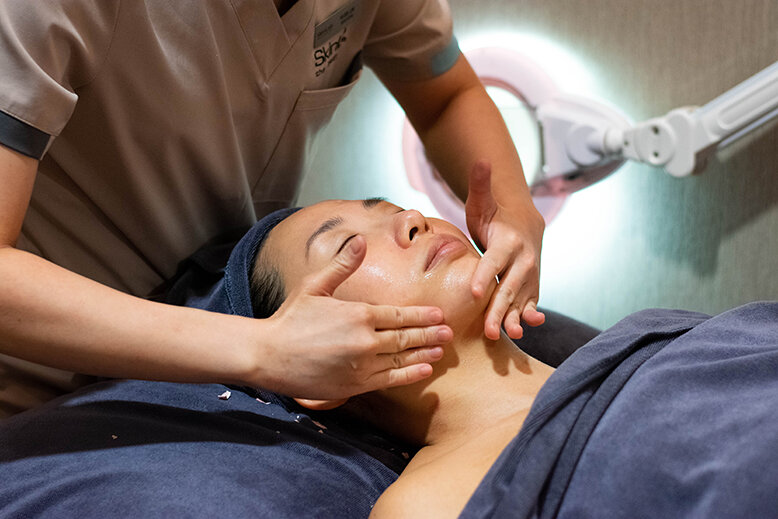 With my fresh, post-facial face (and sunscreen) on, I stepped out of SkinLab feeling much happier and confident than before. Even after attending a series of gruelling, back-to-back meetings, my skin felt hydrated and cool to the touch.

An ideal skincare treat for mums
For your fuss-free, at-home skincare routine, SkinLab also has a range of beauty essentials to help keep our skin healthy, happy and radiant too. I've tried and thoroughly enjoyed using their skincare duo, which consisted of the Papaya Whitening Powder Cleanser and Intense Hydrating H.A. Serum.
The Papaya Whitening Powder Cleanser contains papain (papaya enzymes) to build up the skin's collagen and it turns to foam almost immediately when used with water. Its texture felt light and refreshing on my skin and I also liked how it doubles as an exfoliator to cut down the number of items I need in my skincare routine.
As a hydrating follow-up, I applied a few drops of the Intense Hydrating H.A. Serum onto my skin. This quick-absorbing skin "quencher" is made of 100 per cent pure, micro-molecular hyaluronic acid to help plump up tired skin and reduce the appearance of wrinkles and fine lines.
As mums, we spend a majority of our time taking care of our loved ones. However, let's also prioritise our "me" time and take moments out of our busy routines to revitalise and rejuvenate our skin. Two hours may sound like a long time, but the Laser Lift Facial felt so effortless and relaxing that I reckon it's a worthy, ideal self-care treat that every woman should pamper themselves with. For those quick, in-between beauty moments, consider SkinLab's skincare duo as well to help maintain your skin's youthful-looking complexion.
Check out these testimonials from SkinLab's satisfied clients too.
Sherry Yeo: "I learnt about SkinLab via a Faves deal and was recommended to try SkinLab's Laser Lift Facial. I came out happy and glowing!"
Foo Ying Peng: "I usually prefer my facials to be short and quick. But after trying SkinLab's Laser Lift Facial, it's become the only facial so far that I don't mind staying longer for."
Pamper your mum with SkinLab The Medical Spa's special Mother's Day promotion! From now till 31 May, treat her to a 120-minute, anti-ageing Laser Lift Facial for only SGD168, where the first 100 customers will also receive a complimentary Papaya Whitening Powder Cleanser and Intense Hydrating H.A. Serum (worth SGD644 in total).
Enjoy a 50 per cent discount on SkinLab's Papaya Whitening Powder Cleanser and Intense Hydrating H.A. Serum as well, at only SGD109 (Usual price: SGD218).

Comments, questions or feedback? Email us at [email protected].