Looking for top salons in Singapore where you can get your mid-year hairstyle change? If you're looking to change things up a bit for the latter half of 2021, a hair refresh is the one thing you should try. You know what they say — change your hair, change your life.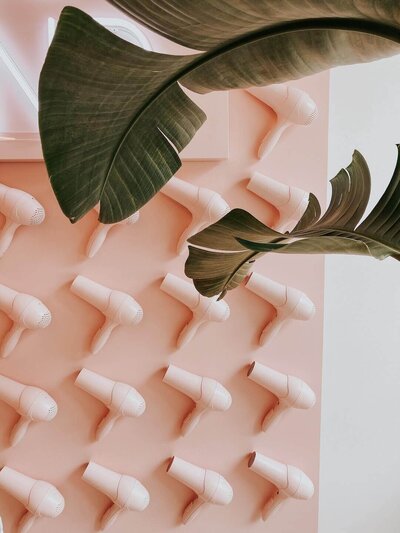 While you may be tempted to pick up your shears or buy box dye, we think it's a good idea to leave the work to the pros. It is a life-changing experience after all, so why not let an expert help you through it? Head to one of these top 10 salons in Singapore to get just the look you want (and need).
Ash Blond Highlights at KIMROBINSON
The ash blond look is still here and thriving. But this time, it's put in doses instead of applied all over your hair. Ash blond highlights? Yes, please. Giving your hair a bit of a lighter look also helps to soften your overall aura and gives your skin a bit more radiance. Try it at Kim Robinson, one of the top 10 salons in Singapore, where the stylists are experts at making this look. Make sure it stays light and bright with the
Oribe Bright Blonde Shampoo and Conditioner for Beautiful Color
. For days when you need to be out and about and need to style your hair, use the
Oribe Dry Texturizing Spray
.
Neon Dreams at The Lawn Hairdressing
Go bold or go home. If you're feeling adventurous, go ahead and make your neon dreams come true at The Lawn Hairdressing. The colours are created by experts with the peroxide- and ammonia-free
Goldwell Elumen
range, which repairs the hair while colouring. Keep your tresses looking vividly gorgeous with the
Goldwell Elumen Shampoo and Conditioner
at home.
Falling Stars Highlights at Chez Vous
Salons in Shanghai and Seoul are all about creating Falling Stars Highlights right now. It's been a decade since we last saw highlights trending and it's now come back stronger than ever — it may have already surpassed balayage in popularity. Get a personalised version of this trend when you visit Chez Vous. While it will be tailored to your hair and style specifically, a few things to note from the hairstyle created by the experts from the salon are that they are less stripy and lower in contrast, as well as placed closer to each other for a more blended and office-appropriate look.

Maintain your highlights with a routine consisting of the made-for-blonde haircare duo Oribe Bright Blonde Shampoo and Conditioner for Beautiful Color, the heat damage-fighter Oribe Invisible Defense Universal Protection Spray, and the Oribe Impermeable Anti-Humidity Finishing Spray.


Mid to End Highlights at Evolve Salon
Want highlights but don't want them to be full-length? Yes, you can have that — with the mid to end highlights expertly created by the stylists at Evolve Salon. This colour style goes so well with a soft curl look too. Ensure that you can maintain this sweet and sleek look at home with the
Oribe Curl Control Silkening Creme
.
Earloop Peekaboo Highlights at Black Hair Salon
Want to get highlights in a subtle way? So subtle that when you tuck your hair behind the ear, they're hidden but when you unravel your hair, the pretty highlights can be viewed in plain sight. Get the Ear Loop Peekaboo Highlights from Black Hair Salon. Try it and keep it vibrant with the
Kerasilk Color Brilliance Service Shampoo and Conditioner
. For days you'll need styling, add the
KMS Sea Salt Spray
to your routine.
Pinterest-Worthy Ash at Salon Kream
Transform your hair into something people would be inspired to do to theirs too. Get a Pinterest-Worthy Ash colour and styling at Salon Kream. The stylists at the salon ensure your hair is not just great in real life but also incredibly photogenic. Keep your hair always refreshed with the
GOLDWELL DualSenses Extra Rich Shampoo and Conditioner
and protect it with the
StyleSign Diamond Gloss (Protect & Shine Spray)
.
Face-Framing Highlights at Hairwerkz
Frame your face with your hair — but not just through the cut; do it with colour too. That's exactly what the Face-Framing Highlights at Hairwerkz do. Let the experts from the salon do their magic to your hair with the help of GOLDWELL hair colouring products that give off vibrant colour while protecting your tresses from damage. Enjoy the look for as long as you can at home by maintaining it with the
GOLDWELL DualSenses Blondes & Highlights Conditioner
.
Multi-Dimensional Balayage at Picasso Hair Studio
We all know and love balayage, but here's a new way of doing with by creating dimensional effects. This ensures the colour looks good no matter how you want to style your hair — straight or curly, it will be great. Get this expertly done at the Picasso Hair Studio, one of the top 10 salons in Singapore, where they use
GOLDWELL Elumen
hair colour that delivers up to 76% more colour intensity and 20% longer durability compared to oxidative permanent colour. Keep your ethereal new hairstyle in top shape at home with the
Elumen Shampoo & Conditioner
.
Glossy Graduated Look at Starlight Salon
Looking for something chic but with a dash of edginess? You'll get exactly that from Starlight Salon. This look, which marries the classic graduated bob and modern tones of purple and pink, shows how a good cut can be elevated by the right colour. Get the look and then maintain the colours with the help of
GOLDWELL Kerasilk Color Shampoo and Conditioner
that's packed with Keratin and Tamanu Oil for keeping coloured hair brilliantly shiny. You can also personalise the look by styling it your way with the help of
GOLDWELL Stylesign Just Smooth
range, which includes a variety of products to help you style your hair just the way you want it — from a straightening balm to a smoothing blow dry spray and more.
Styling Perm at Super Blades
Now, a hair refresh can be a change in colour but it can most definitely be a change in style. If you want to shake things up but don't want to snip some inches off your hair, the Styling Perm at Super Blades, a top Singapore salon, might just be what you're looking for. A perm sounds drastic but this one's subtle yet impactful. You'll get the look with the help of the stylists creative hands and the
GOLDWELL Structure + Shine
. Then maintain your perm at home by keeping it clean and nourished with the
GOLDWELL DualSenses Curls & Waves Shampoo and Conditioner
and keep the style alive with the
GOLDWELL StyleSign Roughman
.
Try these hair trends and discover more here.
Comments, questions or feedback? Email us at [email protected].