Asian hair trends in 2021 are very different from the ones we grew up with. No longer are we all about sleek straight hair and a selection of brown-toned dyes. Today, we see styles that are more experimental, bolder, and even in varied hair textures. We're talking about eye-popping hair colours, next-level artistic hair techniques and of course, cutting-edge innovations in hair science.
It's all very exciting, isn't it? If you want to achieve some of the most popular Asian hair trends to shake up your everyday look – anime-inspired, peekaboo or balayage, anyone? – all it takes is a session at Shunji Matsuo Hair Studio with the GOLDWELL ELUMEN range and you're on the way to colour-caring your hair. So keep reading to find out more and check out our CollabShop exclusive packages and promos to give your look a refresh before the year ends!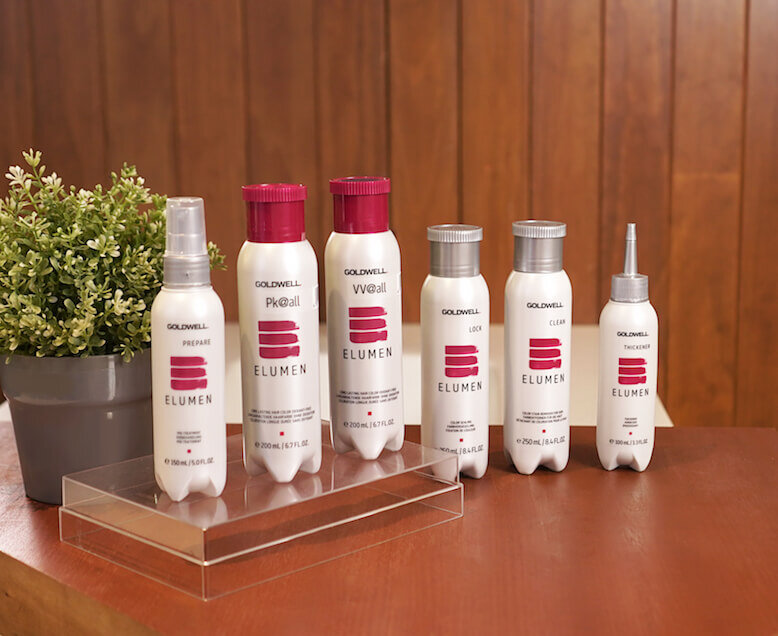 The skilled stylists at Shunji Matsuo use the ELUMEN range for all the right reasons: the dyes have amazing colour brilliance and last a long time. These dyes are also non-oxidative, which means they only create physical changes and won't disrupt the chemistry of your hair shaft. They're gentler on the strands (say goodbye to stinging patch tests!). They also don't have that unpleasant "ammonia" smell. Now, you can achieve the most eye-catching colours with peace of mind.
Concerned about your dry hair? Don't worry, it's also suitable for those with damaged locks as ELUMEN repairs hair while colouring and is formulated without peroxide. You can expect up to 37% more shine compared to demi-permanent hair coloring and 76% more colour intensity and 20% longer durability compared to oxidative permanent hair colours.
The ELUMEN range has a three-step process to ensure good healthy coloured locks: pre-treatment to prep the hair, then the colouring proper, and finishing off with a "lock" step to make sure that your hair stays salon-fresh for days to come.
Looking for inspiration to take the plunge? Ahead, three women share how they sport these 2021 trending hairstyles.

Peekaboo hair
If you're looking for an impactful hair makeover yet don't want something too drastic, then the peekaboo hair colour is one of the on-trend looks you must try. True to its name, the colour of your choice will only be applied to the bottom layer of your hair so it will only "peek out" when you flip your hair or run your fingers through your locks.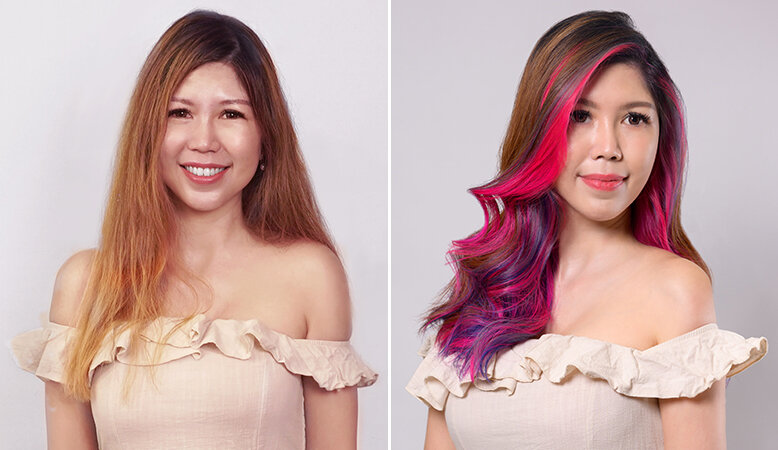 Our advice? Go for a bold peekaboo colour that will pop against the top colour of your locks. Take a cue from Celestia who chose pink for her peekaboo hair colour. "Pink is one of my favourite colours and it makes me happy," she said. The pink shade she chose contrasted nicely against her blue and brown top colour which gave a 3D-effect to her hair. It also brightened up her complexion. "It gives a rosy and refreshing tone to my skin," Celestia quipped.
On top of her satisfying hair look, she was also impressed by her experience at Shunji Matsuo. "The environment is very cosy. The staff are really professional and knowledgeable as well as friendly. Everything was organised and each step was done very meticulously to achieve the desired effects," she said.
Keen to try this style? Take these wise words from Celestia: "Forget about having safe colours. You only live once. Paint your life with your favourite colours and there is no better time to make that dream come true for you."

Anime-inspired locks
Anime characters have larger than life features — ultra-big eyes, hyper expressive faces and unreal covetable hairstyles. While the first two are hard to emulate, the last one is certainly achievable at Shunji Matsuo. Take it from Clare who is a big fan of Hideaki Anno's anime series Evangelion. "The final movie just aired last month so I thought I shouldn't pass up the opportunity to pay some tribute to mark the end of an era," she said.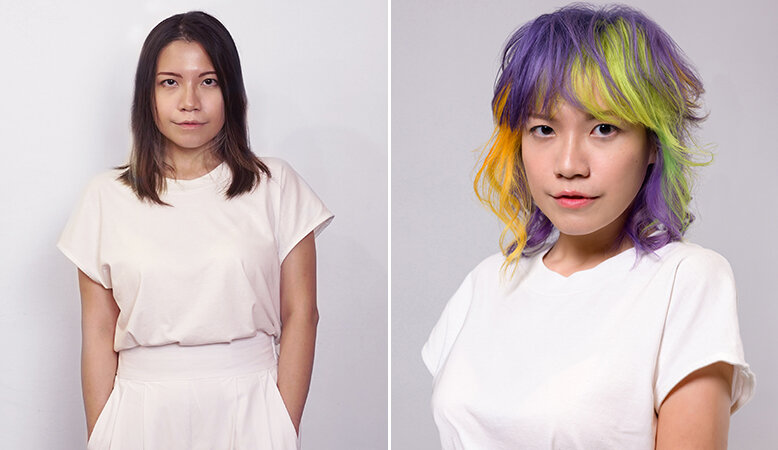 Because the anime-inspired colour scheme she chose was bold, Clare expected that the hair colouring process would likely leave an uncomfortable sensation on her scalp. But it turned out that she felt so comfortable that she dozed off multiple times during the process – all thanks to the GOLDWELL ELUMEN range. "It was a lot more comfortable than I had expected for something that looks this wild," she said. "I never expected the colours to turn out so close to the reference pics; I'm obsessed."
After rocking the look for days, Clare said she's gotten nothing but compliments. "There's no mistaking me for someone else now, not even with faces all masked up," she laughed.

Balayage technique
Are you a hair colour virgin? You might wanna try something that's a modern classic like the balayage technique. This style may be trending for some time now, but it still remains one of the most sought-after Asian hair trends of 2021. It's a highlighting technique where the hair colourist "paints" the hair colour onto your hair — kind of like how an artist paints on a canvas – which allows for a more natural, softer look.
However, the balayage technique can also work on bold colour combinations too, think purple and blue for a soft-serve ice cream-inspired style, or red and orange for a fiery look.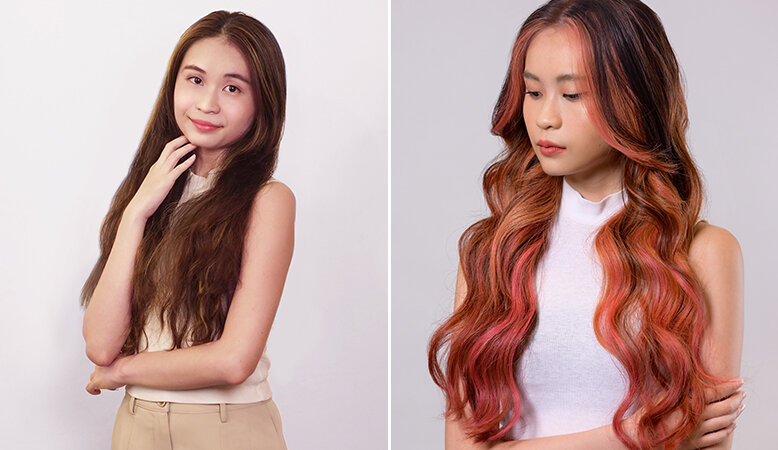 Hair colouring first-timer Genevieve chose to go with something that's eye-catching and went for a bright pink colour. Throughout the process, she never felt unsettled even though it's her first time. "Everyone was really friendly and made sure I was comfortable. The colouring was carefully done by the stylists and the team would discuss various techniques that would ensure the colours from the ELUMEN range would blend well and look great on me," she said.
After the reveal, Genevieve was pleased with the results and felt that her new look is "pretty cool." "I would recommend this to others who want to try something new with their hair to go with this bright and bold look," she said.
Want to try any of these styles at Shunji Matsuo Hair Studio? You're in luck! Check out these CollabShop exclusive packages and promos to give your look a fresh take before the year ends.
GOLDWELL ELUMEN Hair Colouring Package (SGD260)
This complete GOLDWELL ELUMEN colouring package is ideal for those looking for a comprehensive makeover. You can choose from these various styles: balayage, peekaboo, dip dye, or money piece (up to two new natural shades). Get 35% off the original price (SGD400) for the luxurious Elumen hair colouring package with this special voucher.
Early Bird Freebies:
First three who purchase this package will receive a complimentary 10L mini fridge worth SGD74.
The fourth to sixth customers who purchase this package will receive a free special mirror worth SGD28.

Haircut By Master Stylist (SGD38)
Experience the premium cutting technique developed by Shunji Matsuo and Director of renowned Japan Salon Fibre Zoom and Zone and Section Academy Mr. Kazuhide Inoue for 35% off the original price (SGD58). This niche style of haircut conducted by the salon's master stylist aligns the skeletal structure of the face and hair fibre. The result? A hairstyle that frames your face shape perfectly and is resilient to change (no awkward "growing out" phase).

SGD50 Online Shopping Voucher (SGD40)
Maintain your salon-fresh hair with Shunji Matsuo hair products. Plus, get a free product consultation via WhatsApp (8799 8378) to make sure that you're getting the right care for your hair.
Simply purchase this voucher and enter its voucher code on the Shunji Matsuo website to shop.

Terms & Conditions apply for all promos. These promo prices are available for a limited time only. Get yours before 30 Nov 2021!
This story was created in partnership with GOLDWELL ELUMEN.

Comments, questions or feedback? Email us at [email protected].