"Beauty trends may come and go. However, radiant skin never goes out of style." After all, beyond following a standard skincare routine, there are bound to be days where you'd wish for an extra boost in addressing specific issues — whether it's pigmentation, fine lines or dull, lacklustre skin.
Thankfully, you can always look to professional skincare experts, who are equipped with the best knowledge and tools to help you to put your best face forward. Furthermore, with their trusted advice and effective treatments, you may even be amazed by how much your skin can improve significantly over time.
On this note, no one relates better to dealing with skincare woes than #TeamClozette's Campaign Executive, Zoel. "I've always diligently followed a proper skincare routine. However, I still suffer from hormonal acne breakouts. Plus, it's incredibly tough for me to keep my hands away from squeezing my pimples! That's why I have a few stubborn acne scars too," she shared.
With this in mind, we tasked Zoel with trying out SkinLab The Medical Spa's Signature Medical Peel Facial and I2PL Pigmentation Treatment to see if they would help her to achieve glowing, smoother skin. Curious to know if you should give this service a go as well? Read on for her review.
Understanding my skin goals
My skin has been looking pretty dull at the moment as I've been pulling a few all-nighters recently! Upon checking into SkinLab, I was tempted to head straight to the facial bed and let their aestheticians work their magic on my skin. However, I was pleasantly surprised by how they took the time to understand my skin concerns and goals, as well as discuss the best plans for me before proceeding with the treatments. In all, I appreciated how they had patiently managed my expectations on what I could potentially experience after each treatment as this made me feel much safer in their hands.
Why I love SkinLab's Signature Medical Peel Facial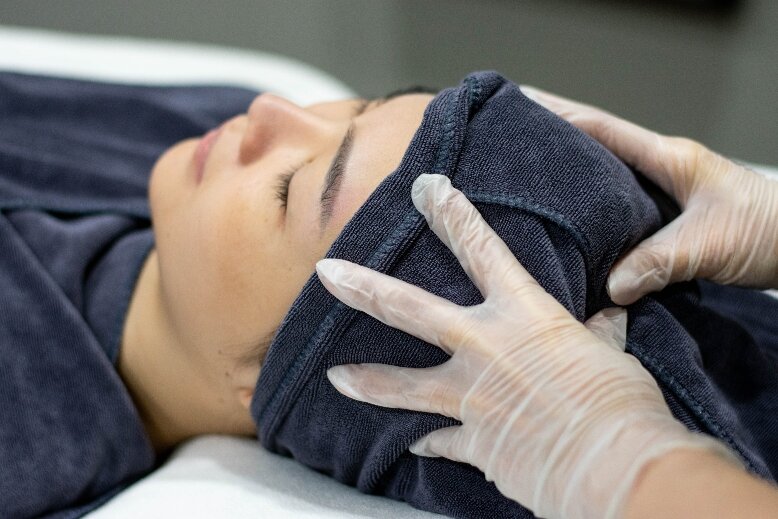 Having experienced my fair share of facials in the past, what truly impressed me about SkinLab's Signature Medical Peel Facial was how it was customised for my skincare concerns and needs. Furthermore, as a self-confessed skincare enthusiast, I was thrilled to learn that the medical spa's Medical Peel Facials were specially designed by their in-house doctors and are made up of AHAs and/or BHAs to treat various skin concerns, including mild pigmentation, acne and blemishes.
For my customised Medical Peel Facial, I was given a 10% BHA Salicylic Peel Treatment as it can penetrate deep beneath my pores to address my acne issues without it being too harsh on my sensitive skin. Despite what you've probably read about medical peels before, I did not encounter any discomfort during mine at all. In fact, I had found it pretty relaxing.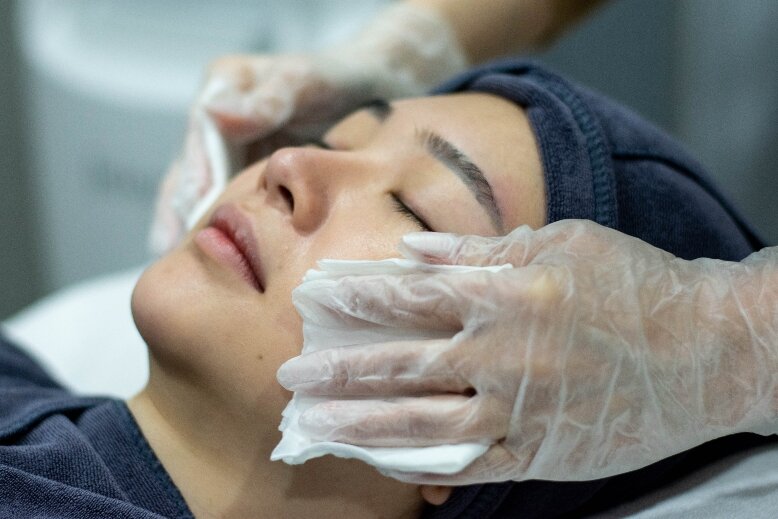 The aesthetician began with a massage before giving my skin a thorough double-cleanse. Then, she applied the medical peel solution onto my face using gentle, tapping motions to ensure that it gets absorbed fully into my skin. This helps to remove dead skin cells from the face as well as for softening whiteheads and blackheads for easier extraction afterwards.

After a few minutes, I felt a slight tingling sensation on my face — according to the aesthetician, that's the acid working hard to target the acne issues deep within my pores! You may or may not experience a similar sensation as everyone's skin type is unique and different. As mentioned, mine is on the sensitive side. However, my skin was easily soothed after the aesthetician removed the peel solution and cleansed my skin with a damp facial cloth. This was followed by a professional facial extraction and an optional eyebrow shaping service. Farewell, pimples. You won't be missed!
Levelling up my skin with SkinLab's I2PL Pigmentation Treatment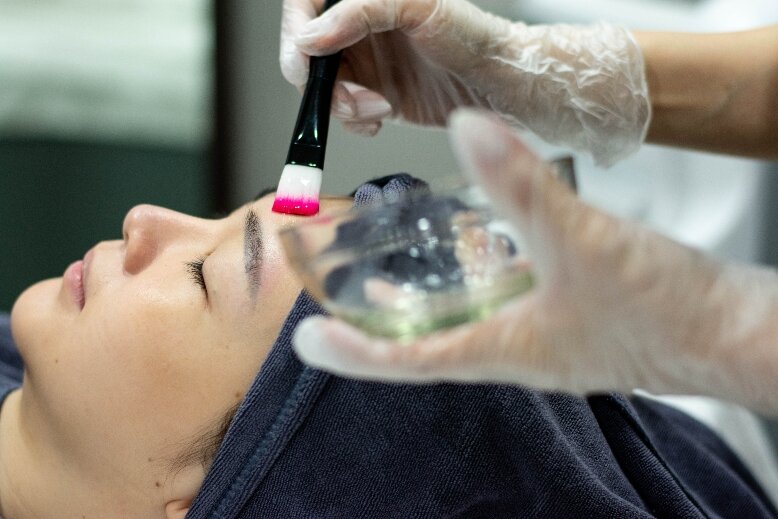 After completing the Medical Peel Facial, my aesthetician proceeded with the I2PL (2nd Generation Intense Pulsed Light) Pigmentation Treatment, as it has the potential to produce even greater results for my skin. According to SkinLab, this is a "step-up" from older, standard IPL technologies — as it's now equipped with more modes and settings to deliver a more accurate amount of light and speed that's tailored to a person's skin condition — all while eliminating potentially harmful light wavelengths too.
That said, what truly impressed me was how this FDA-approved service required no downtime at all. I was able to step outdoors and continue with my daily activities with confidence (and sunscreen, of course!) Hurray to the power of light technology in helping me achieve smoother, rejuvenated skin!

My I2PL Pigmentation Treatment started with the aesthetician applying a generous amount of cooling I2PL gel onto my face, which helped to counteract the warm bursts of light that were generated from the I2PL machine. Once again, I did not feel any discomfort during this process too. If anything, I thought it was pretty interesting to experience first-hand how light technology can help to improve my skin.
For the final step of my I2PL experience, the aesthetician applied a Couperose ampoule on my skin using a gentle massaging technique — a great add-on recommended by SkinLab if you have sensitive skin just like I do as it helps to soothe and restore skin to its natural, healthy state.
My final verdict
I noticed that my skin had become brighter, softer and smoother afterwards. What had impressed me the most, though, was how my acne scars were slightly lightened too. I also appreciated how SkinLab's Signature Medical Peel Facial and I2PL Pigmentation Treatment require no downtime too as I was concerned that going for both services would affect my day-to-day routine. Fortunately, all I had to do after the treatment was to diligently apply my sunscreen every day. (Never skip on this essential skincare step, ladies!)
I'm also glad I heeded the medical spa's advice in experiencing both treatments consecutively which had helped with the redness on my face post-extraction. Above all, SkinLab's treatments are much more comprehensive and customised than regular facial services as they're thoughtfully designed to address your unique skin concerns — whether it's dedicating time towards understanding your skin goals or offering new technologies and options which can be tailored according to your skin condition.
Testimonials from SkinLab's satisfied clients
Cheong Chiew Ling: "SkinLab's services are personalised and I like how they're not pushy. I took their advice in trying the I2PL Pigmentation Treatment and I'm glad I did as it's made my skin more radiant. It's helped lighten my sunspots on my face too."
Nur Hayati: "I love how genuine SkinLab is in helping me resolve my skin concerns. They recommend products and treatments that work for my skin while being mindful of my budget too."
Unlock your skin's radiance and welcome a blemish-free complexion today with SkinLab The Medical Spa. Find out the latest promotions for SkinLab's Signature Medical Peel & I2PL Pigmentation Treatment here.
Comments, questions or feedback? Email us at [email protected].