There are things we know to do, and then there are things we're naturally good at. This can be said for the talents we possess, the way we relate to others and even the way we choose our skincare products.

Are you naturally good at discerning ingredients? In today's beauty landscape, reading the label is a must. Where do these products come from? Are they responsibly sourced? What do these products have in them? Are they truly good for your skin?
Naturally good at discerning ingredients
If you instinctively read the labels of the products you use and put a premium on what you use on your skin, then you're naturally good at picking the right skincare products for you. If, on top of that, you prioritise products that give your skin benefits and also help the environment, you're naturally good at caring for everything around you.

With that, you'll be happy to discover the new NIVEA Naturally Good range. Made with 99% natural origin ingredients, NIVEA Naturally Good products help harness the goodness of nature to give the skin intense regeneration with extreme gentleness. The remaining 1% is meant for safe use and dermatological requirements. The result? Naturally beautiful and healthy-looking skin.

Rest easy knowing that your routine doesn't harm the environment. Each product from the range contains ingredients that are responsibly and transparently sourced. All of them are housed in recyclable materials too.
Naturally good at keeping the nasties away
Do you want things to be rid of the nasties — from keeping your mind clean and healthy and ensuring the same goes for your skin? If so, we're sure you love the double cleansing method. This skincare step asks you to cleanse first with a milk or oil cleanser before using a foaming cleanser, so you're sure your skin's free from every dirt and impurity.


Start with a mild first cleanse using the NIVEA Naturally Good Cleansing Milk. Packed with powerful antioxidants courtesy of organic green tea that's 100% natural and responsibly sourced, this mild cleanser that has a silky texture not only lifts away impurities and dirt from the skin but also fights skin damage and moisturises the skin. The organic green tea it contains is also great at combating signs of skin ageing, leaving your skin looking healthy and youthful.
Just massage it gently onto the skin and remove residue with a cotton pad or wash it off with lukewarm water.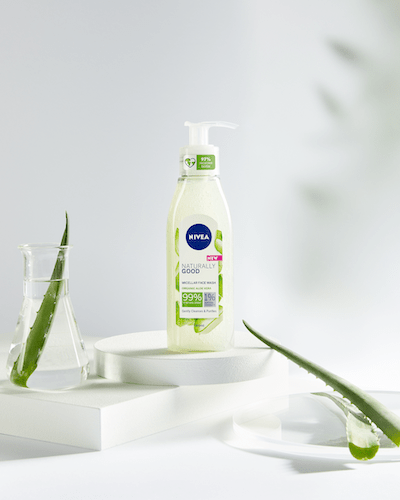 Follow it up with the just-as-gentle NIVEA Naturally Good Cleansing Gel. Enriched with organic and natural aloe vera, this mild cleanser ensures your skin is free from dirt and impurities while maintaining its moisture. No dryness with this! Aloe vera is also soothing on the skin, so lathering this cleanser that has a soothing and calming texture — it's like aloe vera gel — on your skin will feel truly pampering. Use this as your cleanser for day and night.
Naturally good at preparing for each day with confidence
You're always armed and ready to face the day with confidence. Aside from making a to-do list and ensuring your essentials are prepared, your product picks help you to stay on top of your game too.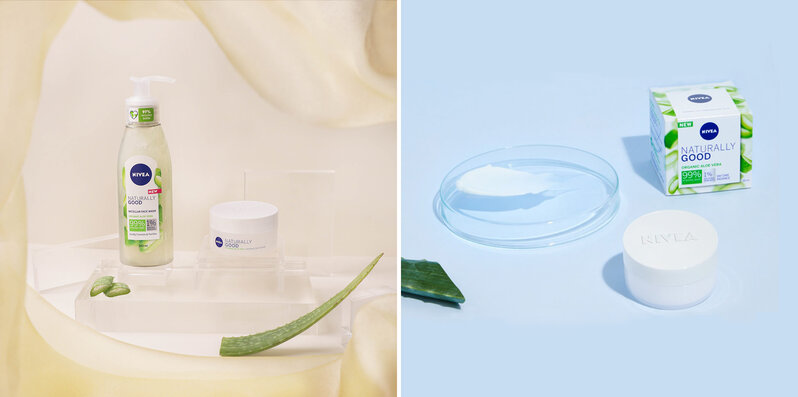 After giving your skin a jolt of cleansing freshness, feed it with hydration that makes your skin ready and nourished to face anything that comes your way for the rest of the day. The
NIVEA Naturally Good Day Cream
has a refreshing all-natural formula packed with organic aloe vera — perfect to start the day with. Apply this after you cleanse your face; it's highly moisturising and leaves the skin feeling soft and looking healthy all day long.
Naturally good at maintaining a good sleep hygiene
You prioritise uninterrupted sleep and having peace of mind, so you make sure that you have a good sleeping schedule and do your trusted rituals to help you stick to that. From your shower routine to your at-night relaxation tasks to your skincare regimen.
At night, before you head off to slumber, make it a habit and a ritual to envelop your skin in a nourishing and regenerating cream because it helps in repairing the skin from damage while you sleep. Pick up the
NIVEA Naturally Good Night Cream
. This 99% natural nourishing cream is made with organic argan oil that's packed with Vitamin E and Omega-6 Fatty Acid that's great at protecting the skin from free radicals and preventing skin ageing. Use this as the last step in your nighttime regimen, so you wake up each morning with skin that's supple, soft and smooth.
Whether or not you're naturally good at discovering new ways to pamper yourself and treat your skin, we'll always have the right beauty products to help us.
Start naturally with the NIVEA Naturally Good Cleansing Milk, Cleansing Gel, Day Cream, and Night Cream, available at Watsons.
Comments, questions or feedback? Email us at [email protected].