If there's one thing you should really be paying attention to in your skincare routine, it's the cleansing part. No, really. Just think about it: when your skin isn't clean — dirt, sweat and other particles still present — you're just adding products on top of them and clogging your pores. Plus, with all the multi-screen activities you're doing, blue light is bound to stress your skin with free radicals. But don't just cleanse — level it up with something precious. Treat your skin to the goodness of the NIVEA Hokkaido Rose Micellar Water and Whip Foam Cleanser.

Do more than cleanse
The NIVEA Hokkaido Rose cleansing range is teeming with the benefits of the precious Hokkaido Rose, which blooms just once a year and thrives in an extreme range of temperature — from -25°C in winter to 35 °C in the summer. It's also pure in that it's cultivated without chemical fertilisers and pesticides — clean beauty, anyone? Each rose is also harvested individually by hand — yes, that much effort goes into this delicate ingredient.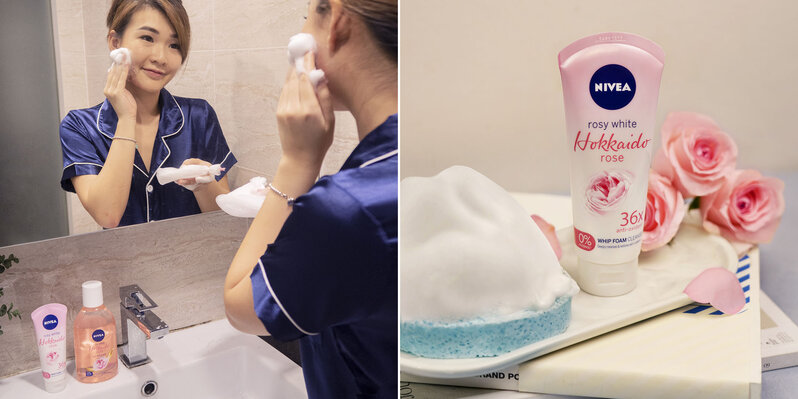 Plus, it takes a total of 16 hours a day of harvesting and distilling this flower to ensure its freshness. Why all this work for the Hokkaido Rose? Because it has 36x more antioxidants than a grapefruit, delivering impressive skin benefits such as warding off free radicals — whether it's from blue light or stress — and keeping your skin clean, healthy and radiant.
The new beauty cleanser
You still need your skin to be healthy and look radiant as you hustle indoors — remember free radicals from the blue light of your screens? The NIVEA Hokkaido Rose Micellar Water is the perfect bet for this. It does not only remove makeup, dirt and impurities but it also detoxes and hydrates, giving you three skin benefits in one! Skip a few steps from your routine and get healthy, radiant skin with just one wipe.


Step up your cleansing game with the NIVEA Hokkaido Rose Whip Foam Cleanser. Get it here.
Comments, questions or feedback? Email us at [email protected].