Wearing protective masks is now part of our new normal. It's something we're slowly getting used to. What we're not getting a hang of are the skin issues brought on by wearing masks. Sweat, humidity and friction are not our friends! Aside from maskne, there's also dryness and redness to contend with. This is why hydration is important — not just for moisture but also for strength. With the help of ​Neutrogena Hydro Boost​, here's how you can keep your skin hydrated under a mask.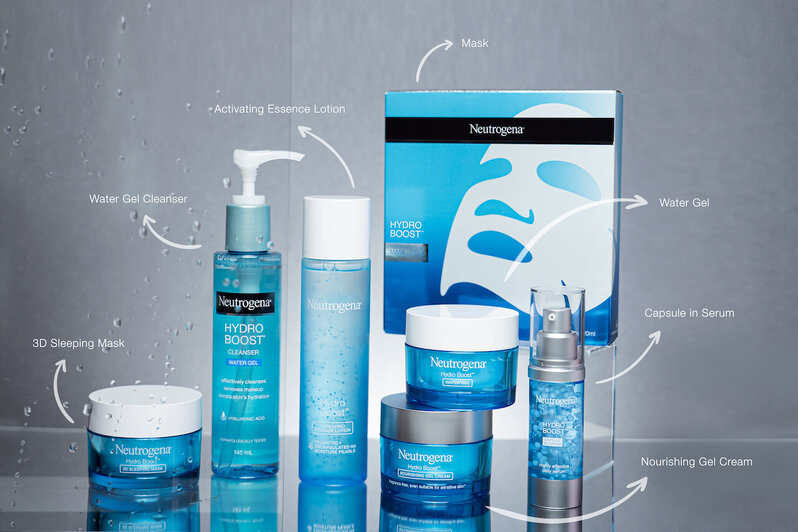 Gentle cleansing is key
When we think of cleansing, we get images of tautness. But you can inject hydration into every part of your routine — yes, even cleansing. The ​
Neutrogena Hydro Boost Water Gel Cleanser​
is just what you need for it.
This lightweight cleanser has Barriercare Technology that cleanses your skin from dirt, makeup, oil and impurities while keeping your skin moisture barrier intact and boosting your skin's hydration levels. It's also soap-free, oil-free, hypo-allergenic and non-comedogenic, making it perfect for those with sensitive skin — or anyone whose skin gets reactive to wearing protective masks.
Fortify with a treatment and essence
Lay the foundation for hydration with targeted treatment products so you can keep mask-related skin issues at bay. The
​Neutrogena Hydro Boost Activating Essence Lotion
​ is great for optimising the effects of your serum and moisturiser. Aside from that, it also has Prebiotic Technology and Hyaluronic Acid Pearls that boost the skin's natural hyaluronic acid, leaving you with supple skin. Along with Trehalose and Glycerin, this powerhouse lotion's ingredients make your skin moisturised and healthy-looking.
Then, follow it up with the
​Neutrogena Hydro Boost Capsule in Serum
​. Infused with Hydro Boost Capsules, this hydrating serum gets power-charged with antioxidant properties that not only replenishes lost skin moisture but also strengthens the skin's barrier and protects it from recurring dryness.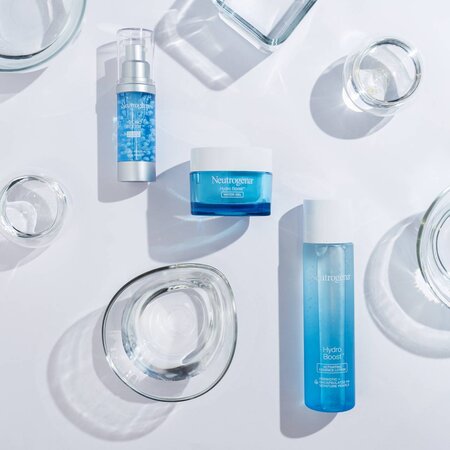 Seal the (moisture) deal
Top off your layers of moisture with a moisturiser that's equal parts hydrating and nourishing. The ​
Neutrogena Hydro Boost Water Gel​
has been clinically proven to instantly satiate your skin's thirst for moisture and keep it hydrated for 72 hours*. Made with US-patented Prebiotics Technology, this moisturiser boosts the skin's natural production of Hyaluronic Acid, keeping your mask-stressed skin resilient against dryness and redness — with visible results in just two hours.
If your skin's a bit more sensitive — and not just because of too much mask-wearing — the
Neutrogena Hydro Boost Nourishing Gel Cream
​ is for you. This oil-free, fragrance-free and non-comedogenic moisturiser, packed with purified Hyaluronic Acid and Olive Extract, helps you get the coveted five dimensions of healthy-looking skin — hydrated, bouncy, firm, smooth and luminous.
*After eight weeks of using the product

A different kind of mask
Once you're done with your mask for the outside, do your routine and go the extra mile with one that's for when you're at home. Give your skin a burst of moisture and keep it hydrated all day long with the ​
Neutrogena Hydro Boost Mask
​. It has Progressive Release Technology which doesn't just give your skin hydration in one go but makes sure it's done all day long. It also has a unique 3D Stretch-mask with Contour Fit that's designed to follow the contours of your face — no slipping and sliding. Dealing with our current situation and the problems that arise because of it can be tricky, but with proper preparation and the right products such as these from Neutrogena Hydro Boost, you can have strong, hydrated and healthy-looking skin that's ready for the world.
Hydrate while asleep
Make your sleep hours not just for rest but also for healthy skin. Take the opportunity of amping up your skin's cell renewal at night with the Neutrogena Hydro Boost 3D Sleeping Mask. Made with Hyaluronic Acid, Olive extract and ionic mineral complex, this nourishing gel firms up the skin, enhances its translucence and makes it soft and supple. Sleep with it on so you can wake up to healthy, hydrated skin in the morning.
Start hydrating your skin properly. Get the Neutrogena Hydro Boost range here.
Comments, questions or feedback? Email us at [email protected].