When we want to rejuvenate our skin and bring it back to life, we often think of getting peels or facials. For our sensitive-skinned sisters (and brothers), though, those can't really be the first options. But that doesn't mean we're going to leave them dull, dry, and tired. We're still going to revive them — but with a gentler, kinder-to-sensitive-skin CPR. Meet
KUNDAL Derma
, a Korean skincare brand made specifically for caring for and nurturing sensitive skin.
Revitalise sensitive skin with CPR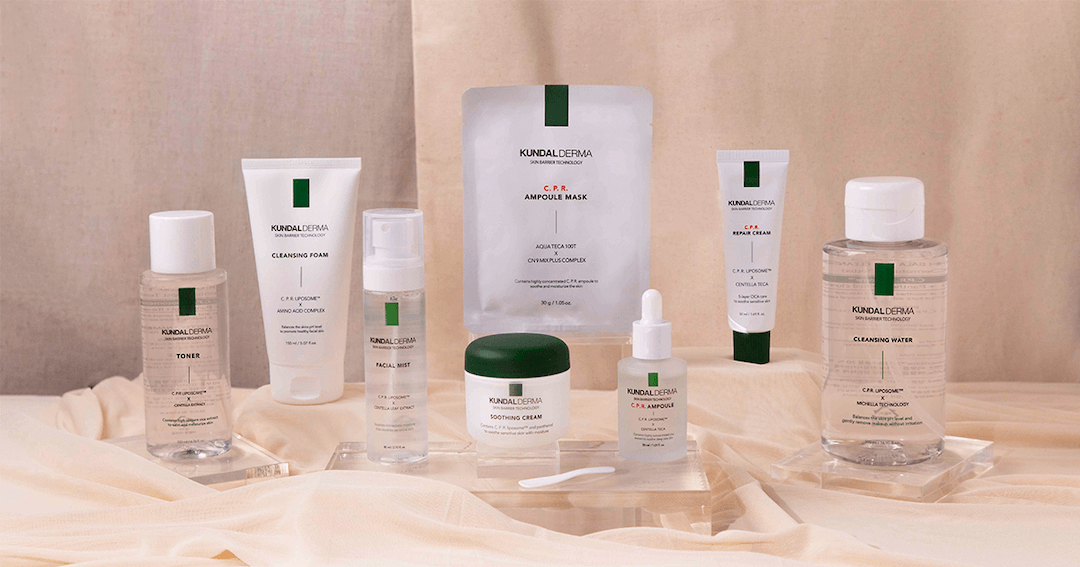 Look for skin rejuvenation that doesn't need your hands to do much of the work (except for application). Gift your skin with potent ingredients that work well together in giving it a renewed appearance. KUNDAL Derma products have
C.P.R.
—
centella asiatica (cica)
that helps to soothe damaged skin and address dryness and irritation;
panthenol
that strengthens the skin's walls, moisturises the skin and helps to control excess sebum production; and
red clover
, a type of vitamin A that brightens the skin and prevents fine lines and wrinkles.
Soothe and rejuvenate with KUNDAL Derma products
Each product from KUNDAL Derma is created with the fundamental care of sensitive skin in mind, so you'll have no worries tackling skin issues while trying to bring your complexion back to life. They're also meant to be used together day and night to give the maximum results for your sensitive skin, as shown in Nicole's video above. Here are what you need to do.
Step 1: Cleanse
Your basic skincare routine needs CPR. Pick up the KUNDAL Derma C.P.R. CICA pH Balancing Cleansing Water as your first-step cleanser. It's formulated with micellar technology that's been proven effective at removing nasties from the skin without being harsh.

Follow it up with the KUNDAL Derma C.P.R. pH Balancing Deep Cleansing Foam which is made specially to work well with and balance the skin's natural pH while giving it a good cleanse.
Step 2: Tone and treat
There's also the
KUNDAL Derma C.P.R. CICA Facial Toner
that controls excess sebum and improves the skin's texture over time. For nighttime, you can opt to use the
KUNDAL Derma C.P.R. CICA Soothing Cream
that helps to moisturise and soothe the skin while you sleep.
Amp up your skin's rejuvenation with the
KUNDAL Derma C.P.R. CICA Repair Ampoule
. It's a highly concentrated soothing solution that contains titrated extract of centella asiatica for extreme soothing, and four types of moisturising ingredients (panthenol, trehalose, betaine and allantoin). It also has skin-renewing liposome technology and just the right mix of AHAs (alphahydroxy acids) and BHAs (betahydroxy acids) for proper and gentler skin regeneration, revealing smoother, brighter skin.
Step 3: Moisturise and hydrate
Protect your skin's barrier so it's always healthy and properly hydrated — no irritation here — with the KUNDAL Derma C.P.R. CICA Balm Repair Cream. It contains Nutri-Matrix, 5% panthenol and 51% of titrated extract of centella asiatica to soothe irritated skin and strengthen the skin's barrier. This balm-type cream also brightens the skin and improves wrinkles. On top of that, it has a UV protection triple function. Sounds like everything you need in one for your morning routine.
Step 4: Give extra care
In need of a quick skincare boost? The
KUNDAL Derma C.P.R. Ampoule Facial Mask
is perfect for that. It soothes irritated skin in an instant with the help of 10% cica. It also moisturises the skin through AQUA TECA IO0T and calms the skin with CN 9 MIX PLUS COMPLEX. Just put the 100% natural cotton mask on your clean face and leave it on for 10 to 20 minutes to reveal incredibly soothed skin.
Do more than giving your skin instant relief when you use the
KUNDAL Derma C.P.R. Facial Mist
. Aside from refreshing your skin, this mist gives long-term skin-caring benefits. It moisturises with panthenol, ceramide and betaine; soothes with cica, and cools with plant-derived xylitol. It's great at helping to make your makeup stay on longer too.
Ready to revive your sensitive skin? Get 25% off on select items. Check out the ongoing promotions for KUNDAL Derma products at Guardian here — but hurry because they'll only be available until stocks last.
This article was created in partnership with KUNDAL Derma.
Comments, questions or feedback? Email us at [email protected].