Want to make your beauty routine more sustainable but think it's a daunting task? We're here to show you that it isn't. You don't need to completely overhaul your beauty routine at once or resort to unrealistic adjustments. Sometimes, the little things make the most impact.
In fact, beauty brands such as L'OCCITANE Singapore are here to help make it easier for you to recycle beauty products and help the environment through your beauty routine with their sustainability initiatives. Keep reading to know how beauty lovers like us can contribute to saving Mother Earth through these three easy and quick ways.
1. Use up all your products
The easiest and fastest way to make your beauty routine more sustainable? Use up your products down to the very last drop. This helps you get your product's worth — no ingredients and resources wasted. But if you're having a hard time getting that last drop to come out, we've got a few tips.
One way you can do this is by turning the bottle upside down after your shower and letting gravity do its work. By your next shower session, the remaining product can easily plop out.
For jar packaging, simply use a spatula to scrape leftover products. And for tubes, you can just cut them in half and scoop out the remaining product with your fingers.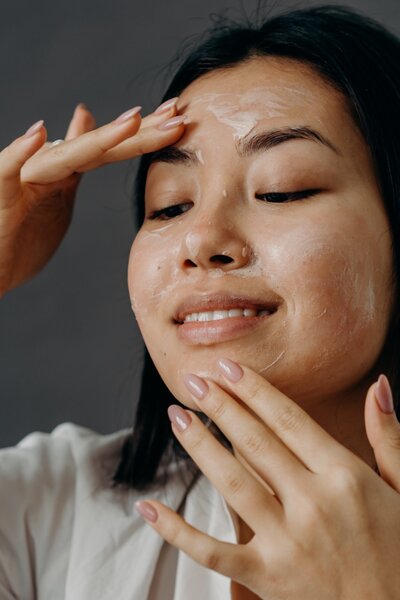 2. Recycle your beauty empties the right way
Once you've used everything up, it's time to bring your beauty empties to their final destination — not the trash bin, but to a recycling program.
It's an unfortunate truth that excessive packaging waste from beauty products is a growing concern for the planet, with microplastics from single-use plastic bottles, jars and more being one of the most significant culprits. But you can help reduce waste by recycling your beauty empties the right way.
You can look up local recycling programs in your area but you can also simply bring all your beauty empties, yes including ones from other brands, to selected L'OCCITANE boutiques during your next shopping trip.
The brand's Big Little Things program ensures that as many beauty empties as possible are properly recycled. L'OCCITANE partners with SembWaste, the waste and recycling management arm of Sembcorp, which operates the largest materials recovery facility in Singapore for this.
Did you know that in just the first 18 months of the program's launch, more than 11,000KG of beauty empties have been collected and recycled?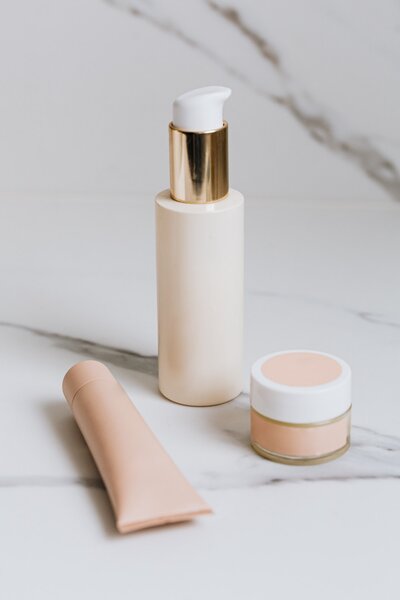 To participate, you simply have to wash and dry your beauty empties before dropping them off at L'OCCITANE ION Orchard, Plaza Singapura, or VivoCity.
After giving your empties, you'll get a little reward (aside from the satisfaction of helping the environment, of course). For every full-sized beauty empty, you'll be able to earn stamps that can be redeemed for travel-sized products and vouchers. How fun, right?
For the full list of accepted recyclable full-sized beauty empties*, you may refer to this page.
*Do note that L'OCCITANE Beauty Advisors may choose not to accept beauty empties within their discretion if they are deemed not possible to recycle or if the empty has not been properly cleaned and dried.

3. Switch to refillable beauty products
L'OCCITANE's Refill Fountain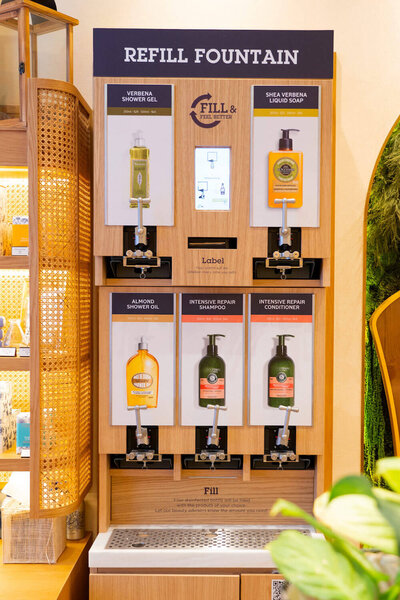 Want to take it a notch higher? Say hello to L'OCCITANE's Refill Fountain. This new sustainable initiative, which is now exclusively available at L'OCCITANE ION Orchard, is their revolutionary zero-plastic alternative that gives customers the choice of enjoying their favourite L'OCCITANE shower products without the need for new plastic bottles.
You can choose to bring your own empty L'OCCITANE bottle or purchase the durable and luxe-looking Forever Bottle in-store. The Forever Bottle is made from recycled and recyclable aluminum, making it an eco-friendly option. It is significantly stronger and can be used in a bathroom setting for a much longer time so you can be assured of the bottle quality in the long run and will use much less plastic over time.
L'OCCITANE's Refill Fountain currently offers five shower products: the best-selling oil-to-milk Almond Shower Oil (SGD52), the silicone-free Intensive Repair Shampoo (SGD40) and Intensive Repair Conditioner (SGD48), and the delicious-smelling Verbena Shower Gel (SGD45) and Shea Verbena Liquid Soap (SGD36). You get to enjoy savings of up to 18% compared to the original price. To reward customers for going plastic-free, you will also earn a stamp that is redeemable for gifts in L'OCCITANE's Big Little Things recycling program for every refill purchased too!
Don't worry if your favourite L'OCCITANE product is not included yet because more products will be available in the future.
L'OCCITANE Eco-Refills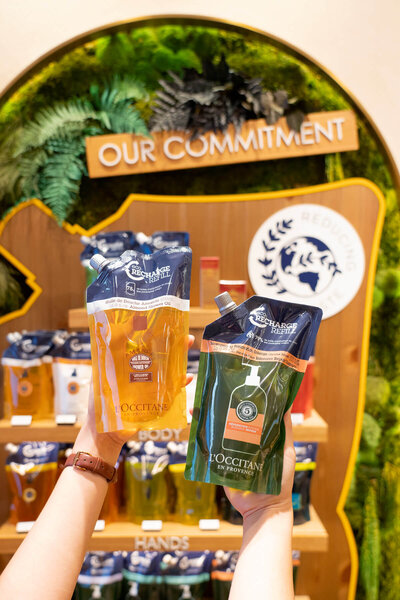 You can also opt for L'OCCITANE's Eco-Refills, which are packets containing L'OCCITANE products that you can conveniently pour onto your bottles. These were introduced in 2008 and have helped save 121,000kg of plastic packaging yearly and counting.
This initiative helps to save up to 97% on packaging compared to original containers. When you switch to Eco-Refills, you get to help save not just the environment but also save up on cash — up to 33% compared to the original price. The best part is these refill packs are also recyclable so you can also bring them back to the store after cleaning and drying them.
Over 20 Eco-Refills are available for a variety of L'OCCITANE products, from hair care and body care to face care and shower essentials.
Recycling beauty products and making your beauty routine more sustainable can be easy with these three easy steps! It doesn't need to be grand — caring for our Earth can be done with small tweaks to your daily routine.
L'OCCITANE'S Eco-Refills are available at L'OCCITANE boutiques nationwide, on sg.loccitane.com, Shopee and Lazada.
This story was created in partnership with L'OCCITANE Singapore.
Comments, questions or feedback? Email us at [email protected].