We all love our skincare routines and follow them religiously. But more often than not, our routines stop at trying to prevent skin issues from happening. There's nothing wrong with that, of course! But sometimes, skin issues still pop up no matter what you do. A pimple might suddenly appear even if you've been diligent with your regime. It could be because of hormone imbalance, stress, the hair products you use (really), and more.

Why you need a post-breakout routine
Just like cooling down after exercising or doing a debriefing after an intense meeting, your skin needs a helping hand after going through something gruelling so it can transition to a calmer state. So when you get a flare-up, don't just leave it be (and prolong your agony), face it head-on with the help of
Hiruscar Post Acne
.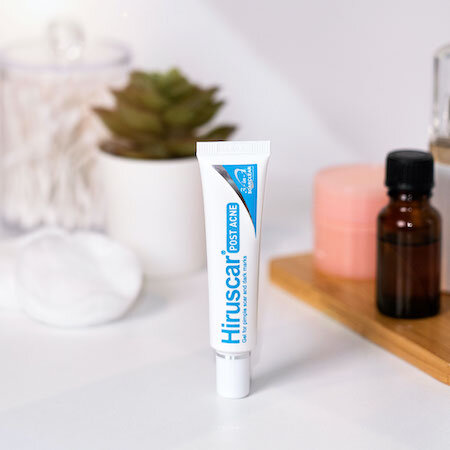 How to take care of post-acne skin
Acne scars happen as a result of your skin trying to heal itself from acne. They can be treated after, of course. But it will definitely take time. So why not address it as soon as you can?
Just apply Hiruscar Post Acne to the skin two to three times daily as soon as you need it (when your breakout has subsided). Since it's a gel, it's lightweight and easily absorbed by the skin. You can even use it under makeup.
Hiruscar Post Acne works three ways. It helps to improve the appearance of existing acne scars and dark marks while also helping to heal active acne and ensuring it doesn't turn into dark marks — plus, it helps to prevent acne from happening again.
This alcohol-free gel is packed with allantoin and Mucopolysaccharide polysulphate (MPS for short!) that help wound healing. It also has antioxidant-rich vitamin E that helps to brighten dark marks. It has vitamin B3 that amps up the scar tissue's elasticity and helps to control oil as well.
Apply it twice a day consecutively for four weeks if you have dark spots and redness to see results. For those who have acne scars that are more pronounced, it is advised to use it for four to eight weeks. Continue using it for four weeks to help prevent acne from coming back.
We asked 30 users to try it twice a day for four weeks and it got a 3.3 (out of 4) rating, with 90 per cent of them saying they will continue using Hiruscar Post Acne in place of their other treatment products.
A new addition to your routine that addresses not just acne scars but also recurring acne is a simple but impactful step, don't you think?
Read some of the reviews on Hiruscar Post Acne below.
Start your post-acne skincare routine. Get the Hiruscar Post Acne here.

Comments, questions or feedback? Email us at [email protected].