What are your skin goals for the year? If clear, bright and even skin is what you're looking to achieve, you'll be happy to learn that it's actually pretty easy to achieve. The key is in thinking of not just what to put on but also what you put in to help you get to that goal. Your topical skincare routine can definitely use an oral supplement BFF. The new GreenLifeⓇ Derma Bright Skin Whitening, with a dual-action formula, is perfect for this. Here's why.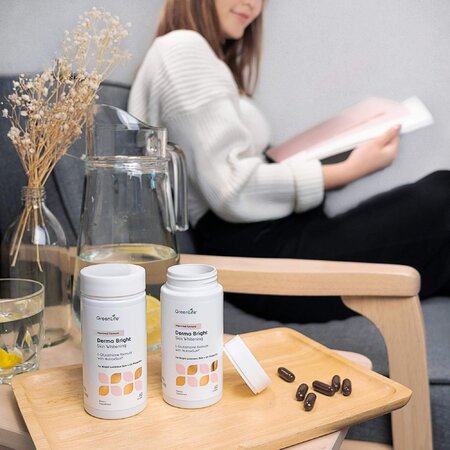 First, brighten from the inside
Think of your skin goal as something that takes the power of two to achieve. Like having a supportive best friend that helps motivate you and nourish your soul, you'll need something that feeds your skin with nourishing and brightening ingredients. The best part? If you can find something that works double-time with a dual-action formula. The naturopathically formulated GreenLife
Ⓡ
Derma Bright Skin Whitening does so. First, it works with reduced glutathione that has clinical evidence for brightening the skin — from the inside. It also has potent antioxidants astaxanthin and lycopene that are great for keeping the skin young, healthy and fresh-looking.
Plus, it's boosted with grapeseed, selenium and zinc that neutralise skin-damaging free radicals, giving you skin that's not only bright but also overall in tip-top shape.
Next, protect from outside factors
With the humid and hot weather on our side of the world, maintaining a bright complexion can be a challenge (hint: it's because of a three-letter word). It's no secret that the sun's harsh UVA and UVB rays are one of the major culprits of skin ageing — think wrinkles, discolouration and more. So it's important to protect your skin from outside factors, in conjunction with brightening from the inside. You need a skin-protecting bestie to add to your current skincare routine too. You don't need a separate oral supplement, though!
The dual-acting GreenLife
Ⓡ
Derma Bright Skin Whitening also contains NutroxSun
Ⓡ
, a clinically researched ingredient that's been proven to decrease the harmful effects of the sun's rays on the skin. Simply put, it's sun protection that you don't put on but actually take in — pretty cool, right? NutroxSun
Ⓡ
also helps to improve skin wrinkle depth and elasticity in just two weeks*, giving you skin that's soft and smooth.
Set on your skin brightening goal for the new year? This dual-acting product will be your BFF to achieve it. Take two capsules for two months and see visible results.
Get bright and stay bright with GreenLifeⓇ Derma Bright Skin Whitening. Get it here.
Comments, questions or feedback? Email us at [email protected].