Would you dare to go bare(faced) now that mask-wearing is no longer mandatory when outdoors in Singapore? Now, you may want a little extra confidence boost in going mask-free and bid goodbye to dark spots for good while you're at it. Whether you want to get rid of dark marks from maskne, previous acne breakouts or sun damage, a dark spot serum is just what you need.
Meet the NIVEA LUMINOUS630 AntiDark-Spot Serum a.k.a the #1 serum in Europe*. It's NIVEA's breakthrough anti-dark spot solution that's formulated with LUMINOUS630, the brand's patented ingredient which is 10 times more effective in reducing discolouration of the skin than typical brightening formulas. It promises to diminish the appearance of dark spots, brighten and moisturise the skin, and reduce fine lines in as fast as four weeks. Here's how it can help you be more confident in your bare skin.
It boasts a proven 10x efficacy** in reducing dark spots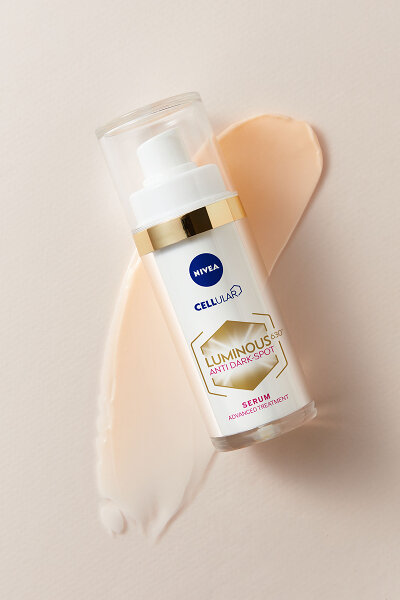 Tired of waiting for months or even years for the dark spots on your face to finally fade? The NIVEA LUMINOUS630 AntiDark-Spot Serum promises to brighten them in as fast as four weeks. NIVEA spent 10 years researching and testing more than 50,000 pigmentation-busting ingredients, and its quest to find the most successful formula for evening out skin discolouration led them to molecule #630 — hence the serum's unique name — which showed that it can quickly lighten up existing hyperpigmentation and prevent more dark spots from popping up.
It moisturises and reduces fine lines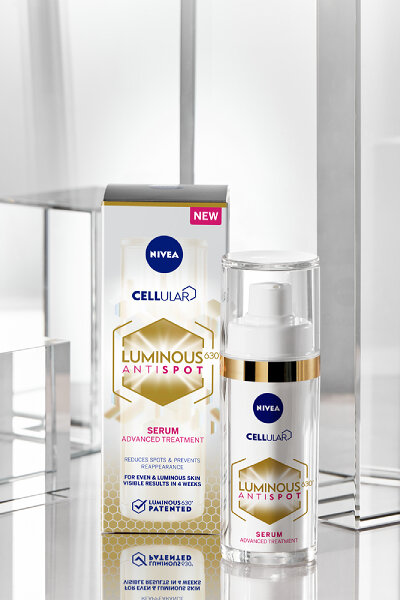 If you're worried about the serum drying out your skin, which can happen with other brightening serums formulated with hydroquinone or retinol, don't fret! The serum contains hyaluron that hydrates the skin and also signals it to naturally produce more hyaluron. The result: constant, lasting hydration that keeps skin looking plump and vibrant.
The serum is also formulated with antioxidants that reduce the appearance of fine lines. These also help the LUMINOUS630 to better penetrate the skin's layers, so it can work its brightening magic from deep within.
How to add the NIVEA LUMINOUS630 AntiDark-Spot Serum into your regimen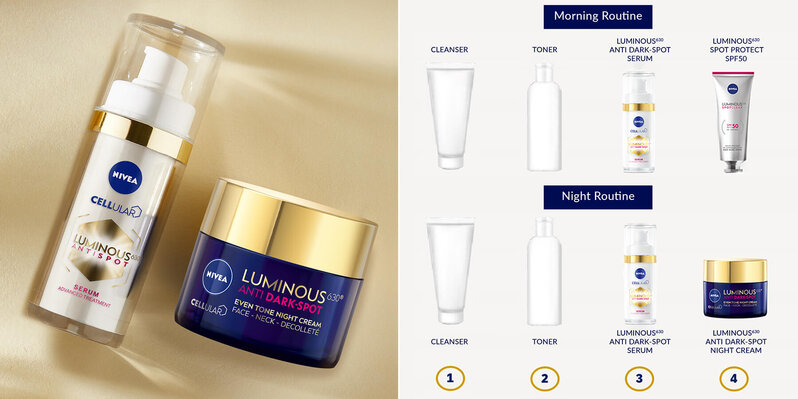 To experience its maximum brightening effect, you should use the NIVEA LUMINOUS630 AntiDark-Spot Serum both day and night.
In the morning, apply the serum after your cleanser and toner. Also, don't forget to generously apply and reapply your sunscreen throughout the day too.
For faster results, use the serum as part of your evening skincare routine too. After applying an even layer all over your face, it's recommended to apply a second layer over any dark spots and discolouration on your face. Then, seal it in with a skin-repairing night cream.
With this most effective*** antidark-spot day and night regimen, you can look forward to seeing glowy youthful skin within four weeks. Flaunt your vibrant and luminous bare-faced look anytime, everywhere.
Ready to have brighter, luminous skin? The serum is available for SGD52.90 in Singapore at Shopee, Lazada, and Watsons.
Comments, questions or feedback? Email us at [email protected].