Don't you just love the holiday rush? It truly is invigorating. But it can no doubt also be frazzling. So make sure you unwind, relax, and pamper yourself amidst all the planning, shopping, and gathering.
Want to disconnect from the online world for a day? Or discover a new hobby? You deserve it! There are many ways to give our minds and bodies a welcome break, but here's a hot tip: make sure to show your skin some love while you're at it. Here's how you can do so with the help of belif Christmas Skincare Sets. They make great presents, whether as a reward to yourself or for loved ones. (P.S. You can enjoy them by joining our contest — but more on that later.)
Take an afternoon to go through your to-be-read pile
When was the last time you took a break from all things digital? Treat yourself to a digital detox and finally try to make a dent in your ever-growing pile of books. Slip into some comfy clothes, snuggle into your cosy bed, and have a cup of warm tea ready by your bedside table. Before you lose yourself in your new read, make the most out of your downtime with a skincare sesh too.
Pamper your mind as you pamper your skin with the belif Skin-Saving Super Drops Set (SGD135/ worth SGD209). Target sagginess, dryness, enlarged pores and uneven skin tone with the Super Drops – Niacin-hydra Duo 10%. The ampoule contains 4% niacinamide and 6% hydrating agents that plump up and give fatigued skin a youthful, brighter appearance.
Follow it up with the fan-favourite The True Cream – Aqua Bomb, a lightweight gel-cream moisturiser made with a blend of apothecary herbs that increases skin hydration levels by 70% and leaves a cooling sensation with every application. It is formulated with antioxidant-rich Lady's Mantle that helps with anti-ageing and pore minimising. It also contains belif's signature Napiers Formula which moisturises the skin and promotes elasticity with the help of nutrient-filled minerals. On top of that, it has Napiers Original Formula that has calming and anti-trouble properties. As you go through the chapters of your latest read, bask in the feeling of a thoroughly nourished and pampered complexion.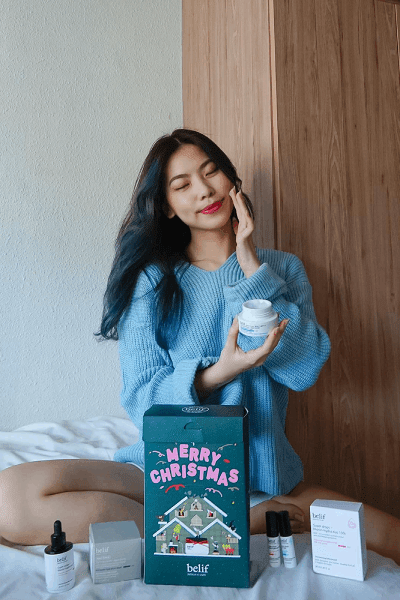 Don't just take our word for it; our community member Vanessa loved using the Skin-Saving Super Drops Set to help keep her skin pampered and thoroughly hydrated. "The Super Drops are not sticky at all, and the Aqua Bomb is so gentle on the skin. The texture is very lightweight and absorbs quickly into my skin, giving me the hydration my skin needs," she said.
Have a date night at home with your BFFs
If you have more time on your hands and really want to step up your self-care session, we suggest you have a girl's night in with your BFFs. Cook your favourite food or indulge in some takeaway from your favourite restaurants. Pour some wine or champagne. Don't forget to set the table with your fancy cutlery and dinnerware. Light up a candle as a finishing touch.
Take it up a notch by making your get-together a skin-pampering session too! Focus on your skincare with the help of the belif Ultra Nourishing Bomb Set (SGD90/ worth SGD144). It contains the cult-favourite lightweight The True Cream – Aqua Bomb, a water-based gel moisturiser that keeps your skin smooth, supple and protected from free radicals.
Maximise your beauty sleep with the Aqua Bomb Sleeping Mask. Its unique jelly-pudding texture comes with a "memory" formula that coats every surface of your skin with a layer of intense hydration. It also contains soothing Scottish heather and hydrating Lady's Mantle that make this sleeping mask perfect for urbanites with dull, dry, or fatigued skin.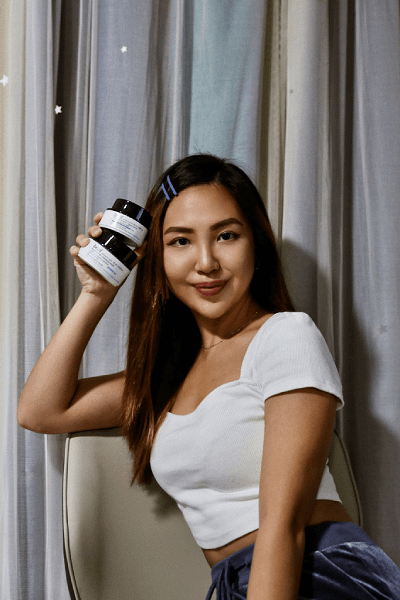 This moisturising duo is the quick fix to parched complexions, according to our community member Samantha. "I've been using belif's The True Cream – Aqua Bomb for the longest time. I love how it deeply hydrates my skin and provides a burst of moisture upon application," shared Samantha.

Clean out and redecorate your space
It's a little known fact, but your space — your home, bedroom, work desk, and more — is a reflection of your mind. If you've been feeling sluggish lately, consider decluttering your space one section at a time. You can start with your home office. Throw away papers you no longer need or designate a small bin as your "brainstorming dump" where discarded notes can go. Next, go through your bedroom vanity table to see which products are expired, you no longer like, or simply don't use to make way for new beauty finds. Consider also going through your closet and seeing which clothes you can donate.
Once you've cleaned up your space, you can breathe new life into it with some redecorating. Small touches like pillows, a beautiful artwork, or a new rug can do a lot to make a room look fresh and inviting. All that's left to do is enjoy your revamped home during the holidays!
Get your nature fix
Sometimes, staying indoors isn't the self-care break you need. So why not explore the great outdoors? Go visit the many nature reserves and parks in Singapore — Bukit Timah Nature Reserve, Windsor Nature Park, and Fort Canning Park are just some examples — and breathe in the fresh air. If you prefer the sounds of the ocean and the feel of sand between your toes, it's time to head to the beach. Either way, you'll find that the peaceful ambience of nature will be a welcome, rejuvenating break from the city's background noise. As an added touch, make the most of your time by bringing some snacks and drinks for an impromptu outdoor picnic and make sure your skin's in top shape before you head out the door.
A self-care break is one of the most accessible, yet still special, Christmas gifts you can give yourself. If it comes with a dash of skincare, that makes it extra special. We know it can be tricky as your time is very in-demand nowadays, but believe us — you deserve it!
This story was created in partnership with belif.


Start your pamper sesh as early as today and enjoy Clozette-exclusive discounts!
For in-store purchases: Present this article to enjoy SGD10 off of regular-priced belif products (with a minimum spend of SGD50) at selected THEFACESHOP - Nature Collection stores.
For online purchases: Use the code BELIFCL10 to enjoy SGD10 off with SGD50 minimum spend at the belif Shopee Official Store or THEFACESHOP - Nature Collection e-Store.
Terms and Conditions:
Valid until 31 December 2021.
Only applicable to regular-priced products, excluding Jumbos, Limited Editions, and sets.
Valid for one-time use only.
Comments, questions or feedback? Email us at [email protected].