When we think of the end-of-year holidays, we usually visualise things that are grand — out-of-country trips, lavish parties and extravagant gifts, to name a few. Many, if not all of these, would need to be put aside due to our current situation. But it doesn't mean we can no longer celebrate. Life's simple joys are always around us — pandemic or not, holidays or beyond — but this season is truly a perfect time to be reminded of them. Treat yourself and your loved ones to these gifts with a purpose from The Body Shop.

It truly is the perfect time to remember loved ones and celebrate your favourite moments with them, no matter how seemingly simple, with gifts that are just as thoughtful. Each purchase made from now until 31 December will help to support Daughters of Tomorrow in lending a hand to underprivileged women who are seeking new opportunities to build financially independent families — it's like gifting times two.
Little Gift Box for your sister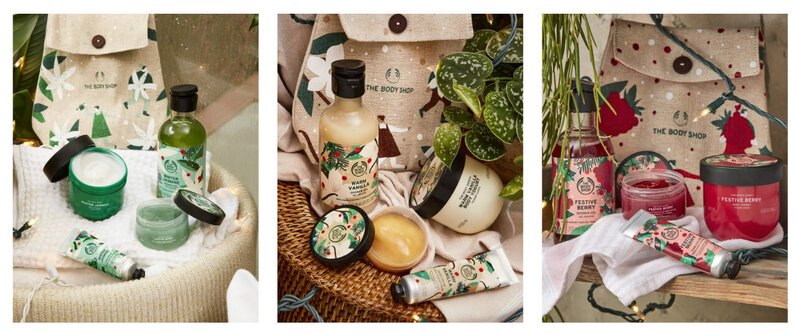 Treat your bubbly sis to this gift box that's available in Winter Berries, Winter Jasmine and Warm Vanilla festive variants of the brand's Shower Gel, Exfoliating Scrub and Body Yogurt. Don't forget to slide a note to remind her of your shared moments as children, like playing with your mum's beauty products, for now, it's her turn to actually pamper herself and experience gently exfoliated and refreshingly moisturised skin with her own products.
Squeeze & Share Hand Cream Crackers for your office bestie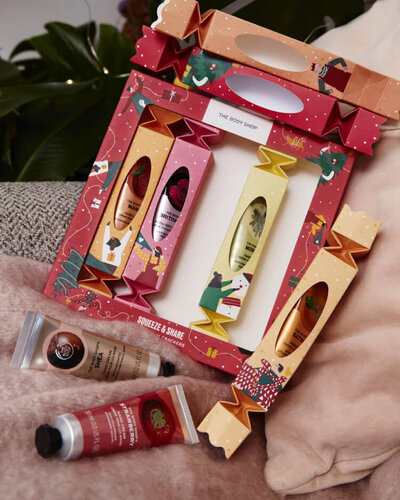 A gift as sweet as your office bestie, whom you love getting mid-day juices and desserts with — remember that time you went to your favourite lunch spot and just indulged in your sweet picks? This set of fruity, floral and nutty hand creams (in Almond Milk & Honey, Strawberry, Moringa, Shea, Mango and British Rose flavours) housed in a festive novelty crackers packaging is all your work BFF needs to keep her hard-working – and over-sanitised – hands hydrated and smooth this season and beyond.
Lather & Smooth Snow Globe Gift Dome for your mum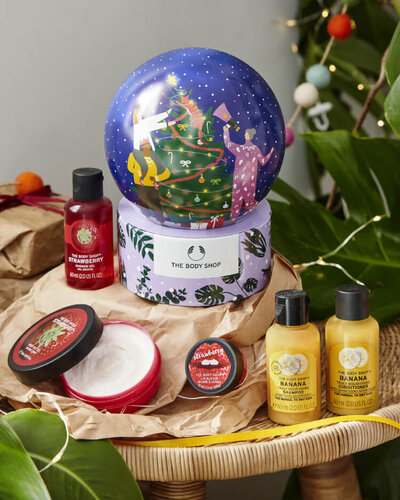 We're sure you want to give your mum the world — after all, she's already given hers to you. While you're working on it, this symbolic Lather & Smooth Snow Globe Gift Dome can do just the trick. Let her indulge in the sweet-smelling and skin- and hair-nourishing treats in this set. Each dome contains an instantly uplifting Strawberry Shower Gel, a nourishing Banana Shampoo and Conditioner and hydrating Strawberry Lip Butter — all made with Community Fair Trade ingredients sourced from around the world.
British Rose Big Gift Box for your BFF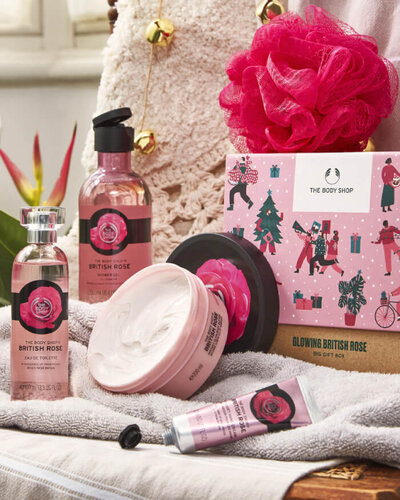 For your BFF, whose presence every time you meet is as comforting as the sight of a bouquet of roses, the British Rose Big Gift Box is perfect. Give her a moment to enjoy quiet time while indulging in products infused with the essence of real handpicked rose petals, such as the refreshing shower gel coupled with the use of the body-buffing bath lily. Let her luxuriate in the non-greasy but intensely hydrating Body Butter. Invite her to cap off the routine with a spritz of the floral eau de toilette and give her hands some nourishment with the hydrating hand cream.
Refreshing Shower Gels Gift Box for the men in your life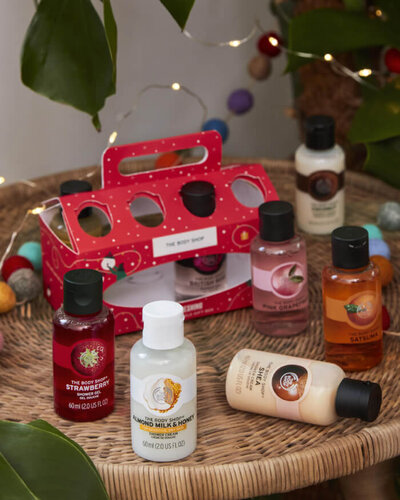 Don't leave out the men in your life. Treat them to the Refreshing Shower Gels Gift Box that is as fun as your banters and exchanges. Let them lather up with their choice from Strawberry, Satsuma, Pink Grapefruit, British Rose, Moringa, Coconut or Shea. These are not only refreshing but also gently cleanses the skin while keeping it moisturised. Plus, these also have scents that ignite the senses.
Comments, questions or feedback? Email us at [email protected].