Since the early 2010s, people have been searching for the best collagen supplements for the skin. The reason for this is simple: Ingestible skincare personifies the adage "You are what you eat." Similar to how having a healthy diet can improve your overall health, beauty supplements augment your lifestyle and feed your skin the nourishment it may lack. They work from the inside out to give you that beauty glow. However, not all beauty supplements are created equal. Here's how to know which ones are actually good.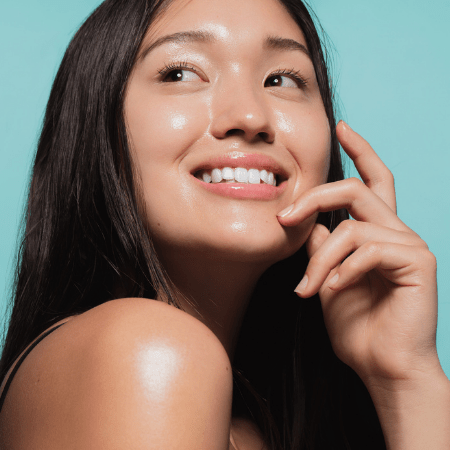 Where collagen comes from matters
Just like looking at the ingredients of your skincare products, looking at the ingredients of your beauty supplements is a must. The collagen that is used in supplements and food is typically sourced from cattle (bovine), pigs (porcine), and fish (marine). While all three have their own benefits, marine collagen is the most bioavailable type, which means it's more easily absorbed by the human body. To put it simply: the better the absorption, the better results it may have for you in the long run.
Kinohimitsu uses marine collagen, whose peptides are harvested from wild-caught fish. Since fish caught in the wild have a diverse, natural diet, they offer a higher nutritional value compared to those from fish farms. More nutrients for our skin? Sign us up.
How collagen is extracted from the source
When we consider skincare products, we want nothing but the best ingredients — the purest, the most potent. But we also want these ingredients to have been gathered through environmentally friendly ways. It's only fitting that we want the same for supplements for our skin. Did you know that improper extraction of collagen can cause unnecessary waste and be harmful to the planet? The right process will maximise the yield or how much collagen is extracted at a time, and the amount that is actually usable to create your ingestible skincare.
Look for one that's been processed with minimal to no harm done to the environment. To harvest its marine collagen peptides, Kinohimitsu uses high-technology machinery in its extraction method to help preserve the collagen. Once the collagen is harvested, its molecules are carefully broken down into shorter molecular chains to promote easier skin absorption.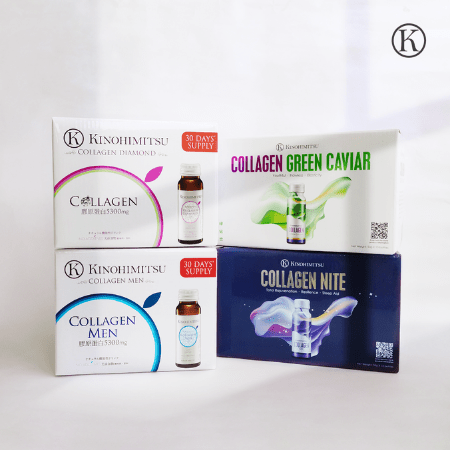 How much collagen is put into a supplement
The best collagen supplements for the skin will have a sufficient amount of collagen so you get the most out of every serving. Have too little of it and you will not be able to see results when you expect them. On the other hand, if you ingest too much collagen, the excess will simply be flushed out of your system like the food you eat and water you drink.
Make sure you pick one that contains the optimal amount that gets delivered to your skin. Every Kinohimitsu collagen supplement has 5,300 milligrams — just enough collagen for our bodies to metabolise without it being turned into waste fat, which can be a concern for those with slower metabolisms.
How the supplement is packaged
As with any type of skincare product, you'd want your collagen supplements to be packed securely so their potent ingredients are preserved. Sachets may not offer as much protection. So consider choosing one that comes in glass bottles. Kinohimitsu collagen supplements come in tightly capped and vacuum-sealed bottles — this helps preserve and maximise the efficacy of the active collagen peptides in the products.
The best collagen supplements for your skin needs
Now that you know what qualities to look for in collagen supplements, discover the different Kinohimitsu collagen supplements and how they can be the perfect addition to your skincare regimen.
Kinohimitsu Collagen Diamond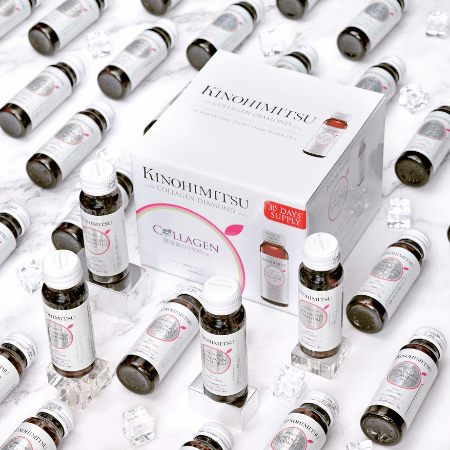 If you want to restore your skin's youthfulness, resilience, and radiance, especially for those with more mature skin, the Kinohimitsu Collagen Diamond boosts the production of collagen and repairs its fibres. This helps minimise signs of ageing such as fine lines, wrinkles, and dryness. It does so with ingredients such as inflammation-reducing perilla seed extract, moisture-retaining silk protein peptide, and elastin-boosting soy isoflavone. A fun addition? It tastes fruity and wonderful thanks to apple, lemon, and lychee condensed juice.
Kinohimitsu Collagen Green Caviar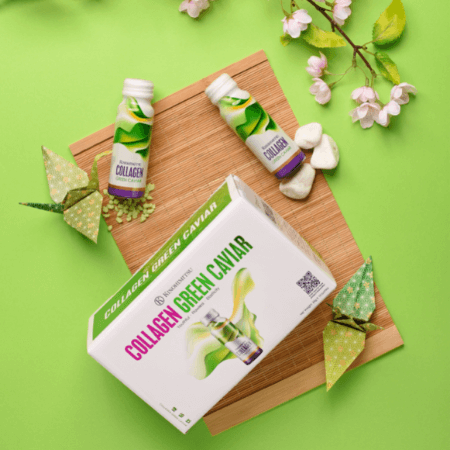 Collagen is great at anti-ageing but when paired with antioxidants to protect the skin against free radicals, it works even more wonders. Get skin-loving benefits with the Kinohimitsu Collagen Green Caviar. Aside from marine collagen, it also contains Japanese Okinawa green caviar that's rich in antioxidants. It's perfect for ladies who want to prevent signs of premature skin ageing such as wrinkles, dark spots, and dryness.
Kinohimitsu Collagen Nite
Get the most out of your beauty sleep with the skin- and sleep-enhancing Kinohimitsu Collagen Nite. It contains GABA, tryptophan, spinach, green tea extract, manuka honey and vitamin C that aid marine collagen in enhancing the skin's ability to self-regenerate while you're in dreamland. Say goodbye to dull and dry skin, enlarged pores, and dark eye circles with every beauty sleep with the help of this drink!
Kinohimitsu Collagen Men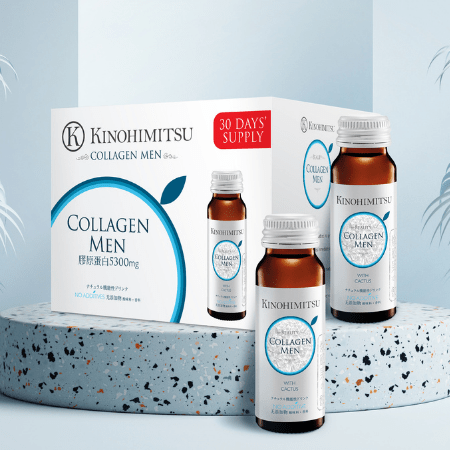 For those who have misbehaving oily skin and its accompanying visible signs — enlarged pores and acne scars — you may keep these in check with the Kinohimitsu Collagen Men. It contains hydrating hyaluronic acid, redness-reducing cactus extract and soothing aloe vera to help keep skin hydrated while also greatly reducing sebum production and speeding up scar healing.
Collagen supplements may be a trend right now, but their effects can last beyond their time in the beauty spotlight.
This story was created in partnership with Kinohimitsu.
Shop Kinohimitsu's Collagen range on their official e-store (sg.kinohimitsu.com), Qoo10, Lazada, Shopee, Taobao, iShopChangi, KrisShop, Ezbuy, Guardian, Watsons, Welcia-BHG, OG and Kinohimitsu retail stores.
Comments, questions or feedback? Email us at [email protected].