We're all no strangers to skin woes — there are lots and we each have different ones. But did you know that there are common ones that can actually be addressed in one sweep when you group them? Some skin issues are in fact signs of ageing. That's exactly what modern city-dwellers and Clozette Beauty Club members Alicia Ng (29) and Shaohan Lee (34) found out. Ahead, they share what these are and how they were able to combat them with the help of belif Youth Creator - Age Knockdown Bomb.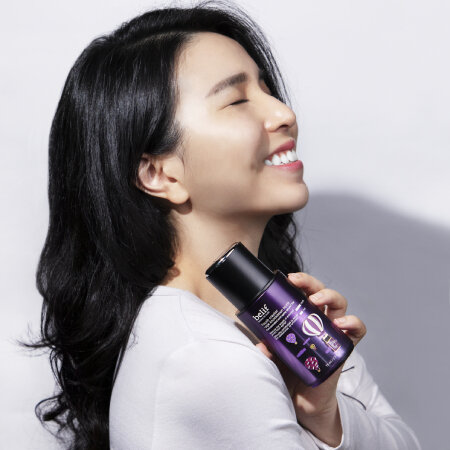 Enlarged pores
Yes, your pores don't appear larger just because; ageing has to do with it too. When we age, our skin tends to lose elasticity. We notice it stretching and sagging, which also makes pores appear larger. Combat this with L-serine, which you can find in the belif Youth Creator - Age Knockdown Bomb. It's an amino acid that gives your skin a gentle peeling effect so it reveals radiance on your skin, minimises the appearance of pores, and smooths away unevenness in texture. Simply massage the serum, and let it do its smoothing and tightening magic.
Fine lines
It could be because you furl your brows a lot — or it could also be ageing making its presence known. Fine lines can be common because we show our emotions through our face — a smile, a frown, and more. They are also common because our body's natural production of collagen — which gives us that youthful look — declines as we age. Adding a product that amps up collagen production certainly helps. The belif Youth Creator - Age Knockdown Bomb contains Cedrol that works great in increasing not just collagen but also elastin (which promotes skin elasticity) production.
This inspires visibly plumper and firmer skin, which Shaohan noticed after using the product. She shared that the natto-like-textured serum — no stickiness when applied — made her skin feel moisturised and "look supple." Alicia meanwhile shared, "It helps to slow down the formation of fine lines."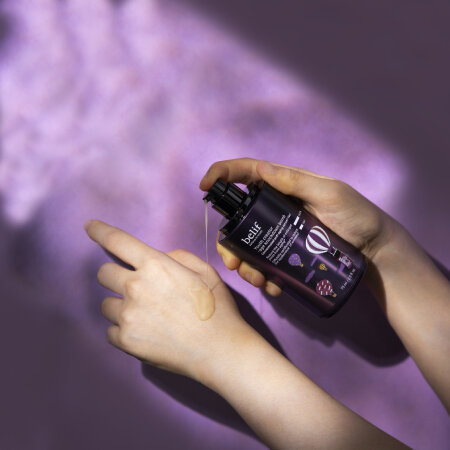 Sagging skin
After addressing those, you can also turn your eyes on giving your skin more nourishment with the help of this serum. It's packed with Ceramides that not only moisturises the skin but also protects it from harmful elements. It also has belif's signature Napier's original antioxidant formula that nourishes and protects the skin.
Take your anti-ageing game up a notch
The crowd-favourite
belif Youth Creator - Age Knockdown Bomb is now available in a limited-edition jumbo size
that also features a unique, not-for-sale chrome massage stone magnetically attached to the top of the bottle cap.
Indulge in the skin-caring benefits of the serum while giving yourself a moment of relaxation too. Help the serum in lifting and firming up by applying it on after your toner or essence. Make a V shape with your index and middle fingers and put them on your chin. Slowly and gently glide them up to your earlobes for a firming effect on your jaw. For a lift on your cheekbones, use your index finger and thumbnail to lightly pinch your muscles from the sides of your nose toward the ears. Don't forget your neck! Do the same V shape you did for your jaw and put your fingers under your earlobes and glide them downwards to your shoulder.
Our Readers Weigh In
The new & limited-edition belif Youth Creator - Age Knockdown Bomb Jumbo, SGD126 (worth SGD149), is available at THEFACESHOP - Nature Collection stores and online at the official belif stores on Shopee, Lazada, and ZALORA.
Try it to belif it! Beat skin ageing with belif's Youth Creator - Age Knockdown range. Sign up for a trial kit and enjoy 15 per cent off here: http://bit.ly/belif-Clozette
Comments, questions or feedback? Email us at [email protected].