It's easy to go all-out during the holidays — it's the perfect excuse to go overboard and splurge especially when you make an excuse that it's for self-care. But it's still important to practise mindfulness when it comes to gift-giving — for yourself and for your loved ones — during this season. Guilt-free giving is what we're after! If you're unsure of how self-care, holiday gifting and mindfulness can go hand in hand, here are picks from
belif
and
BEYOND
that are just right for this purpose.
Clear intentions, clean beauty
It's the season to show love and we definitely need lots of it considering how trying this entire year has been. Still, it's important to know that anything in excess can be bad. You want to express your gratitude and affection — but not smother your loved ones (and yourself). Keep it simple, clean and mindful with belif and BEYOND products.
All products from belif are created with the brand's philosophy of Naturality, Efficacy and Honesty. They're made with the purest ingredients and are free of sulfates, phthalates, parabens, synthetic preservatives, synthetic fragrances, synthetic dyes, mineral oils and ingredients of animal origin. Meanwhile, all products from BEYOND are plant-based and formulated with organic and natural ingredients — all meant to be kind not just to your skin and hair but also the earth. They also adhere to a commitment to help the environment through recyclable and reusable packaging and minimal waste in production.
Be present and nourish your skin now
It's perhaps the first thing you see and think about when it comes to self-care, and rightfully so — it's the biggest organ in your body. So give your skin (and your loved ones' too) a little more lovin' without going overboard with the
belif Ultra-Nourishing Bomb Set
(now at SGD75, worth SGD109).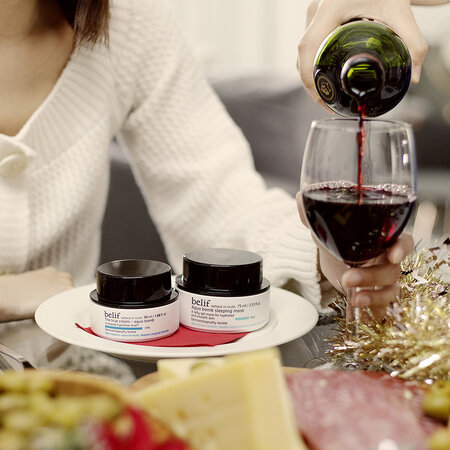 It consists of the nourishing
Aqua bomb sleeping mask
that rejuvenates and refreshes dull skin with the help of its unique memory formula that wraps hydration around the contours of the skin, and one of these Bomb of choice: the cult-favourite
The true cream - aqua bomb
that's been clinically proven to increase the skin's hydration levels by 70 per cent, the all-time favourite
The true cream - moisturizing bomb
that keeps the skin moisturised for 26 hours, th
e The true cream - water bomb
that's formulated with Water Mint to help lower the skin's temperature while giving it a burst of hydration, and the
Stress shooter - cica bomb cream
that's infused with Centella Asiatica extract for a soothing kind of moisturisation.
Envision a renewal with thoughtfulness
Give the gift of skin revival and anti-ageing with the
belif Peat Miracle Skin Revival Set
(now at SGD120, worth SGD194). It contains the supercharged
Peat miracle revital serum concentrate
that's packed with 20 per cent concentrated peat extract for a boost in skin's turnover rate — renewed, radiant skin? Yes, please. It also has the
Peat miracle revital eye cream t
hat's been clinically proven to boost collagen production by 30.41 per cent for eyes that look bright and awake.
Focus on things that go unnoticed
Mindfulness is not just about being present but also noticing the things you usually don't. If you're not giving your body's skin as much attention as you do your face's, this is your sign to do so.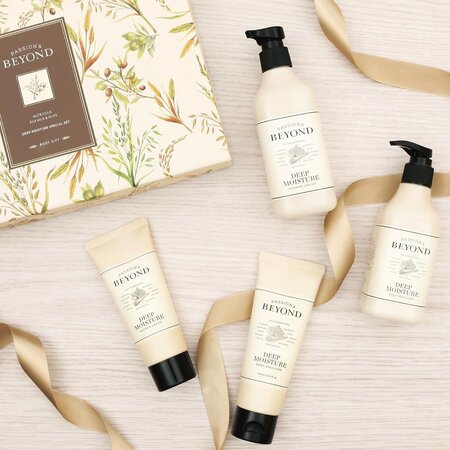 Treat yourself and your loved ones to the moisturising
BEYOND Deep Moisture Special Set
(SGD52, worth SGD84). This limited-edition body gift set contains a Shower Cream, Body Emulsion and two-piece Towel Set. The cream and the emulsion are enriched with an ultra-nourishing blend of Olive extract, Honey and Milk and its fragrance of a mix of white musk and green floral just smells incredible.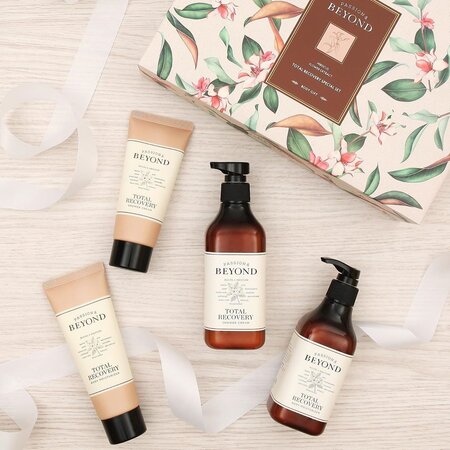 If you're thinking of anti-aging for your face, you should definitely do the same for your body. Pick up the limited-edition
BEYOND Total Recovery Deluxe Set
(SGD52, worth SGD85) that contains a Shower Cream, a Body Moisturiser and a two-piece Towel Set. The nourishing bath products contain skin-softening Hibiscus Flower Extract and Ceramides that work wonders for dry, dull skin. They also have a lovely and sweet apple floral scent to boot. With the help of these, you can enjoy sensorial experience that's also thoughtful not just this season but beyond.
Make mindful choices for the holidays. Sign up here and here to redeem a two-piece deluxe sample kit in-stores from belif and BEYOND respectively.* Plus, stand to enjoy a 20 per cent discount on your purchases. belif samples are valid for redemption from now till 31 December 2020, while BEYOND's samples will be available for redemption between 14 to 31 December 2020.
Comments, questions or feedback? Email us at [email protected].