When we see something lacking in our overall health, we turn to supplements to help fill in the void. But did you know that you can do the same for your skin? Yes, skin issues can be addressed by skincare products that may very well work like supplements for your skin. Curious? Meet Artistry Skin Nutrition™. Plus, get a chance to try the brand through our contest — more details later!
Feeding the skin right
Artistry Skin Nutrition™ is a clean, vegan, and cruelty-free skincare brand that treats your skincare like nutrient supplements for your skin. Artistry Skin Nutrition™ products aim to help one achieve a healthy complexion by addressing the requirements of five of the skin's barriers. First, they purify a.k.a. make sure the skin's defence barrier is clean and free of irritants. They also balance and ensure that the skin's microbiome barrier is stabilised and nurtured as well as rebuild so that the skin's support barrier is strengthened and repaired. On top of that, they also see to it that the moisture barrier is fortified and the environmental barrier is amplified and protected. All of these aim to help you achieve all your skin goals.
Artistry Skin Nutrition™'s skincare philosophy is that every ingredient must have its purpose and be guaranteed safe and effective. They use ingredients that are grown in a certified-organic Nutrilite™ farm, which is known for its clear
traceability
and purity testing. They can even trace ingredients from the very seed up to the point it's included in a formula, so you know that it is clean and safe to use on your skin.
The superfood supplements for your skin
But how do Artistry Skin Nutrition™'s products work like supplements for your skin? The answer is simple but power-packed: through superfoods — particularly white chia seeds, which is found in all of the Artistry Skin Nutrition™ products.
White chia seeds, one of the richest superfoods available, contain phytonutrients — plant-derived nutrients that enhance skin resilience — that boost skin hydration and protect it from within. White chia seeds are also a great source of antioxidants. We already know it's great for our physical health when consumed, but when applied to the skin, this superfood also delivers multiple skin-caring benefits.
Aside from that, some Artistry Skin Nutrition™ products — like the Balancing Matte Gel Lotion and Hydrating Eye Gel Cream — also contain pomegranate to guard against pollution that contributes to skin ageing. Some of their other products also include skin-loving ingredients such as spinach, aloe vera, amino acids, or prebiotics to supplement your skin needs.
Ready to feed your skin with these nutrient-rich ingredients? Here's what you need to give a try based on what your skin needs.
The supplement for matte skin: Artistry Skin Nutrition™ Balancing Solution
If your skin overproduces sebum, you need something to control it while helping keep your pores clear to prevent acne. The Balancing Solution boosts your skin's ability to defend itself from environmental stressors by 350%* with phyto-powered Prevent Complex — brightening Australian daisy, antioxidant-rich blackberry, and vitamin C-packed Nutrilite™ Acerola cherry — that also helps delay premature skin ageing. Its toner contains witch hazel to help clarify your pores; its moisturiser has meadowsweet to re-balance oily skin, and its cleanser is packed with aloe vera to calm irritated skin.
The supplement for dewy and radiant skin: Artistry Skin Nutrition™ Hydrating Solution
Yes, even if your skin looks fine and doesn't have major skin issues, you may still benefit from skin supplements! Go for hydrating skincare to support your skin's moisture barrier — this helps to keep it smooth and supple. The Hydrating Solution range has everything you need for maximum skin hydration. In addition to white chia seeds, the other products in the range also contain skin food. The toner has calming liquorice, the cleanser has soothing shiso perilla, and the eye cream has dark circle-banishing quinoa seeds.
Our recommendation for starters: Pick up the Hydrating Gel Cream, which floods your skin with 24-hour moisturisation. Aside from white chia seeds, it also contains the Prevent Complex, hydrating blue agave, and amino acid-rich rice protein that wards off visible signs of skin ageing such as uneven skin tone, fine lines, and dullness. The result: a radiant, dewy, and smooth complexion.
The supplement for smooth and radiant skin: Artistry Skin Nutrition™ Renewing Solution
If you're worried about fine lines, wrinkles, and uneven skin tone, then the Artistry Skin Nutrition™ Renewing Solution range is the one to look to. Made for dry and combination skin showing early to moderate signs of ageing, this range revitalises the skin. Its cleanser also has soothing shiso perilla and aloe vera while its toner has smoothing oat protein. Plus, its day cream has moisturising shea butter for extra pampering.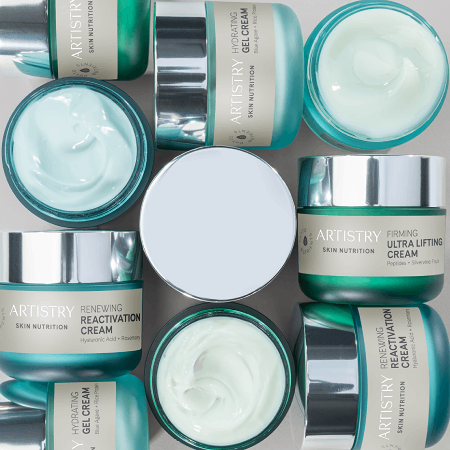 Our recommendation for starters: Pamper your parched complexion with the Renewing Reactivation Cream, an anti-ageing moisturiser with white chia seeds and rosemary that kickstarts the skin's natural self-renewing abilities. The skin under the eyes tends to be dryer too. Soothe and hydrate it with the Renewing Reactivation Eye Cream, a peptide-powered eye cream that depuffs and reduces the appearance of fine lines and wrinkles around the eye area. Both contain Repair Complex — a blend of Nutrilite™ spinach (a rich source of vitamins A and C), turmeric (an antioxidant and anti-inflammatory), and tea olive flower (a soothing and hydrating ingredient) — helps revitalise your complexion and make the skin appear more youthful by 600%**.
The supplement for firmer, lifted skin: Artistry Skin Nutrition™ Firming Solution
As we grow older, our skin's elasticity, firmness and radiance diminish. Address these concerns with the rich, luxurious and Repair Complex-infused Firming Ultra Lifting Cream. It coats your skin with moisture for 24 hours and reverses signs of skin ageing such as deep-set wrinkles, expression lines, uneven skin tones, and sagging skin. It features the Repair Complex, wrinkle-reducing peptides, and vitality-restoring silvervine fruit so you can bid dull, stressed skin goodbye.
No matter your skin troubles, make sure you nourish and feed it right. Artistry Skin Nutrition™ may just have the perfect supplement designed for your skin.
This story was created in partnership with Artistry Skin Nutrition™.

Ready to feed your skin the nutritious way? Discover more about Artistry Skin Nutrition™ here.
Comments, questions or feedback? Email us at [email protected].