Yes, stress can be a cause of skin woes like dryness, excessive oiliness, pronounced texture, and even breakouts. Our skin experiences stress when it comes into contact with internal and external stressors.
Internal stressors can be your work, relationships, diet, and sleeping habits. External stressors are factors like sunlight, pollution and dust that we encounter every day. While different, they both can cause an effect on the skin called oxidative damage.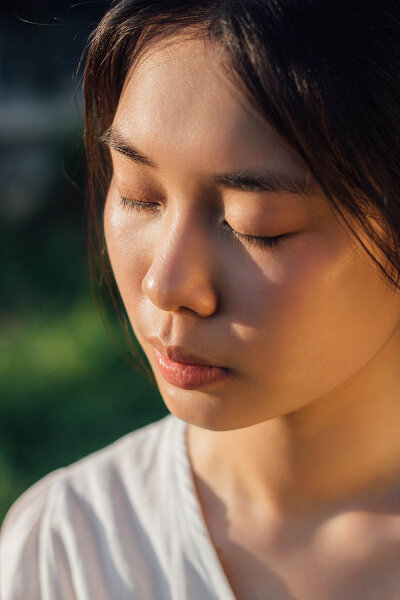 How does stress affect the skin barrier?
Prolonged oxidative damage weakens the skin barrier, a.k.a the protective film on the surface of the skin that wards off aggressors. When the skin barrier is weak, the skin is more prone to damage and loses its radiance. It also speeds up the skin's ageing process — which leads to skin that lacks firmness and clarity.
Curious to know how you can prevent these from happening? You can do it with the help of the new Olay Regenerist Antioxidant Serum and Olay Regenerist Antioxidant Moisturiser, which are both packed with vitamins that protect and strengthen your skin barrier.
Protect and strengthen the skin barrier with antioxidants
The best way to combat oxidative damage is by introducing more antioxidants into your skin. Antioxidants like vitamins B3 (niacinamide), C and E — which can all be found in the new Olay Regenerist Antioxidant Serum and Moisturiser — all help to strengthen your skin barrier against internal and external stressors.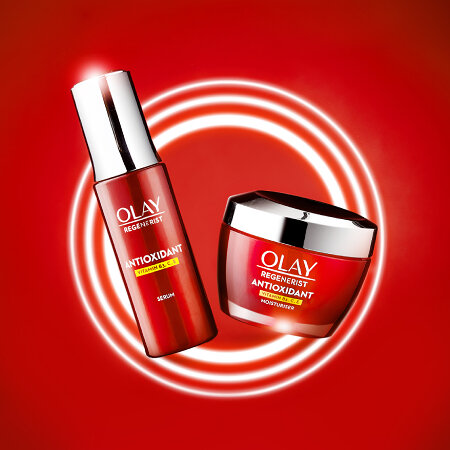 Vitamin C, the most popular antioxidant used in skincare, reduces the damage stressors cause to your skin. This means it's great for reducing the signs of premature ageing.
Vitamin B3 a.k.a. Niacinamide complements vitamin C by energising the skin to protect it from oxidative damage. Niacinamide also helps smooth out rough texture and decrease redness within two weeks.
Finally, vitamin E enhances the skin barrier's protective properties by combining itself with the skin's natural oils and keeps the skin moisturised for up to 24 hours.
With this trifecta of vitamins in the Olay Regenerist Antioxidant Serum and Moisturiser's lightweight and fast-absorbing formulas, your skin will be as stress-free as can be within four weeks of daily use.
Aside from its super protective formula, the serum and moisturiser are also formulated without parabens, phthalates, synthetic dyes or mineral oils that can potentially irritate the skin.
Reviews on the Olay Regenerist Antioxidant Serum and Moisturiser
To show you the stress-busting benefits of the Olay Regenerist Antioxidant Serum and Moisturiser, we tapped #TBLBureau Campaigns Manager Chloe, whose day is always packed with work and personal tasks and who faces external stressors such as dust and pollution on a daily basis (a.k.a. someone prone to stress), to share her experience.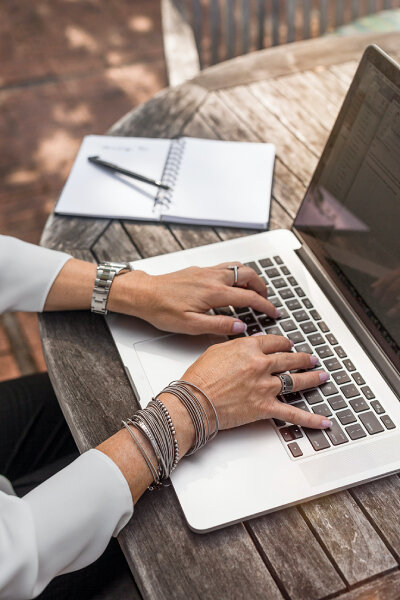 Chloe loves the serum's lightweight texture because it absorbs quickly into the skin. She says it's "the perfect preparation" for the other skincare products she usually applies. Chloe also really likes that, even when used on its own, the serum kept her skin hydrated and smoother. Her makeup looks better and is less prone to cakiness whenever she applies the serum beforehand, so it's now a must-have in her daily daytime routine.
The moisturiser has found its way into her evening skincare regimen too, thanks to its rich creamy consistency that keeps her skin deeply moisturised as she sleeps in an airconditioned room. She feels pampered whenever she applies the moisturiser since it glides easily and luxuriously on the skin. When the moisturiser is paired together with the serum, Chloe says she always wakes up to a brighter and smoother appearance.
"I have fewer dry patches and my skin barrier's health seems to have improved! With the antioxidants complementing each other, I'm excited to see a better and brighter complexion with longer use," she added.
Having stress-free skin is as easy as adding antioxidant-rich skincare products like the NEW Olay Regenerist Antioxidant Serum and Moisturiser to your daily skincare routine. Here's to skin that's resilient against anything life throws at you! No stress, just smoother skin.
The Olay Regenerist Antioxidant Serum and Moisturiser are priced at SGD54.90 and MYR109.90 each and are available in-stores and online through major retailers in Malaysia and Singapore.

Comments, questions or feedback? Email us at [email protected].